Bridal showers should be fun. But they can get old when everyone uses the same décor and plays the same games. These bridal shower ideas we're about to give you add novelty to a shower you're planning. Putting in the extra effort will make it special for your bride and fun for your guests.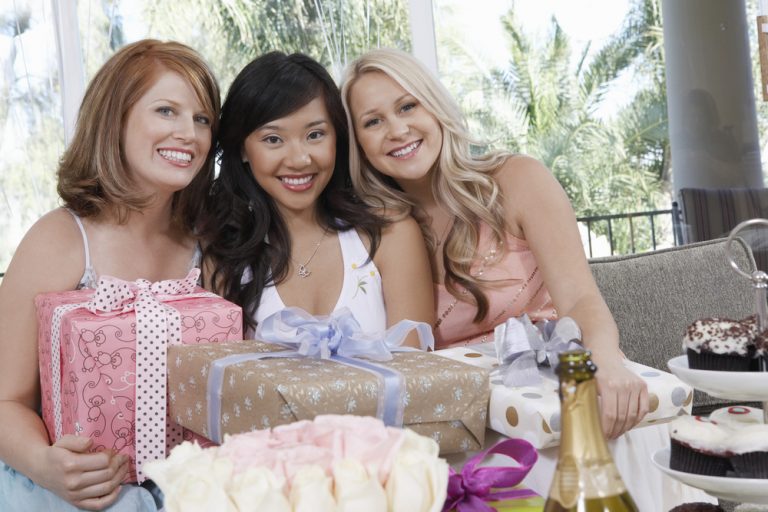 Here are 12 bridal shower themes, along with décor, food, and games that go along with each theme.
1. POOL PARTY
Flip-flops, big hats, daiquiris, umbrellas, and Tiki torches signal that this is a pool party, one of the most fun of all the bridal shower themes. People can wear bathing suits and cover-ups for this casual, yet entertaining, bridal shower. Serve grilled food or kababs and any fruity cocktail—with an umbrella, of course. While some guests won't mind getting their hair wet, others might not want to.
So just go with the flow. If you plan games, make sure that some are pool games and that others aren't.
2. TEA PARTY
The most classic of all the bridal shower themes is the tea party. You can go girly or adult with this traditional theme. This type of bridal shower is usually held at someone's home, or you can host it at a teahouse. Go girly by having everyone wear big hats, such as from the Mad Tea Party from Alice in Wonderland. Or go adult by having everyone dress up, including wearing gloves, for lady's tea. Serve finger sandwiches, scones, and fruit tarts. Let guests take home their favorite loose-leaf tea.
3. WINE TASTING
Make sure everyone in attendance will be 21 or older for a wine tasting. Then you hire a sommelier or wine steward that will introduce the group to some new wines. You can hold this bridal shower in a home, at a wine bar, or at a vineyard. If you want to make this more personal, you can choose wines from a particular area, such as where the bride and groom will spend their honeymoon (if that region is known for wine).
Wine tastings work best with smaller groups. Make sure you have a designated driver or arrange for everyone to take a cab or other type of similar transportation home.
If your group is artistic, you might try a wine and painting night. These events have become more common and are popular for girls' nights out. Get more ideas.
4. PJ PARTY
If the bride-to-be loves nothing better than spending cozy evenings at home, oblige her by throwing a pajama bridal party. Everyone shows up in pajamas. You can emulate a sleepover, and guests can bring PJs for the bride. Plan to watch an irresistible rom-com, and serve some great movie-watching snacks.
Make it more adult by turning it into a lingerie party, a sexier version of the pajama party. If you do this, send out the bride's bra and underwear size with the invitation so that she winds up with the right size lingerie.
5. HAWAII
If you are near a pool or beach, you can throw a luau for this Hawaiian-themed bridal shower. Leis, piña coladas, pineapples, palm trees, surfboards, seashells, flowers, and bright colors set the stage. Serve fresh fruit and chicken salad sandwiches. You can go all out and have flamingo-shaped cookies and macaroons with "Aloha" spelled out on top. A fun activity for a luau party is to have everyone make their own lei or perhaps bedazzle a pair of flip-flops.
6. '50S HOUSEWIFE
This theme reminds everyone what getting married used to mean. Decorate with kitchen equipment, such as wooden spoons and whisks. Have everyone wear an apron and a pearl necklace. Put out photo shoot accessories, such as red lipstick, '50s sunglasses, and scarves. Serve food like what was served in diners from the 1950s.
Wanna help your bride-to-be friend? You can read this post on how to be a better wife.
7. CAMPING
Bridal shower ideas for a tomboy type can be challenging, but if she likes to camp, there you go. A homemade sign that says "Camp [insert bride's name]" welcomes guests to this camping bridal shower. Set up tents indoors or in the yard. Everyone can roast marshmallows at the bonfire. But if you don't have that, using tabletop burners or even candles works. Grab some sleeping bags, and if you are indoors, use glow-in-the-dark star stickers on the ceiling.
8. COOKING CLASS
Hire a local chef to lead this cooking bridal shower. This is one of those bridal shower themes that everyone can remember, especially when they recreate the dish at home. You can do this party at home, or you can book a cooking class at a restaurant. Any bride-to-be who considers herself a foodie would love this, as would the bride who wants to learn to make something new for her honey.
Read: 12 Inspiring Marriage Quotes
9. BARTENDER CLASS
The bridal shower bartender class is like the cooking class, only everyone will learn how to make classy cocktails suitable for any cocktail party. The new couple can learn to make new drinks for when they host their first party together after tying the knot. Host the party during happy hour time, so people will be in the mood to drink. Have a local bartender teach your guests how to whip up some great cocktails.
Remember not to let your guests drink and drive.
10. TRAVEL
Suitcases, globes, maps of the destination place, and cameras will be the décor for this bridal shower theme. You can also use destination-related décor. If they're headed to the beach, decorate in a beach theme. A national park? Decorate with tents and picnic tables. Mexico? Sombreros are in order or berets for Paris.
Food will reflect the type of food served where the honeymoon will be.
Read: 11 Bachelorette Gifts That Are Great for Bridal Showers
11. FAVORITE MOVIE/BOOK/TV SHOW
If the bride has a favorite movie, book, or TV show, you can recreate it at the bridal shower, making this one of the most personal of the bridal shower themes. Play music that's from the show or movie, or music that would be played to match the book's plot. Have props that would be recognizable, and use those for photo shoots. Food would match the theme as well.
12. THE MAKEOVER
Of all the bridal shower themes, this one could be the most useful. Everyone likes a good makeover, but having this theme is perfect since you'll all pick up some great new looks for a big, upcoming event everyone will attend—the wedding. Hire several makeup artists who will give everyone some tips on the best makeup ideas to try along with a great makeover. Set up stations around the house.
And so that you don't let all your beautifully made-up faces go unnoticed, plan a night on the town after.
TIPS
Feel free to mix and match bridal shower ideas for the perfect bridal shower theme. But choose your party theme as soon as possible. That way, you can send out matching invites, and guests will have the time to prepare and be able to participate. Include details about the dress code so people can come prepared.
You can also skip tradition, and host a couple's shower, one of the most non-traditional of the bridal shower themes. This type of gathering is more informal and is more like a regular backyard barbecue or perhaps getting together at a favorite local restaurant.
Bridal showers can be expensive, so your budget should be considered first. A party held at your home (or a friend's home) will be less expensive than renting a facility. If you don't have a suitable home to use, and you're on a tight budget, consider hosting the party at a park. You can also save a lot of money by making your own food and decorations.
Here's a checklist to make sure you've covered all the bases for your bridal shower:
Pick the date. A month or two before the wedding is good. Bridal showers usually happen before bachelorette parties. Ideas for that in

 

this post.
Make the guest list. If the bride knows about the shower, ask her to help with the guest list. Note that everyone you invite to the shower must also be invited to the wedding.
Come up with some bridal shower ideas, and then pick the best one.
Set a budget.
Pick a location, and reserve it if it's not in a home.
Make (or buy) the invitations.
Send the invitations. Do this between four and six weeks before the event. If the couple is registered, include this information in the invite.
Plan the décor.
Decide on the menu.
Plan games (get ideas

 

here) or activities.
Get party favors.
Select a gift for the bride-to-be.
Shop for the food a couple of days before the shower.
Set up an area where the bride-to-be can open gifts.
Each bridal shower theme can be loads of fun. But you should choose one that your bride is sure to love. The look on her face and the laughter from guests will let you know that you've done a good job.