If you've never been in love before, you might wonder what it feels like. If you have been in love, you might not be able to explain what it feels like – though these quotes get it right – but you know when it's love.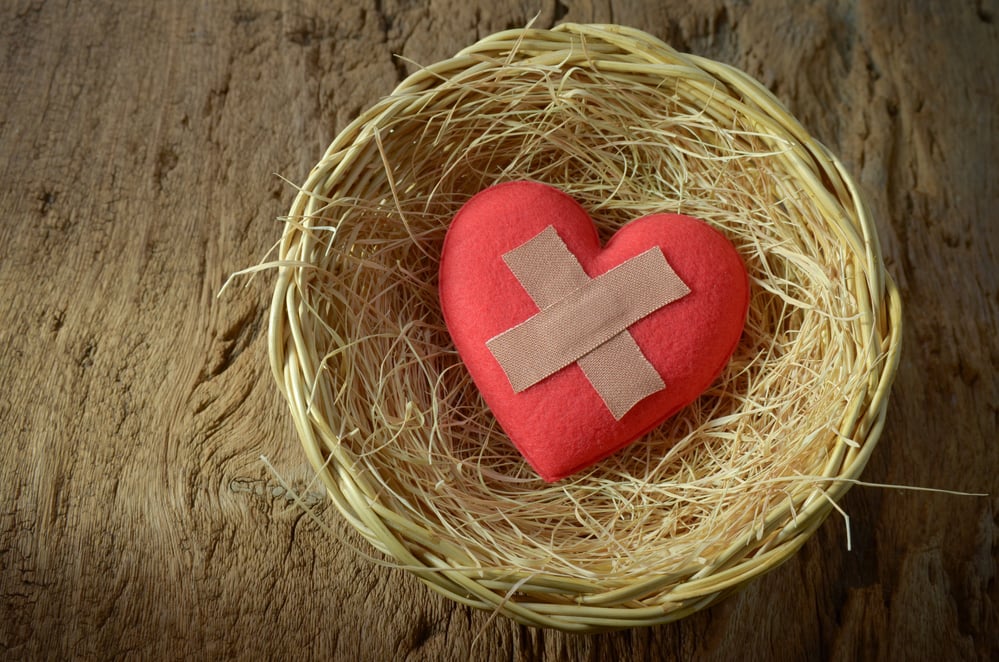 It's difficult to explain love to people because everyone feels it differently, but most of us sense when we're in it. If you want to know more about love, here are some love facts.
1. WE'RE CRAZY FOR LOVE
You might shake your head at some of the crazy things people do in the name of love. People have been known to fake death to see how their partner reacts. One man, in 1940, took a corpse of the one he loved home with him. And there's the dude who robbed three Waffle Houses with a BB gun to pay his main squeeze's probation fees.
Those examples might be extreme reactions, but there is a medical reason for all this craziness. Love makes the brain's serotonin levels drop, which typically raises after sex, and that leads to obsessive thoughts, thoughts similar to those of a person with obsessive-compulsive disorder. Love also increases the levels of the stress hormone, cortisol, and that can lead to loss of sleep. Being sleep deprived and obsessed can certainly explain some of this odd behavior.
2. MEDICAL STUDY SAYS LOVE IS KEY TO HAPPINESS
There's good medical reason to back up why we should fall in love, which makes this one important love fact.
George E. Vaillant, team leader of the 75-year Harvard Grant Study, which followed 268 men for more than half a century, found that love makes people happier. Dr. Vaillant says to thinks of happiness as the cart with love as the horse. People need love to be happy, the study found, and they need to know how to not push love away.
Learning about ourselves and finding out how we might be sabotaging love from entering our lives can help us change that behavior. Dr. Vaillant gave the example of one man from his study. The man was a hypochondriac, and his behavior pushed people and possible loving relationships away from him. Once he learned the reason he was pushing people away (bad childhood), he developed his personality into one that gave and accepted love.
If this sounds like you, you might have a fear of commitment.
3. WHAT WE NEED TO DO FOR LOVE TO DEVELOP
You need to be open to love and to take actions that make it possible for love to enter your life. Dr. Lisa Firestone, a clinical psychologist, gave these characteristics we need to have:
Affection — physically and emotionally
Wanting to please someone else
Sensitivity to another's needs
Tenderness and compassion toward another
Wanting to share in another's activities
Willingness to share possessions
An open communication style –

 

tips here!
Supporting the person you love and offering comfort when necessary
Dr. Firestone adds an important love fact: that love never includes lying to the person you love. That harms the other person and shows that you don't have his or her best interests in mind. And, of course, romantic love is a two-way street. The person you love must treat you in the same manner.
4. WHY WE KISS
Kissing, besides being fun to do, helps us choose our mate and helps us sustain the relationship, according to a 2013 study by Wlodarski and Dunbar. Kissing helps us determine whether a person might be a suitable partner for us. Kissing is also what helps us determine whether we're aroused by the other person. Another love fact about kissing is that kissing frequency and satisfaction in the relationship go hand in hand.
We've got plenty of tips on how to kiss, including this video guide.
5. WHY WE BLUSH
You're at a party, and the guy you like notices you and flashes you a big smile. You react by blushing. There's nothing you can do about it. Blushing is an involuntary reaction to certain social situations. When you feel a strong emotion, you blush. But why does this happen? Is this nature's way of embarrassing you even more than you already are?
Unfortunately, all scientists really know about this love fact is that only humans blush and that it is an adrenaline type of reaction, also characterized by a rapidly beating heart. But beyond that knowledge, the reason for why we blush is an age-old mystery. One Dutch study took at stab at guessing and determined that we tend to like and trust people better when they blush. But you knew this at some level already … why else would women wear blusher makeup?
6. TILT TO THE RIGHT
That's heads we're talking about. Most people tilt theirs to the right when kissing. A German psychologist discovered this love fact in 2003: that people usually turn their heads to the right when going in for the kiss. Turning to the right happens twice as often as turning to the left.
7. PEOPLE FALL IN LOVE 2 TIMES (OR IS IT 4?)
This love fact is controversial: most people fall in love twice during their lives, according to an interview by Siemens Festival Nights. You might think you're in love now, but when you look back on this current relationship later in life, you might realize it wasn't true love. But this research isn't exactly scientific. It was based on a random interview of 2,000 people in 2013. A poll conducted the prior year found that people fell in love four times throughout their lives.
8. THE EYES HAVE IT
Want a solid love fact? When you walk into a room and want a certain guy to like you or to think you're hot, look at him. A Dartmouth University study found that men like and find women more desirable when they look at them. Try is the next time you're flirting.
9. YOU GO THROUGH REAL PAIN WHEN YOU'RE DUMPED
When the guy you love breaks up with you, it hurts just as much as if you physically injured yourself. The reason is that the areas of the brain that respond to physical pain activate when you're feeling social pain, as you do during a breakup. Read this post and our advice to get over your broken heart.
10. WE LOVE OURSELVES
A study from the University of Liverpool found that our brains favor people's faces that have features similar to our own. When people were tested, they preferred faces that looked either like themselves or like family members.
11. WOMEN DON'T LOVE BEER BELLIES
Some facts about love are obvious: you probably already know that most women prefer washboard abs, but do you know why? A big belly on a guy indicates lower testosterone levels, which means lower fertility and sex drive.
12. YOUR BEATING HEART
Some facts about love are scientific: when you and the love of your life gaze into each other's eyes, your heart rates will sync up after three minutes of gazing.
13. LOVE CAN HEAL YOU
Some facts about love are healing, as is this one: having a loved one near you can help you get better when you're sick. And even looking at a picture of the one you love can help with pain relief. When people in pain were shown a word game, their pain did not improve as much as when they were shown a picture of their loved one.
14. LOVE LOVES ADVENTURE
Some facts about love are pure fun, as it this one. Studies show that people are more likely to fall in love when engaging in a dangerous or exciting pursuit than they are while working next to each other in a cubicle, for example. If you want to meet the love of your life, it's better to go whitewater rafting than to meet at a neighborhood lecture.
As you can see from these love facts, love can make us crazy. As Beyonce sings, "crazy in love." But that's what makes it fun. Love is what leads to us having a happy and fulfilling life, which makes the Beatles "love is all you need" theme pretty spot on.
Some of these love facts are based on scientific research, and some of these love facts are just fun things to know. Now that you have a better understanding of love, you just might have a better chance of finding it.