Besides being fun, regular date nights with your man benefit your relationship overall. Date nights are the best way to get quality one-on-one time with your guy. They can be romantic, give you a break from the daily grind, introduce newness to the relationship, and demonstrate your commitment to each other.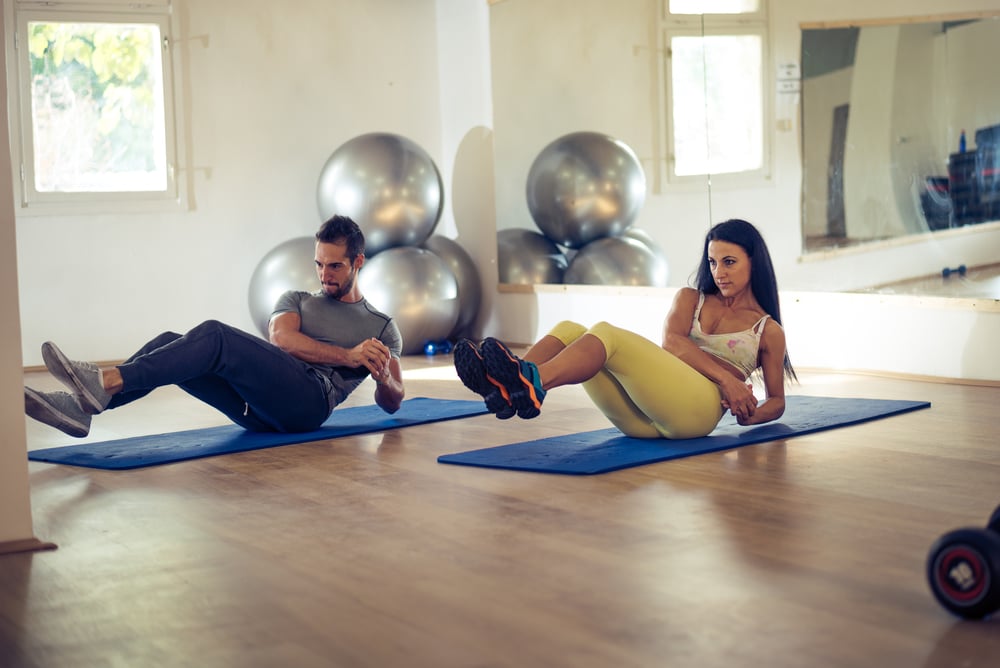 Think of date nights as investments in the future of your relationship. A marriage or relationship needs care and nurturing to thrive. If you don't go on dates, or if you don't think they're important, your relationship could wither and die. Couples who don't spend quality time together often become estranged and wind up in therapy to fix relationship problems. Instead of going that route, invest in regular date nights to help keep your relationship strong.
These date nights don't have to be epic. Sometimes the simple dates make the best ones.
Here are 17 great date night ideas to do with your man, from the super simple to the super exciting:
1. CREATE A TRIATHLON
Even if you and your guy aren't true triathletes, you can make up your own competition. Just pick three things you enjoy doing for this date night idea, and play them out triathlon style. For example, you might compete in a game of pool, a video game, and then see who can eat their French fries fastest. You can continue this date many times, continually changing the events. You might even want to use at least one traditional triathlon element – running, biking, or swimming – as one of your three. Maybe you can go swimming, see who can make the most creative sandwich, and then hit an arcade and play your favorite game.
2. GO TO A CLUB WITH A PLAN
Going to a club is typically where you go to meet a guy, not to bring a guy. But this date night idea works if you go with a plan. Here's one you can use: Show up separately, and pretend not to know each other. You'll role-play the whole time. You might even show up dressed in a way you normally don't or even wear a wig. When he approaches you, continue the stranger act. And you have another surprise: you learned (if you didn't know already) how to dirty dance. Insist he take you out on the dance floor, and you can show him your new moves. This date will continue when you get home 😉
Check out other roleplaying ideas.
3. DO BRUNCH
Instead of the usual date of going out to dinner, go out to brunch. This sets the tone for a lazy day ahead. Have a cocktail like a mimosa, screwdriver, Bloody Mary, or the restaurant's specialty. Now that you're nice and relaxed after your brunch, take a stroll in the park or go window-shopping around town.
4. GO TO SCHOOL
Drive over to your nearest college or university and walk around the campus. You can pretend you're 20 again as you stroll the grounds. Plus, there are usually art exhibits to see, or lectures to attend. If not, you can at least grab a coffee while you're there and enjoy the day.
5. SET UP A WORKOUT AREA
When the kids are in bed, have a date at home. Get one of the popular workout DVDs for this date night idea, and then work out together in your basement or workout area. You'll both get in shape, and you'll be doing it together. And once you're fit, you'll both be more ready for sex.
6. BIRD WATCHING
Spend a day in nature bird watching with your sweetie. All you need to do is pick up a book that helps you identify birds in your area and bring a pair of binoculars. You might even sign up for a tour to help you get started. It can be quite romantic, however, to be all alone with your honey in the peace and quiet of the woods just listening for the sound of birds. If you're secluded enough, you can always enjoy another activity while you're out there. Read our advice for sex outside.
7. GO TO A COMEDY CLUB
You might not see someone as talented as Andy Samberg, Jerry Seinfeld, or Amy Schumer when you attend a comedy club on any given night, but you might. Even if the comedians aren't top-notch, you're bound to laugh at something they say. And this makes for a fun date. Plus, there are cocktails.
8. GO TO YOUR FAVORITE STORE
Some stores allow you to hang out and do more than just spend your money. Some sporting goods stores let you try out their equipment. You can book a tennis court, for example, and try out the different rackets. Yoga stores might offer a complimentary class. Apple lets you play with all the devices there. And home improvement stores might offer classes to help you learn to do something useful around the house.
9. GO TO A NURSERY
Do you both enjoy gardening? If so, head over to the nursery together. There, you can browse which types of plants you want to plant next. Some nurseries have gift shops or cafes where you can linger with your date.
10. HEAD OVER TO A SEX SHOP
Browse all the new toys, and bring home your favorite toy or two, making this date night idea a two-parter. Some shops even offer classes on everything from massage techniques to other types of bedroom skills.
11. VOLUNTEER
You both love animals? Volunteer at a dog and cat rescue. Besides needing foster parents, these animals need people to show them some love. You can walk the dogs, or brush the dogs and cats. If you're not into animals, volunteer at a food pantry. You'll both bond over helping others, and you'll likely feel less stressed after your efforts.
12. ROAD TRIP
Get out the map and pick a place an hour or so away. You could be headed for a hike, a nice lunch spot, an antique store, or just a place to sightsee. The drive offers a good time for some serious or lighthearted discussion – tips here. Or you could just listen to your favorite music. Any road trip has the potential for an exciting adventure, so enjoy.
13. STAY HOME (SIMPLE)
Plan a quiet evening at home for this date night idea, but break out the old-fashioned board games. You can pick a different game each time you do this date. Have some finger foods and beverages and a Monopoly board (or checkers, Battleship, cards, or any board game). This low-tech experience allows you both to wind down and just enjoy yourselves.
14. STAY HOME (EXTRAVAGANT)
Both of you should dress up as if you're going to a fine-dining restaurant. Because you will have such a meal, but the meal will be served right in your own home. You will hire a personal chef for the evening. Live the life of the wealthy for a night, and be waited on in your own home.
15. ARRANGE A HELICOPTER TOUR
Date night ideas don't need to be simple, and nothing says extravagant date more than a luxury helicopter tour of your city. Contact your local helicopter charter to see what it offers. A pilot typically takes you up over your town, usually for 30 minutes or an hour. You'll see some amazing sights and will have an unforgettable date that you'll both cherish for years to come.
16. A NIGHT AT THE OPERA (OR THEATER)
Let your classical side in, and try out the opera or a symphony. This gives you a chance to get dressed up in an evening gown and to see him in a tuxedo or a nice suit. Relax and enjoy the sophistication. If opera is not for you, get tickets to the theater. This night is fancier than going to a movie, and there's something exciting about seeing a live performance.
On a budget? Try these cheap date ideas, instead.
17. BOOK AN EXPENSIVE SPA DAY
Find an exclusive spa in your area, and book a daylong session for you and your man. You'll both be pampered by having a massage, skin treatments, and access to an indoor pool and hot tub. If the spa happens to be in a hotel, go ahead and book a room while you're at it.
Want more? Read all about the perfect second date. Or try these fun double date activities.
Regular date nights are important to keep your relationship strong. Date night ideas can include simple and inexpensive dates or total extravaganzas. Now that you have plenty of date night ideas, enjoy yourself!