While you might envision summer as the perfect time to go on a date, don't forget about the potential of winter date ideas. You may have to work around the weather sometimes, but this just means you need to get more creative about planning date night.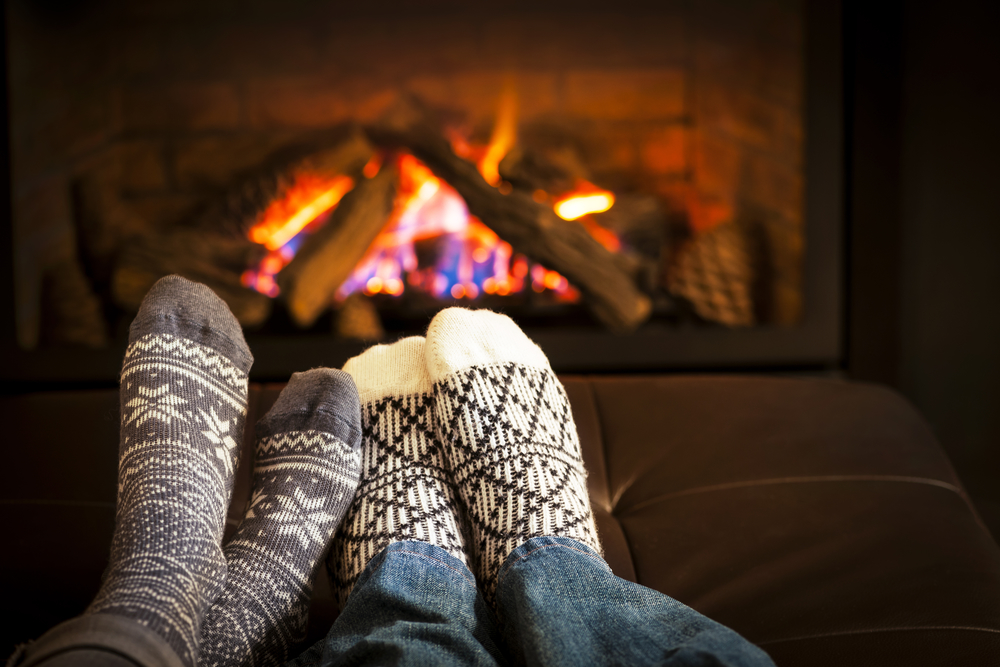 Plus, cold temperatures mean snuggling closer, and snow provides a romantic backdrop and the perfect means to do things such as sled or ski. Keep reading, and you'll see what we mean!
1. ICE SKATING
Ice skating seems to be the classic winter date idea. Whether you head to an outdoor rink where the snow can fall on your heads under a moonlit sky or you lace up at an indoor rink, you're bound to have fun.
Even if you're not very good at skating, the fun comes from clinging to one another as you try to stay upright or falling down in a pile of laughter together (and laughter is great for easing first-date jitters!). If your town doesn't have an ice skating rink, you can look for a roller skating one, instead.
2. SKIING
Skiing takes a bit more practice and skill that ice skating, so this might not be a good winter date idea for every couple. But if you're coordinated, you can  grab your gear and head to the nearest ski hill. Don't try anything unsafe because you want to impress, however.
This is a good date idea because you can snuggle up on the ski lift or over a cup of hot chocolate in the ski lodge. If you want to enjoy this without the skiing, you could simply do the ski bunny thing and stick it out in the lodge in front of the fire.
3. SLEIGH RIDES
Every romantic comedy that takes place near the holidays seems to feature a couple riding in an open sled or sleigh. If you live in the city, you might be able to hail a horse-drawn carriage and slide close to your honey while seeing the sights.
Another option is to head out of town to find a farm that offers either a wagon ride, which you may share with others, or a sled that actually goes over the snow and provides a bit more privacy. Not every area has this. Look for organizations that hold winter festivals for a sleigh ride.
4. CHRISTMAS TREE SHOPPING
If either of you celebrates Christmas with a real tree, this is the perfect option to spend a little time together. You can hit up a few lots in town to find the perfect pine or fir tree for your living room. These trees are pre-cut, so you don't need to be a woodsman.
But if you or your man is handy with an ax, you can head to the country to a Christmas tree farm where you can cut your own tree and shuttle it home a la the National Lampoon's Christmas Vacation.
5. HOT CHOCOLATE IN FRONT OF THE FIRE
If the weather doesn't abide outside winter date ideas, then you'll want to stay inside where it's warm and protected from the wind. Sipping hot chocolate in front of the fireplace is a perfect fit. If you don't have a fireplace handy – and many people don't – consider your local coffee shop or hotel lobby.
Another alternative is to load up your laptop or connected TV to a video of a crackling flame or even a Yule log. There are plenty of options on Youtube to create ambiance during your date, including this one. Bonus: light some incense to really create the log fire scent!
Are you having trouble keeping the conversation rolling? Try asking thoughtful questions on your date so conversation moves smoothly.
6. WATCHING YOUR FAVORITE HOLIDAY MOVIES
Winter time means plenty of holidays to celebrate: Christmas, New Year's Yule, Kwanzaa and Hanukkah, at the very least. Each of these holidays comes with its own traditions, and most of them have their own music and movies. Christmas, especially, is the setting for a number of holiday movies you can enjoy with your man:
A Christmas Story
Home Alone
The Christmas Carol
White Christmas
It's a Wonderful Life
The list goes on and on.
Don't forget atypical holiday movies, which you can enjoy even if you don't specifically celebrate winter holidays and will pleasantly surprise your man. We're talking about Gremlins, Die Hard or Lethal Weapon, all of which take place during December!
7. CAROLING
At any other time of the year, going door to door and singing for your neighbors would be frowned up, especially if you can't carry a tune, but not during winter! This winter date idea doesn't require anything other than your favorite winter clothing and a little spirit.
You can print out lyrics to classic holiday songs and distribute them among friends, which makes this a fun activity for a group of couples (check out awesome double date ideas for four of you!). Hot chocolate or steaming apple cider can keep you warm as you move through the neighborhood on those chilly evenings.
8. HOCKEY GAME
Hockey is the one sport intended for the cold. Hockey is rowdy and just the right contrast if you've already suggested too many winter date ideas that come straight out of romantic comedies.
If you're not fortunate enough to have a local hockey team, you can head to your favorite sports bar to catch the game instead. Put on the jersey of your favorite player and enjoy some greasy wings and a beer while others around you watch the game.
9. MAKING COOKIES OR BUILDING A GINGERBREAD HOUSE
Working together can teach you a lot about your partner, so building a gingerbread house is one of the more cooperative holiday date ideas. It will require plenty of time and patience, especially if you make the pieces from scratch. However, you can buy kits that make it easier.
If you lack the space or desire to build a gingerbread house and, instead, want a project you can later devour, then it's time to make cookies. Consider baking and frosting sugar cookies in holiday shapes. Otherwise, you can bake a batch of chocolate chip cookies. Who can say "No" to those? You might gobble them all up, leaving Santa to fend for himself!
10. INDOOR ROCK CLIMBING OR SKYDIVING
While you might think these don't make sense as winter date ideas because of the weather outside, you just need to look for a gym or facility that allows you to do these things inside. Indoor skydiving doesn't require you to fly thousands of feet into the air. Instead, you feel the resistance of a wind tunnel, which is like nothing else.
Related: 17 Kooky Date Ideas
Indoor rock climbing is perfect for practicing or for newbies to the activity. You'll never be so far up that you can injure yourself drastically like when you climb a real rock wall. Grow those skills during your winter dates, and you can try your hand at the real thing once the temperature rises again.
11. DANCE LESSONS
Dance lessons typically take place indoors. Whether you're practicing for your wedding or just want to burn some calories, you've got plenty of options. You could go for traditional slow or ballroom dancing or try something more modern such as zoomba, which doubles as a workout.
It might be a bit more difficult to get your man to agree to this winter date idea, but you can trade dates when you're not taking lessons to do something he'd like. Plus, you'll have a consistent date night every week or month, and you'll need to spend time practicing at home, which means more quality time with your man.
12. (MOONLIT) SNOWSHOEING
Snowshoeing is supposed to be the easy way to travel over snow, but it's definitely harder than it looks. Don't let that stop you from trying this date idea. After all if it's not for you, you can stick to the other holiday date ideas on this list!
Not into this idea? Discover 30 date ideas for you and your man that you can be converted into winter date ideas with a little creativity.
13. SLEDDING
Who doesn't like to hop on a sled and slide down a big hill when the world is covered in snow? Let your inner kid run free and play with your man's inner child. You get the rush of going down the hill as many times as you're willing to climb back up it.
And you don't need any special skills or equipment! All you need are some sleds; they don't even need to be fancy. You could go to a hill where you can rent inner tubes, which tend to be more comfortable or try a multi-person toboggan, instead if you like.
14. BOOK STORE
Bookstores might not be as common as they once were, but that doesn't mean this isn't a great date night idea. You and your man can hit up the local bookstore to find some new stories to enjoy. You can turn it into a game when you both look for books the other will enjoy.
When you return home, you can curl up next to each other and read silently or even read out loud to one another if you're comfortable with that.
15. SCENIC DRIVE
Taking a drive can be fun no matter the time of year, but what makes this one of the great holiday date ideas is that so many people will have their houses and yards decorated for Christmas. Even if they don't, people often set up their trees in front of their windows.
A drive down your road or, better yet, through a well-to-do neighborhood can have a bright and romantic atmosphere because of this.
Are you looking for more dates on the cheap? Here are 28 cheap date ideas you have to try.
16. LIVING ROOM PICNIC
You might not see any green outside your window, but that doesn't mean you can't pack a picnic and spread out a blanket on your living room floor to enjoy it! Plus, you won't have to deal with ants, and you'll have plenty of privacy should your romantic date (don't forget to read even more romantic date ideas) turn a little frisky.
You can easily surprise your man by having a picnic ready when he walks in the door. Pack a snack or treat that you know your man likes. He'll be pleasantly surprised by the thoughtfulness.
17. ARCADE/BOARD GAME CAFE
If you're lucky enough to have a local arcade, board game cafe or even a barcade, then you can have hours of fun together even when it's too cold to have fun outside. Pick a venue that you'll both enjoy. You'll need to be open to trying new things, but you might wind up with a favorite new game – not to mention some awesome new memories.
This makes a good second date idea too. Check out 8 more second date ideas in this post.
Of course, this is just a small sample of holiday date ideas. You can use these for inspiration or come up with your own. The point is not to let cold weather keep you cooped up and feeling bored all winter long. The choice of if – and how – you want to enjoy winter with your man is yours!