April Fool's Day comes every April 1st, and it can be fun to plan April Fools jokes to play on your boyfriend – and to have a joke played on you in return. A good April Fool's prank is funny and good natured and won't add any stress to your relationship. We've provided a few options, or you can come up with your own!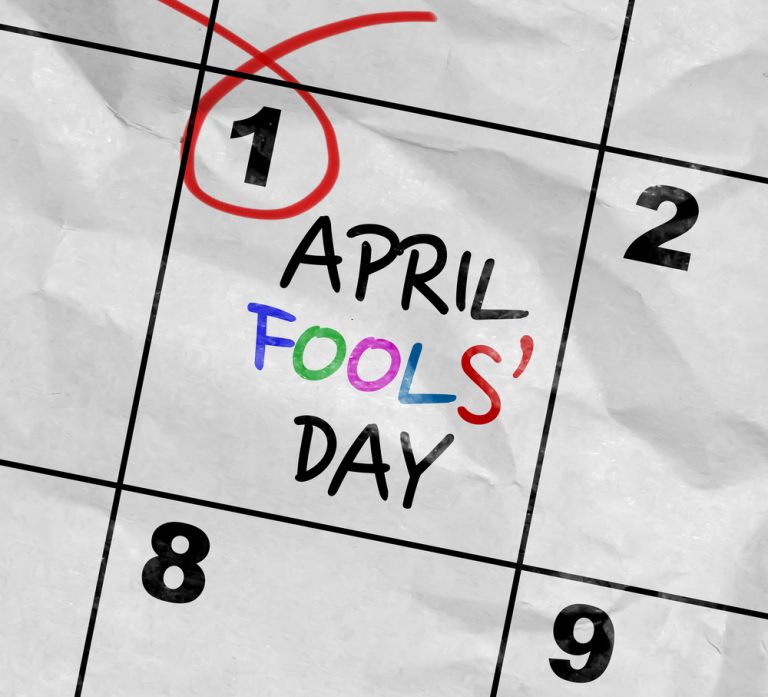 APRIL FOOLS JOKES TO PLAY ON YOUR BOYFRIEND
The following April Fools jokes to play on your boyfriend are fun and won't create any lasting strife between you and your guy. However, they can break up your routine and add more fun in your life.
Related: 11 Steps to Spice Up Your Relationship
1. GET A TEMPORARY TATTOO
Unless you hopped on the recent metallic temp tattoo bandwagon, you might not have tried on one of these decals since you were a child. But you can break one out to play a prank on your man. In this case, something that's ridiculous and over-the-top – or even spelled wrong – might do the trick. It probably won't fool him for long, but it'll give you a few chuckles.
Flip the switch by applying a temporary tattoo on your man while he's sawing logs if he's a heavy sleeper
2. HONK IF YOU CAN READ THIS
Instead of putting a temporary tattoo on your body, put a temporary message on his car. A simple decal or magnet that reads "Honk if you can read this" will have him wondering why all the other drivers are honking at him. It might take a while to discover, but he can easily remove the decal once he does find it.
3. DISCONNECTED PHONE NUMBER
When your guy sends you a text on April Fool's Day, you can reply with a message like the following, indicating that your number has been disconnected.
We're sorry, but the number that you are attempting to reach has been disconnected.
This one's pretty easy to debunk, too, so the joke doesn't cause any long-term damage.
4. FAKE VIDEO GAME CONTROLLER
If your boyfriend is a gamer, you can swap his favorite controller with a fake one. He'll try to turn on his console and play his favorite game, but it won't respond. You could even take an old controller that doesn't work or modify one yourself for this prank.
Some Etsy makers sell molded controllers made from soap or wax; although, they're going to feel a bit different than the real thing.
Bonus: the fake controller can become a consolation gift after your April Fool's joke is done.
Psst, do you like games?  Try these sexy drinking games.
5. SARAN WRAP IT UP
Everyone knows this prank, which is just perfect for April Fools.  Carefully put sticky plastic wrap under the toilet seat so there are no giveaway wrinkles. When he goes to the bathroom, it'll spill over. This prank is a little disgusting, and you might wind up cleaning it up, so beware!
An alternative is to place plastic wrap over the door frame or even in front of the fridge, temporarily ensnaring him in the plastic.
6. STICKY SHOES
Apply some tape or other sticky product (think poster putty) on his shoes and stick them to the floor firmly. When he goes to grab his shoes (or slip his feet into his slippers at the side of his bed), they won't budge. Of course, you don't want to damage his shoes or the floor. So be careful with your sticky substance.
7. HIDDEN SURPRISE
YOU might be the best April Fools joke if you hide cleverly. You can hide under a bag or large box until your boyfriend comes near and jump out to surprise him. Get creative and hide under blankets on the bed or the couch cushions.
Does your man like surprises? Check out these sexy gifts to surprise your man with.
8. SPIDER IN A CUP
No time or props to plan your April Fools prank? All you need for this one is an opaque cup or mug and a marker – or a sticky note. Place the cup upside down somewhere that he's sure to see,  and write on the cup or Post-It note that he shouldn't lift it up unless he plans to kill it.
He'll probably think it's a rat or a spider, and if he's especially bold, he might want to take care of the pest. But when he lifts it up, there won't be anything there. A gullible guy might think that whatever it was escaped and spend some time looking for the pesky creature.
9. CHANGE THE LANGUAGE
An easy prank to pull on your man is to change the language on his phone, tablet or computer. It's a quick setting that's easily reversed, but it will give him pause while his wonders what happened. Of course, if he inquires, you shouldn't let him know that you had anything to do with this prank.
Hey, while you're at it, why not leave a page open in his browser that links to your favorite sexy article on the Bad Girls Bible?
10. AUTOCORRECT FAIL
Smartphones and similar devices have a keyboard feature that swaps words for others. This is great if your phone thinks you mean something and never do or if you frequently use an abbreviation. But you can use this function to create a shortcut that replaces something innocuous and commonly used to something more.
It can be silly like swapping "Hi" to "butts, " or you can make it a little more scandalous. Just remember that he might text someone who could become offended by something more X-rated.
11. OBNOXIOUS RINGTONE
Another April Fools prank is to change his ringtone. You can pick an embarrassing sound clip like a fart or something from Family Guy. Pick a song that you know your boyfriend would be especially embarrassed to play on his phone in public.
12. STATUS ALERT
If you have access to his phone or computer, you can change his status update on Facebook to something silly and funny that would make him blush but won't do any real damage. Have a copy of an embarrassing childhood photo? Post it to friends and family!
13. TIME ZONE CHANGE
This is one of those April Fools pranks that you can combine with others. Grab the clocks and devices and set them ahead an hour or two. It might take planning around his bedtime to get it right, but it's funny when he wakes up to his normal alarm and participates in his typical routine. See how long it takes for him to realize that he's been pranked.
14. EXHAUSTED
Place a balloon or condom on his car's exhaust. As it fills with air, it will eventually expand and pop. He'll be startled and wonder what the heck happened, but no one will be hurt.
15. THREE'S COMPANY
If you share a home with your honey, let him know that your sister/best friend/parent is moving in. He'll probably be pretty frustrated that you didn't talk to him about it, especially if it's a person whom he doesn't love. But you can assuage his fears when you let him know that it's just an April Fools joke.
16. SWEET OR SOUR
This is the April Fools joke for someone who likes to cook or bake. Replace frosting on a cupcake with mayonnaise and wait for him to take a big bite, only to realize it's not a sweet treat. Of course, having an actual cupcake on hand will be the dessert he's been waiting for.
For those intrepid cooks, you can make a meatloaf in a cake pan and "frost" it with mashed potatoes. Decorate it with ketchup and mustard, too. If you do a good job, he won't know it's not cake until he takes a bite.
17. CAR FOR SALE
Post on Craigslist or a similar selling site that his car/bike/motorcycle or other high-value item is for sale (just make sure to blur any identifying information if you add photos). Include his real number or email, so he's inundated with messages from strangers all day.
You can modify this prank by posting something that he doesn't own or post an embarrassing ad for something sexual. He'll have a day fielding all the inquiries.
18. NAIL POLISH SPILL
Here's one of the more creative April Fools jokes to play on your boyfriend. Pour a little bit of nail polish onto some wax paper and let it dry. When it does, you can peel it off and place the "spill" on his clothing. It'll look like a real nail polish spill when it's lying down, but it'll easily come off as soon as he picks up the item.
AVOID THESE APRIL FOOLS JOKES
Avoid pranks that will permanently damage either his possessions or your trust. Because while something might seem funny to you, he doesn't know that it's a joke. It will momentarily feel to him like it's happening for real, and it can take much longer to rebuild the broken trust than it did to pretend you had cheated on him.
Read: 6 Steps to Rebuild Trust in a Relationship
Furthermore, if you pretend to break up with him, for example, he might wonder whether you really mean it, or he might not take you seriously in the future if you do want to break up with him.
Another April Fools joke you might want to avoid is pretending that you're pregnant, at least, in a public forum. Over the past few years, society has come to shed light on how traumatic it is for people to deal with someone else's fake pregnancy. So if you need to fake a pee test, don't broadcast it on social media.
You're not limited to any of these April Fools jokes to play on your boyfriend from this list, but hopefully, you feel inspired when next April 1st rolls around. Just be prepared when you dish it out because your guy might play an April fools joke right back on you!