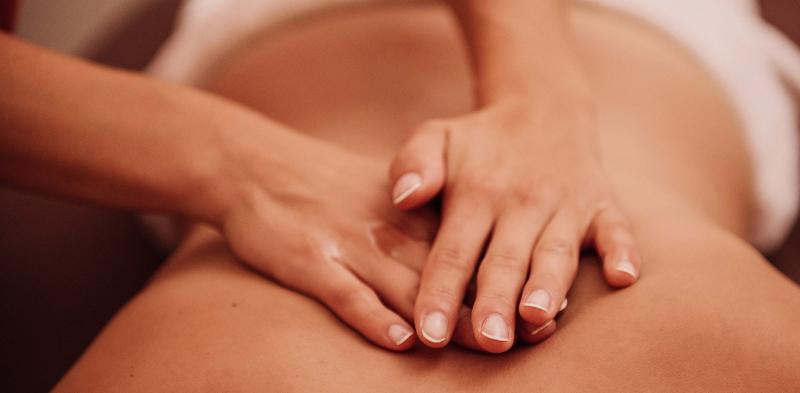 Mouth, breasts, oral, penetration.
Does that sound familiar?
Yep, it's the good ol' "order of sex" for a lot of people – which there's nothing wrong with. But what if you want something different? What if you want to feel pleasure in other places?
Here are parts of the body that are worth exploring.
DISCLAIMER: Keep in mind that, like every other part of the body, sexual pressure points are different from person to person. What works on one, might not work on another. So, take your time in finding them, and don't lose heart if some don't work.
1. NOSE
We might as well start off with something right out of left field. And, although it might sound like a weird place, it's actually the second part of your face with the most nerve endings (aside from your lips). Light kisses can or part of a face massage can add a little extra stimulation. Light bites on the tip can trigger the erectile tissue that lies within.
2. BREASTS
…But not in the way you think.
Yes, the boobs are always on the "to do" list. But do you really spend enough time there? For one thing, some women can have orgasms just from nipple stimulation (I speak from experience). Plus, a breast massage (giving lots of attention to everything else BEFORE the nipples) can be incredibly hot.
3. YOUR HANDS
Since they are often the source of pleasure (think fingering, handjobs, caressing, pinning down, etc.) you can spend some time around these digits. Nibble, lick, gently bite, suck, etc. It's activating both the body and the mind.
4. INNER THIGHS
Yeah, you probably know this one. It's also quite sensitive, not just because of nerve because it's really close to your genitals and therefore triggers anticipation.
5. BELLY BUTTON
This usually works just with women because of developmental reasons – the clit and belly button grows from the same tissue so there are brain connections there. Some can feel pleasure from being licked in that area (and feel simultaneous sensations down south).
6. THE SEA OF ENERGY
This traditional sexual pressure point is located two or three inches south of the belly button and can feel very nice. Whether it's through massage, kissing, licking, etc., depends on the individual.
7. BACK OF THE KNEES
It's a sexual pressure point, like many others, because it's such a sensitive area.
8. THE BUBBLING SPRING
One for the men. Get to the third toe, then head about one-third the way down. It's another acupressure point. It can cause a wave of pleasure or energy all the way up the leg and sometimes even to the genitals.
9. TOES (IN GENERAL)
It can be for both men and women (you've heard of foot fetishes), but the more common pressure point is for ladies (as in feet in general). Explore different ways to activate various sensations, but don't forget to gently press the sides of her big toe – it can sometimes cause an orgasm.
10. SACRAL NERVES
In laymen's terms = the small of the back. It's a cluster of nerves just under the lower backbone. Use the palm of your hand to massage this area and slowly build pressure. Combined with building warmth, it can often cause a woman to climax.
11. NAPE OF NECK
Men and women love this area. Massage it. Kiss it. Combine it with other points.
12. SCALP
People either love this or they hate this. Also, it doesn't have to be sexual. It can be used as a means to relax the body and therefore make it easier to generate sexual energy.
13. PUBIC MOUND
It has tons of nerve endings and is tantalizingly close to your genitals. Use this as a middle-play tease, the build-up to oral sex, or as part of a massage.
14. ARMPITS
Stay with me here…
You know how sensitive (and ticklish) this place can be. So, if you don't mind some hair and keep things clean, it can be another great point to play with.
15. EARS
This one is probably no surprise. Ears are always worth exploring.
16. BRAIN
It's the biggest sexual organ of the body. Anticipation, dirty talk, role play – it all triggers an explosion of pleasure.
17. INDIVIDUAL SPOTS
For whatever reason, some people might have their own happy points. I have one on either side of the labia that creates fireworks. Take plenty of time (and several sessions) to work your way through your partner's body and see if you can find some surprise areas.
18. MAKE YOUR OWN
It's called conditioning.
While giving pleasure (oral sex or sex toys is easiest, even though talking is possible) pick a spot on the body and use some physical trigger during orgasm or intense pleasure (a tap, pressing down, flicking, whatever). The idea is to make your brain associate that point with climax.
So, after enough conditioning, you might be able to just activate THAT spot and trigger a high.
Which of these is your biggest turn on? Have any sexual pressure points that are not on the list? Share in the comments.