You can use text messages in so many different ways to show your man that you're thinking of him: flirty texts (ideas in this post), thoughtful texts, sexy texts, picture messages, and love text messages.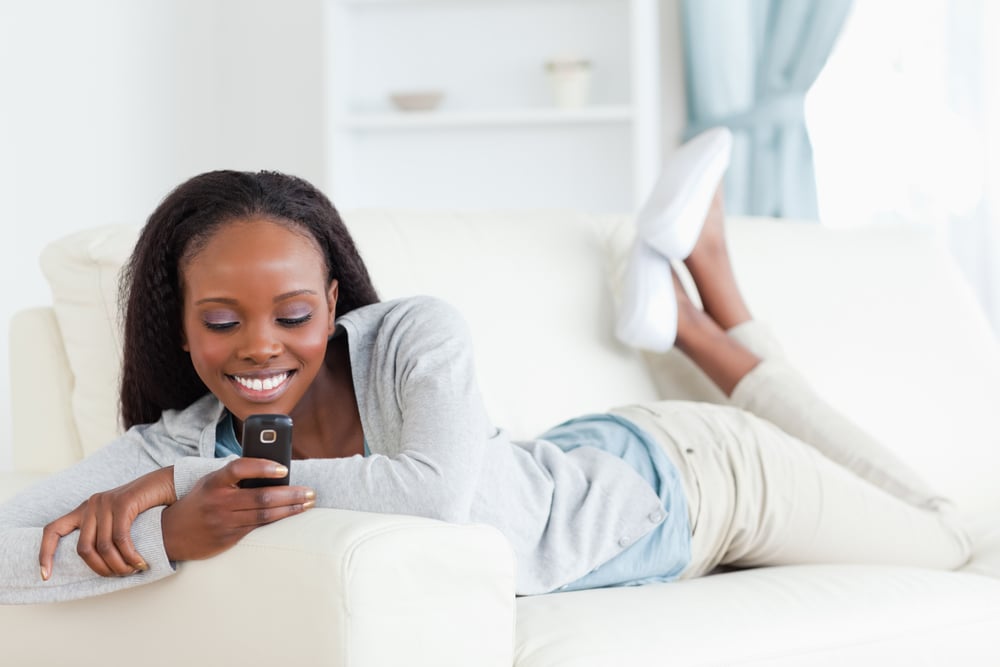 This post will give you some ideas and different ways to use love text messages to let your man know how much you care about him.
Although all the reasons we will provide are great times to send texts, it's important to establish a rhythm for texting. You don't want to overdo it by consistently sending him more texts than he sends you. You can potentially smother him by doing that. Check out this guide to help. With that thought in mind, here are some examples of great times to send love text messages and what to say when you do.
1. WHEN YOU KNOW HE'S FEELING DOWN
It's important to send your guy a love text message to let him know you're thinking about him when he's feeling down. When people are sad, they tend to withdraw, so reaching out to him during this time will probably mean a lot to him. Your man needs your support. Don't judge him. But let him know that you can listen if he wants to talk. Tell him that you are there for him, and ask what you can do to help.
Sample Texts:
I don't blame you for feeling sad right now.
You are not alone.
I care about you.
I'll give you a big hug when I see you next.
This will pass, and I'll be there to ride it out with you.
I understand how you're feeling and I empathize with you.
I'm sorry you're feeling down.
I'm here to listen if you want to talk.
I can't really understand how you feel, but I can offer you compassion.
If he's not opening up to you, try reading his body language.
2. WHEN YOU MISS HIM AND HE'S MISSING YOU
It's tough to be separated from your guy, so send a love text message when you are. This communication builds intimacy. You can check in with each other just to find out what you are doing or what you did that day. Or you can tell him how much you love him. The daily communication helps the two of you keep your connection and is a great way to feel close with your guy.
Sample Texts:
Take random pictures of yourself throughout the day and send them to him in a text message.
Go outside now and look at the moon. I will too, so we can watch it together.
I thought about you all day today, and I'll do the same tomorrow.
I miss you so much. I feel as if a piece of my heart is missing.
I wish you were with me right now.
I can't wait until I can wake up next to you again.
I wish you were holding me tightly in your arms right now.
The longer we wait the sweeter it will be when we kiss again.
I miss your touch.
I miss how you smell.
I miss your smile, your kisses, and your tender touch. I miss everything about you.
You can also try sending lyrics from a song that describes how it feels to miss someone.
3. WHEN YOU'VE HAD A FIGHT
When you're in a relationship, you're bound to have a fight now and then. It's even healthy to be able to disagree and let the other person know. But it's important to handle the post-fight well so that you don't harm your relationship.
One way couples can hurt the relationship is to give each other the silent treatment after the fight. This is punishment (and may lead to emotional abuse), and if you do that to your man, he might not tell you things in the future to avoid the punishment. If you need time, tell him in person or in a text that you need a day to sort this out and that you are sure everything will be okay by then, and if not, you can talk about the problem more when you aren't mad.
It's not okay during or after a fight to call your man names. Some people can't get over being called cheap, stupid, a slob, or whatever. Instead of resorting to doing that, talk about what's bothering you and offer suggestions.
Sending a love text message to your man after a fight is not to rehash the whole fight but to simply remind him that you love him despite the fight you just had.
Sample Texts:
I hope you can forgive me. You mean everything to me.
I'm sorry. I need for us to be in each other's lives.
What can I do to be in your arms again?
I'm sorry we fought. I just want the best for both of us. I hope you can forgive me.
I know that you are still angry. But when you get a chance, please think about all the good times we share and how great our future can be. I'm sorry.
It breaks my heart when we fight. Let's put that behind us so that we can look forward to better times ahead.
I want to put an end to all our fights. I will stop blaming you for our problems.
Of course, it's always a good idea to figure out why you're fighting. Do you have trust issues? Do you need to fix problems with money or family? Learn more here.
4. BEFORE BED
Sending your guy a love text message before he goes to bed is a great way to let him know that you're thinking of him. He'll feel loved and should have some sweet dreams.
Sample Texts:
I could not go to sleep without letting you know how much I love you.
Each day that goes by, I love you more and more. I can't wait until tomorrow to feel the love again.
Goodnight, my love. Sleep well, and dream of me.
You mean the world to me. Sweet dreams.
5. WHEN HE WAKES UP
Let him wake up to a sweet love text message from you to let him know that you're thinking of him. This simple gesture from you can mean a lot to him, and it should put a smile on his face.
Sample Texts:
Good morning, sweetheart!
Good morning, handsome!
Good morning. I love you!
Ooh, the hottest guy in the world is up now.
I woke up and thought of you, and I wanted to let you know.
Today will be a great day because I get to see you.
Hope your day is perfect.
I dreamt of you last night.
6. WHEN YOU KNOW HE NEEDS YOUR SUPPORT
Sometimes we need support from another person. The same goes for your boyfriend. When he needs support, you can let him know that you will be there for him. But guys typically handle stress and problems differently than women do. Women tend to want to gather and talk things out, but men often like to figure out the problem themselves. A love text message for support should let your guy know you are there if he needs you. If you smother him during this time, he might feel weak, making him feel even worse. Gauge what he wants by his response to your texts.
Sample Texts:
I'm here to listen if you need me.
Let's just hang out tonight and do nothing.
I think you're great.
I believe in you.
I have your back.
I understand if you need time to work out your issue.
I know you can handle this.
Remember how great you are.
There is power in sending your man a love text message at the right time. It's a good way to strengthen the bond the two of you share. Just be careful not to bombard him with messages, as that can have the opposite effect. But everyone likes to know that someone cares.