Sex is supposed to feel good, so feeling soreness after sex is pretty frustrating. You want to bask in the afterglow, not have to avoid sex or masturbation while you wait for things to return to normal. The possibility of an infecton or STI can also add anxiety to the situation, and no one wants that. Fortunately, a sore vagina after sex can often be prevented with thorough preparation (lube and foreplay!), and your doctor should be able to help you out in most other situations.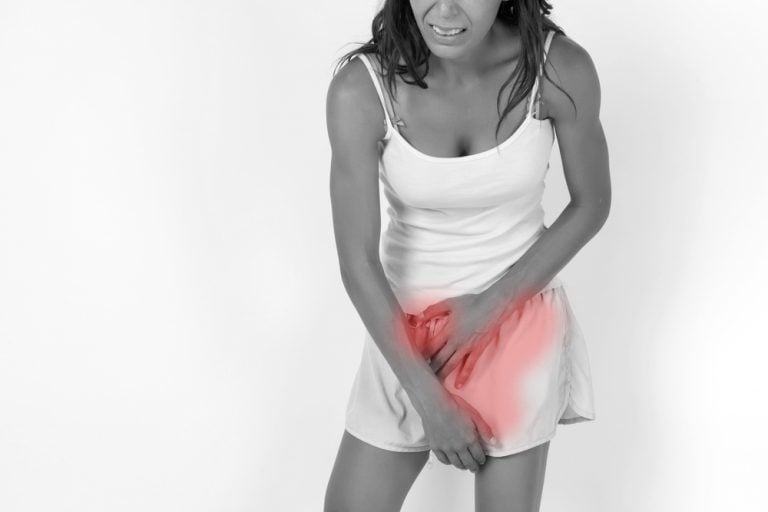 First things first. Figure out what hurts. Is it an internal pain (vaginal)? Or do your vagina lips, clitoris or other external part that makes up your vulva hurt? This distinction can make it easier to troubleshoot and talk to your doctor if it comes to that.
In the meantime, keep that calmness and use of logic as you try to determine why you have a sore vagina after sex. Determine which of the five causes of soreness after sex might be your culprit and read up on treatment to feel your best as soon as possible.
1. YOU'RE ALLERGIC TO THE CONDOM
If you're allergic to latex, which is what many condoms are made from, you might have a sore vagina after sex. This will probably come with swelling and itching, and your vulva might feel like it's on fire. Topical or oral Benadryl might help to relieve the symptoms, which should go away on their own in most cases.
In some extreme cases of latex allergy, you might want to schedule an appointment with your doctor as they can even cause blistering. Fortunately, you'll find condoms made from polyurethane, lambskin and polyisoprene, which don't contain latex and will not cause your allergy to flare up. Learn more about condom allergies.
2. YOU DIDN'T USE LUBE
You were super turned on, so you didn't feel like you had to use lube? That's a common misconception. No matter how turned on you are, lube is always your friend. It makes insertion easier, helps to keep things slicker for longer  – perfect for slow sex sessions! – and helps to prevent that awful feeling of soreness after sex.
Lube is especially helpful if you like rough sex (read more). We also recommend using lube when you don't have time for foreplay so that your partner will be able to enter you more easily.
Need another reason to use lube? Trauma to your vaginal walls can make it more easy to get an STI or a bacterial infection. Youch! Plus, you can get flavored lubes and warming or cooling lubes if you want to try something new.
3. HE'S TOO ROUGH
Even if you use lube, there's a chance that your partner is plain too rough – and it doesn't just mean with his penis. He might be rubbing your clit too hard, fingering you vigorously or using a toy in a way that leaves you sore after sex. Here are a few tips to avoid a sore vagina after sex, and you can adapt them if you get a little carried away during solo time, too.
Start slowly with fingers or a smaller toy before moving onto something larger.
Remember that rigid items have a more forceful impact than softer ones such as a silicone dildo or your partner's penis.
His nails should be trimmed short and filed to prevent any cuts or snags.
Don't use any items for penetration that weren't designed to safely enter your body.
Talk about what feels good and doesn't. Stumped? Check out our

 

guide to talking about sex.
Etc
One piece of advice that can be helpful is for you to take charge, and we don't just mean dominating your man (unless you're into that, of course. Check out ideas to dominate your man here).
Get on top to control the action. It's easy to find the right angle and speed to make sure everything feels good. Your man will also love the view and your show of confidence.
Are you having trouble finding the courage to climb on top of your man?  Read this post: 10 Tips To Feel Super-Confident In Girl On Top Sex Positions.
If you have soreness after sex, take it easy. You can take an oral pain killer. Cotton panties and pants that allow you to breath are good, and you may even consider applying ice to the area for relief until your vulva has returned to normal.
4. YOU'VE GOT A MEDICAL CONDITION
For some people, no amount of lube or slowing things down will help, why is that? It might be that you have a medical condition preventing penetrative sex from feeling good. One possible condition is vaginismus. Penetration of anything (a toy, tampon, fingers or penis, among others) causes your vaginal muscles to tense up, making penetration nearly impossible and certainly painful.
You'll know if you have vaginismus because sex will hurt during (find out other reasons sex might hurt), not just after. And you might bleed during sex, too. A doctor may recommend using dilators or surgery to correct your case.
Discover 12 reasons you're bleeding after sex.
The second cause is the hymen. Now, forget everything you think you know about the hymen. It's not just a shift of skin that every woman has over her vagina that will break when she loses her virginity (or rides a bike or horse, etc). The hymen is actually the stretchy skin around the vaginal opening, and it shouldn't rip or tear during sex.
Psst, are you thinking about losing your virginity? Read this post first! You'll be glad you did!
For most women, the hymen is elastic enough to allow for sex; although, there are different types of hymens, and some of them can make sex more difficult or even impossible. If you can feel something blocking your vagina, have never menstruated or can see your hymen covering the vaginal opening using a hand mirror, it might be time to talk to your doctor about corrective surgery. This is especially true if your vagina is fully blocked by the hymen, which can block your body's natural menstruation and lead to health problems [1].
If you find all this interesting, you've got to learn the truth about hymens.
5. YOU HAVE AN INFECTION
Infections are tricky little things. Sometimes they're obvious as with an extreme yeast infection, but that's not always the case. An infection might only be present around your period (this sometimes happens with herpes) or after you have sex. Occasional spotting or a sore vagina after sex might not immediately make you think "I have an infection," but you shouldn't rule out this possibility if you can't figure out the cause of the pain.
There are a few types of infections to consider, too.
Bacterial vaginosis

 

is an infection that occurs when the bacteria in your vagina and cervix get out of whack. Your doctor will prescribe antibiotics, and condoms may help prevent BV in the future. Learn more.
Yeast infections

 

occur when your vagina's pH level isn't in balance. They can lead to a chunky, cottage-cheese like discharge and unpleasant smell. Plus, you can pass a yeast infection back and forth to your partner.
Sexually-transmitted infections (STIs)

 

used to be known as STDs. But most STIs are just that – infections. You can treat them with antibiotics or your body will fight them off eventually, which is the case of some strains of HPV [2]. Pain may also indicate the onset of herpes. Find out STI symptoms and their treatment in

 

this post.
An infection doesn't mean that your life is over nor does it mean your man cheated as you can get bacterial infections from sex or masturbation, and STIs can take months to show up. We no longer view people who have STIs as tainted, and this is a good thing. STIs are more common than you think. In fact, the CDC states that most men and women who have been sexually active will contract HPV during their lifetimes [3].
You can talk to your doctor or go to a reproductive health clinic such as Planned Parenthood to get a test for STIs. Many can be tested through a urine sample; although some infections require a longer waiting period to show up, and your doctor might recommend a blood test for some STIs.
CONSIDERATIONS
Your sore vagina after sex might seem like a badge of honor, but it's actually a sign that you may be doing something wrong, such as having sex that's too rough or vigorous or not using enough lube. In most cases, your vulva will self-heal, and you've got nothing to worry about. But in some situations, soreness might be long-lasting enough that you need to put off having sex. In a worst-case scenario, soreness could actually be from a cut. If you don't take care of it, this could lead to a painful infection. You don't want to exacerbate the situation and wind up having to see a doctor or avoid sex for weeks if you can prevent that from occurring.
No matter why you might experience soreness after sex, it's also important that you talk to your partner. If it's just him being too rough, you should slow things down and add lube and possibly more foreplay. Let him know if there's a reason why you don't want to have sex tonight that's not about him or your relationship. You're just waiting to heal
Feeling sore after sex is pretty common, but it can be avoided. If you experience it every once in a while, there's probably nothing to worry about. But you might want to consider what changes you can make or whether you should speak to your doctor if you often have a sore vagina after sex.