When you're dating someone, you can ask questions for many reasons: to get to know one another or to be cute and silly. Don't ask too many questions at once or when your boyfriend is busy. Just pepper these cute questions to ask your boyfriend in now and then.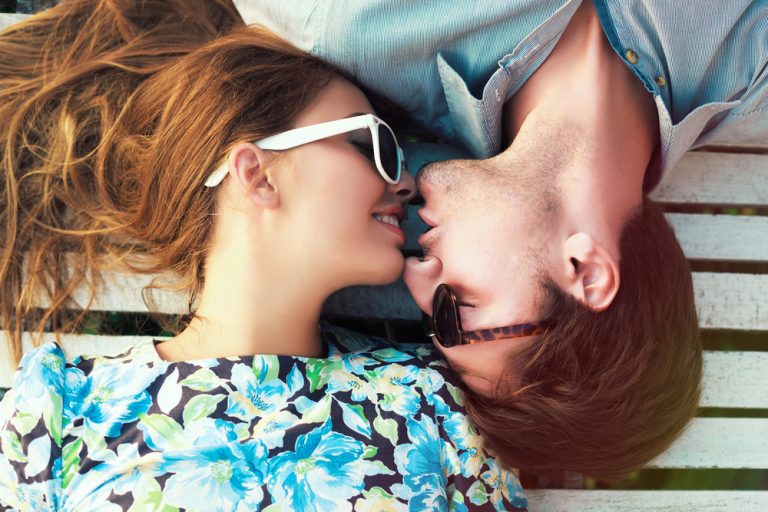 Here are 30 questions to ask that are cute, silly, or interesting.
1. WHAT'S YOUR FAVORITE COLOR?
Here's what some answers might mean: Blue is calm and cool. Red is bold and sexually charged. Green is for money and security. Orange is friendly. Purple is mystic. Yellow is idealistic.
2. WHAT'S YOUR FAVORITE FOOD?
Burgers and fries mean All-American. Pizza means he's social and likes to eat with friends. Sushi signals he's a foodie. Bacon means he's a true carnivore, and chocolate means he's a romantic.
3. WHAT'S YOUR FAVORITE TV SHOW?
You can tell a lot about a guy based on his TV show preferences, such as whether he's into sports, is the creative type, or is an intellectual.
4. WHAT'S YOUR FAVORITE MOVIE?
The favorite movie says a lot about a person's personality because people tend to identify with the hero. Maybe your guy is a rebel, adventurous, a detective, a survivor, a lover, or a champion.
5. WHAT'S YOUR FAVORITE X? (FILL THIS IN WITH ANYTHING, SUCH AS FOOTBALL TEAM, DOG, CITY)
By inserting what means something to you when you ask this cute question, you can see whether you have that something in common.
6. WHAT'S YOUR DREAM JOB?
Your guy might work as a barista today, but that doesn't mean he doesn't have big dreams. This cute question can give you a glimpse into what the future holds for him.
7. WHAT'S YOUR FAVORITE CHILDHOOD MEMORY?
Pay attention when he answers this cute question because the answer could reveal his character and what he values.
8. WHAT'S SOMETHING YOU'D CHANGE ABOUT YOURSELF?
This cute question to ask your boyfriend allows your guy to be somewhat vulnerable, admitting to you that he isn't perfect. No one wants to talk about their flaws, so if he does this, don't hold what he says against him.
In fact, it might be something that you like, so now's the perfect time to pay him a compliment. Learn how compliments can bring you closer together.
9. WHAT WAS YOUR FIRST PET?
This answer to this cute question reveals whether he's an animal person or not. Maybe he's never even had a pet, or maybe he bonded with one and learned to care for one.
10. WHAT'S YOUR FAVORITE THING ABOUT YOURSELF?
You ask this cute question, of course, to find out more about your guy. It's also a good question because people generally like to talk about themselves, so he'll probably appreciate that you even asked.
11. WHAT WOULD YOU DO IF YOUR BEST FRIEND TOLD YOU THAT I WAS BAD FOR YOU?
This is a great question to find out where you stand in the pecking order of important people in his life. If he prioritizes you, it's one of the 13 signs he's really into you. However, if he doesn't make time for you, he may be using you.
12. WHICH SUPERPOWER WOULD YOU LIKE TO HAVE?
This fun question can get you both creating a fun comic book story of your own.
13. WHO WAS YOUR FIRST CRUSH?
The answer to this cute question to ask your boyfriend reveals the type of girl he likes. Do you have the qualities of his first crush?
14. WHEN DID YOU KNOW YOU LIKED ME?
Ask him to remember the first time he liked you. If you two stay in this relationship long-term, you can go back to the place he first realized his feelings for you for a romantic experience. This can be a fun anniversary date!
Related: 15 Awesome 1st Anniversary Ideas
15. HOW MANY TIMES HAVE YOU BEEN IN LOVE?
If he says he's been in love many times, watch out. He probably is confusing love with lust. It takes some time to get to know a person well enough to be in love.
Discover how men fall in love and how to use it to your advantage.
16. WHAT'S THE CRAZIEST THING YOU'VE EVER DONE?
This is a good breaking-the-ice question to ask. He'll probably tell you a funny story that you can both laugh about.
17. HAVE YOU EVER BEEN IN A POLICE CAR?
This is a good way to find out whether he's ever been arrested. Or maybe he'll tell you the time he went on a ride-along.
18. IF WE WERE STRANDED ON AN ISLAND, WHAT WOULD HAPPEN?
See whether he'll answer in a romantic or practical way.
19. WHAT THREE WORDS DESCRIBE ME?
You want to know whether he sees you as you see yourself. The answer you get could be an eye-opener.
20. WHICH OF YOUR PARENTS IMPACTED YOU MORE?
You'll want to know right away whether he treats his mom well or is still under her thumb. If he picked his dad, you'll see whether they're close or whether his dad only brings bad memories.
21. WHAT CUTE QUIRK DO I HAVE?
What he might think is cute now might be annoying later, so take note.
22. WHAT MOVIE SCENE DO YOU THINK IS SUPER ROMANTIC?
Once he describes it, act it out.
23. IF YOU COULD TIME TRAVEL TO ANY PERIOD, WHEN WOULD IT BE?
See whether he'd want to change the world, and how.
24. DO YOU TALK ABOUT ME TO YOUR FRIENDS?
You talk about him with your friends, right? So don't be surprised or insulted to learn that he does, too.
25. DOES IT MAKE YOU SMILE WHEN I CALL OR TEXT?
Now you can find out whether you contact him the right amount of times or an amount he finds annoying.
26. WOULD YOU DANCE WITH ME, EVEN IF NO ONE ELSE WERE DANCING?
A yes answer means you start dancing with him … now.
27. WOULD YOU FORGIVE ME IF I CHEATED?
This reveals how he feels about cheating. If he'll forgive you, he probably expects you to forgive him. What you'll do after cheating isn't necessarily cut and dry. Read more about this.
28. WHAT'S SOMETHING YOU REGRET DOING?
The answer he gives you to this intimate question should not later be used against him.
29. WHEN DID YOU FEEL THE BRAVEST?
Whatever the answer, let him know how proud you are of him.
30. WHAT'S YOUR DREAM VACATION?
Of all the cute questions to ask your boyfriend, this one has the potential for the most fun. Now that you know what it is, maybe you can start planning a trip there with him someday.
If you like asking cute questions, here are 20 more:
Why do you like me?
Can I hang out with your friends?
Have you had a one-night stand?
Where do you stand politically?
What religion are you?
Do you have a hobby?
Have you tried drugs?
Would my past matter to you?
What's your most embarrassing moment?
What are your goals (Read:

 

12 Relationship Goals You Can Attain)?
Do you want to have children some day?
What would you like to change about me?
Why did your last relationship end?
Are any of your friends women?
How often do you like to have sex?
Are you good with money?
If you could wish for anything, what would it be?
Have you ever been involved in a crime?
Who's more important: family or friends?
Do you see our relationship as long-term?
Of course, you might want to ask him something more serious. Read 20 questions to ask a guy to connect better.
Asking him cute questions can help you learn more about your man and seem cute to him. Just be sure not to bug your boyfriend with too many of these cute questions.