It's not just sex that can become routine when you're in a relationship: conversation can, too. Too often, you have the same conversations or even worse – none at all! The following relationship questions help you mix things up, work together as a team with your man, and strengthen your relationship foundation for years of bliss.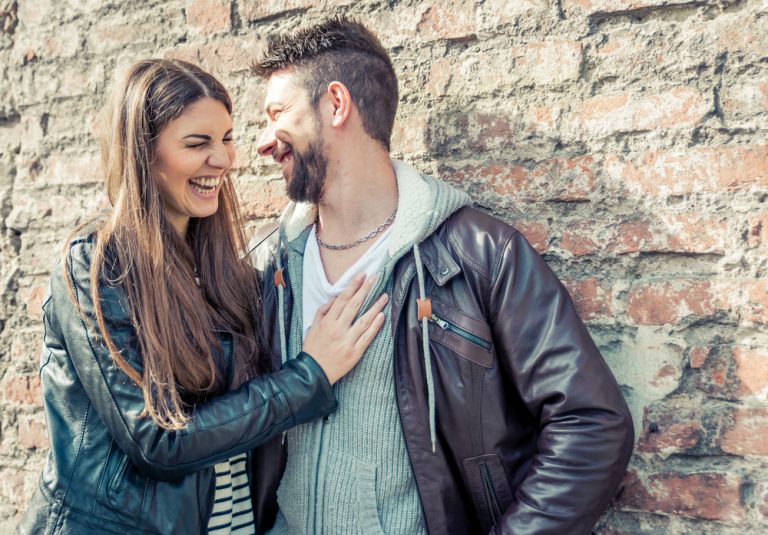 QUESTIONS TO ASK WHEN YOU'RE IN A RELATIONSHIP
Check out the following relationship questions as well as their significance. You might even be inspired to create some of your questions.
1. WHAT ARE YOUR GOALS IN ONE, FIVE, TEN YEARS?
You might not have discussed this relationship question a lot if yours is a budding relationship, but it needs to be discussed before marriage (ask these questions before saying "I do") or buying a house together (read this before moving in together). How your partner (and you) answer this question provides a lot of insight into whether you're compatible and how you can help one another achieve your goals.
For example, if one of you is dead set on having kids within five years, but the other wants to wait or doesn't want kids at all, this is something you want to know. Some goals may need to be modified for them to work with you as a couple. On the other hand, education, career, and travel goals may very well be something you share in common.
Outlining your goals also gives you the opportunity to create plans to help reach them.
2. DID YOU REACH YOUR GOALS THIS WEEK?
Not all goals are long term; you can achieve some in just a week. It might be finishing a project for work or school, eating better, working out more, reading or making more time for your partner or kids. When you answer this question, you get to reflect on how you spent your time and your priorities. Knowing your partner's goals and his feeling about those achievements also helps you remain connected.
3. WHAT DID YOU WANT TO DO MORE OF THIS WEEK?
This question piggybacks on the previous one. If you wanted to spend time on a date or having sex but found yourself watching TV, this question will reveal the discrepancies between how you spend your time and how you want to spend it.
Knowing your partner's goals and his feelings about those accomplishments also helps you remain in sync. He's not a mystery or a stranger who just shares the house with you.
4. WHAT ARE YOU LOOKING FORWARD TO?
Do you have a date night planned next week? Or you might have an upcoming softball game, boys/girls night, vacation or simply a day off to relax. Think about what you're looking forward to, which will boost your mood and allow you to share a positive moment with your man.
5. WHAT DID WE DO WELL THIS WEEK?
Some therapists recommend checking in every so often with your partner so you can express how you feel about your relationship. Not only does this question help you check in, but it encourages you to focus on the positive, which makes you feel good about your relationship. It's all too easy to focus on the negative and forget what you get out of your relationship. But being positive isn't just nice, it's necessary.
It can also be pleasant to hear that your man enjoyed the walk you took through the park or something small you did that impacted him. And you both can take cues from what the other enjoyed to keep up the good work.
6. HOW CAN WE IMPROVE?
No relationship is perfect (no person is, either). So it's realistic to analyze what didn't work so well. If you pair this relationship question with the one above, you know it's not just a nag fest. Furthermore, knowing that you both have an opportunity to discuss your potential issues means you don't have to press or allow yourself to grow resentful.
Once you know what isn't working, you can work with your man to improve it. Thinking about this question should help strengthen your relationship.
7. HOW SHOULD WE HANDLE [PROBLEM]?
Even if your relationship is strong, life likes to add bumps in the road. These are challenges you should deal with as a team, and problem-solving can bring the two of you closer together – plus bring you closer to solving your problem or finding a way to live with it.
8. WHAT DID YOU DREAM ABOUT LAST NIGHT?
The previous relationship questions might be a little heavy, so this one simply allows you to remember your dreams if you can. You can analyze what they mean if you'd like or just laugh at how our brains work when we're asleep.
9. IS THERE ANYTHING YOU'D LIKE TO TRY IN THE BEDROOM?
Obviously, we value sex as part of a relationship at the Bad Girls Bible, so anything you can do to keep your sex life alive and well, including asking relationship questions that focus on sex. Even if you've been together for some time, there might be something you have yet to try but weren't sure how to bring up.
Talking about your fantasies (more on that here) and sex is healthy. You might find a new position, toy or activity that drives you wild!
10. DID I WEAR ANYTHING THIS WEEK THAT YOU LIKED/WAS SEXY?
Here's another of those relationship questions that gets you thinking about sex. Your man has a chance to pay you a compliment, and you get feedback on your outfits. You might be surprised by what he found sexy, especially if you were doubtful over pulling something off. And your man might comment on a shade of lipstick, your perfume or something unexpected!
Related: How to Dress Sexy for Your Man
Once you know what your partner likes, you can wear or use it more often. But if your man can't remember anything specific, don't fret. Men are sometimes oblivious to fashion and changes in appearance.
11. IS THERE ANYTHING YOU'VE ALWAYS WANTED TO TELL ME BUT NEVER DID?
We all have little secrets that we've never shared, and some of us have bigger secrets that we may be keeping from our partners. Use this question as a time to get those things off your chest, but remember that what your partner says to you might not be comfortable to hear. On the other hand, some secrets are more silly than anything else.
12. WHAT'S YOUR FAVORITE MEMORY OF US?
Take a look into your past. There's probably something (or a few things) that stick out at the beginning of your relationship or even when you first met your man. Reminiscing about those memories can make you feel connected.
Bonus: you can recreate an early date or experience to add romance into your relationship.
13. WHAT NEW THING HAVE YOU LEARNED?
If you frequently talk about the same topics like your pets or children, family or work, you might feel like you're in a rut. But this question gives both of you the chance to discuss something you've learned and, hopefully, found interesting. You might get to show off your skills by explaining how something works to your partner, and that feels pretty good, too.
38 MORE RELATIONSHIP QUESTIONS
Now that you've got a good idea of some relationship questions to ask and how those questions can help you remain close or reconnect with your man, check out a few more relationship questions you can ask.
Who are your relationship idols?
What's your love language?
How do you like to show love?
Do we communicate enough during the day? Too much?
How do you define cheating?
What kind of parent would you like to be?
How would you like me to act when you have a bad day?
What thing do you do or like now because of me?
Is there anything you'd like to apologize for?
What made you choose me?
When did I make you proud?
Is there a problem we solved well together?
If we had kids, who would you want them to look like?
What three things do we have in common?
What differences of ours do you appreciate most?
How many days without sex is too much?
How frequently would you like to have sex? (Read: How Often Should You Have Sex)
What will keep us together in the future?
What era of our relationship would you repeat if you had to?
Do you think about me when we're not together?
Do you put our relationship first?
How can I make you feel more secure or comfortable right now?
What is stressing you out lately? How can I help?
How would you handle it if you were ill or injured? If I was?
When did you realize you were in love with me?
What's your favorite compliment that I ever paid you? (Discover how compliments can bring you closer together)
Do we maintain our individuality?
What do you like about our relationship now that's different from the beginning?
What do you miss from the start of our relationship?
Where would you like to visit with me?
What did you learn about relationships from your parents?
What new thing would you like to try together?
When do you feel closest to me?
How would you like to spend our retirement?
What surprises you about me?
How can I help you improve as a person?
What's your favorite thing about our relationship?
If we had to have a threesome, who would you choose as the third person?
Read: 11 Simple Steps to Spice Up Your Relationship
While this is a list of relationship questions, we don't advise attacking your man 20-questions style unless you've agreed to play a game of 20 questions! You might ask while cuddling in bed before sleep or when you're on a date to stimulate conversation.
Some of these things you can work into a weekly check-in if you like the formal style, but as long as you're discussing things that matter, you'll remain close and connected.