A picnic is the ultimate romantic date idea. It's great to do whether you're just getting to know one another or whether you want to use it as a way to treat your boyfriend or husband. Few of us go on picnics, though, probably because it takes planning. But that is exactly what makes a picnic special. Read on to discover some incredibly romantic picnic ideas and locations.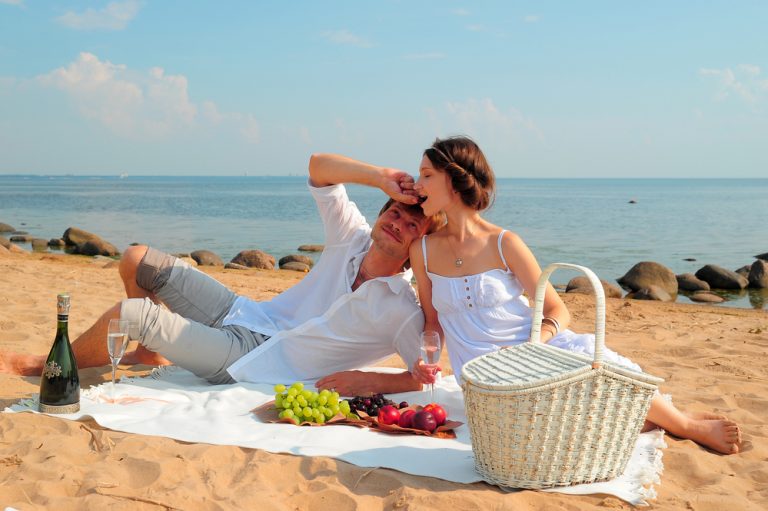 WHAT YOU'LL NEED FOR A ROMANTIC PICNIC
1. BLANKET
You'll need a blanket so that you're not sitting (or lying down) right on the grass. You can grab a blanket from your bed, but that isn't the best romantic picnic idea since you'll need to put that same blanket back on your bed. So consider getting a special picnic blanket. All sorts of big box and home stores sell picnic blankets. Look for one big enough for two people and that feels comfortable.
One with waterproof lining will ensure you can be comfortable even when the grass is damp. It's also important that the blanket is easy to clean.
2. BASKET
Your grandma might still have her old picnic basket lying around, so you don't necessarily need to buy one. You can grab that and go for this romantic picnic idea. It will be a simple wicker or wooden basket, and that's about it. You use that to put in all your supplies.
If you don't already have a basket or access to one, you can buy one. You can also get a wicker basket. Modern ones come with preloaded compartments that house silverware, napkins, glasses, and plates.
If you aren't interested in being traditional, your picnic basket doesn't need to be a basket at all. You can get an insulated cooler that will keep food items chilled. Some come with utensils and even extras, such as a wine opener and a cheese knife.
3. WINE OR CHAMPAGNE (OR SPARKLING JUICE) AND GLASSES
Wine and champagne make great additions to a picnic. If you bring wine or champagne, you'll need to bring glasses, too. Steer clear of the cheap plastic wine glasses with stems. The stems can easily separate. It's a better idea to bring plastic glasses that don't have a stem. And unless your wine has a screw-off top, remember to pack a corkscrew as well. You also need to check whether you can bring alcohol to your picnic spot. Some public parks and beaches don't allow alcohol.
Champagne is also perfect for a longer weekend getaway. Learn more.
You also need to check whether you can bring alcohol to your picnic spot. Some public parks and beaches don't allow alcohol. If that's the case, or if you don't drink, sparkling juice is a great alternative.
4. FOOD THAT STORES WELL
Whether you make the picnic meal yourself or buy food ready-made, you'll want to bring a meal that stores well and goes with the season. A romantic picnic idea for a summer picnic calls for foods that you can eat cold.
Baked or fried chicken can be just as good served cold as it is hot. Serve this picnic staple with pasta salad, sliced watermelon, and tortilla chips with guacamole. A romantic picnic idea for a fall picnic can include heartier meals, such as meatloaf sandwiches, sweet potato chips, and coleslaw with cranberries. Serve cookies for dessert.
5. FINGER FOODS
Finger foods are always good for picnics. You can pack cheese and crackers. For a healthier touch, and for a romantic picnic idea, serve grapes, apple slices, carrot sticks, sugar snap peas, or steamed edamame.
6. CHOCOLATE OR STRAWBERRIES
Nothing says romantic picnic idea better than chocolate and strawberries (or chocolate-dipped strawberries). Chocolate is an aphrodisiac, which is the reason it's given for Valentine's Day. And it's sexy and sensual to feed strawberries to each other, making this probably the most romantic of all the romantic picnic ideas.
Try some of the aphrodisiacs in this list that might be picnic-friendly.
7. CANDLES
If your picnic will be in the evening and into the night, bring along some candles, for the ultimate romantic picnic idea. But if you'll be on the ground with no table, it's best to bring LED candles, also called flameless candles or battery-operated candles. LED candles look like traditional candles, and they are often made from wax. Some are even scented.
The reason you'll want to bring this type of candle to your picnic is that there is no fire risk. Putting a candle with a flame on a picnic blanket is a bad idea. You can just turn on a flameless candle when it starts to get dark outside, and you'll achieve the same ambiance as you would with a traditional candle.
8. FRISBEE, BOOK, OR OTHER ACTIVITY
It's best to plan an activity for your picnic. Frisbee is a great choice because it's easy to play and to pack. Bocce is another good romantic picnic idea. If you want to keep your picnic more romantic, bring a book that you can read to one another, maybe a book of love poems. If one of you plays guitar, you'll want to bring that.
Psst, wanna do something other than a picnic? These kooky and cool date ideas are must tries!
9. CONDIMENTS, NAPKINS, SILVERWARE
Don't forget condiments. If you're bringing chicken fingers, for example, bring the dipping sauces too. Napkins are also important to bring. Your picnic basket might come already stocked with silverware and plates, but it if doesn't, bring those too. And bring the real stuff if possible. It's nicer to eat from a real plate than from a paper one.
PLAN YOUR ROMANTIC PICNIC
Perhaps you're not a romantic. That's okay! Here's what you need to do (and read this post to be more romantic, too).
IT CAN BE A SURPRISE
Just because you're going through some effort to gather everything you need for the perfect picnic, you don't need to tell your guy what you're doing. Get everything gathered. The next time you have plans to get together, let him know that you have something planned, but don't tell him what. Then just take him to the picnic spot as a big surprise.
Looking for more romantic ideas? Click here.
SCOUT THE LOCATION TO PICK A SPOT
The spot you pick for your picnic could make or break the event. So it's important that you choose a great spot for your romantic picnic location. Consider your personalities to determine the type of area you'd like to spend time in. This could be along a wilderness trail, a lake, or on a summit with a great view. If you want privacy, look for someplace that provides it. Make sure no events will be taking place the day of.
CHECK THE WEATHER FORECAST
Be sure to check the forecast for your picnic area. If the chance of rain is pretty good, you'll need to change the date or move your picnic indoors.
SEND A FORMAL INVITE TO BE CUTE
If you don't want the picnic to be a surprise, you can create anticipation by sending your guy a formal invitation to the picnic. By writing an invitation, it shows you really want this picnic to be something special and is a great romantic picnic idea.
THE PERFECT PICNIC LOCATIONS
1. LIVING ROOM/BASEMENT/DEN FLOOR
An indoor picnic can be just as fun and romantic as an outdoor one. If the weather prevents you from being outdoors (check out winter date ideas, too), or if you just don't like bugs, bring the picnic indoors in your living room, basement, or den.
Clear out a big space on the floor, big enough to put down your picnic blanket, even if this means moving around some furniture. Make it romantic by lighting candles and putting out some flowers. Note: Don't put lit candles on the blanket. Put them above on furniture, or use LED candles. You can also put on some soft music.
2. USE YOUR OWN YARD AS A PARK
You can go somewhere for a picnic, but you can have just as much fun by having it right in your own backyard, making this one of the most convenient picnic ideas. If you choose this option, plan the picnic just as if you were going somewhere. You don't want to keep running inside to get things.
3. A PARK
If you're not quite ready to be alone and romantic, pick an urban park. This is a great first-date option. There's plenty to do and lots of commotion going on in an urban park. But if you want romantic, alone time, scout out a secluded area in the park or find a smaller park.
A romantic picnic might lead you to feel amorous, but sex in public is illegal in most places (as it just being naked). Follow this guide to having sex out.
4. OPEN MEADOW
An open meadow makes a beautiful picnic spot. You have miles and miles of beauty around you. You and your guy can gaze at the grasslands and the wildflowers, listen to the birds, and just enjoy nature.
5. ROMANTIC FOREST
Forests make for romantic picnic spots too. You'll be among trees and all sorts of vegetation. You can take a romantic hike as part of your picnic adventure. You might even find a waterfall.
6. TOP OF A SMALL HILL
When you can soak in the view, you'll naturally relax and can just enjoy each other. Choose a hill that allows for a pretty view. If the two of you like to hike, a picnic can be your reward! Hiking makes for a great second date. More ideas here.
Hopefully, these picnic ideas give you and your guy a way to get out of your basic routines, and they also make a great first-date option. A picnic allows you to be yourself, to literally "be grounded" as you and your guy both sit on the ground. A romantic picnic doesn't need to be a big production. Simply planning and doing something sweet will show your partner that you care.