In this article on how to spice up your sex life, I am going to give you 7specific different techniques, tips and ideas that you can use tonight to make your sex life a lot hotter. You'll notice that some of these ideas on how to spice things up are very specific, while others are more like guidelines that you should try to adhere to if you want to spice things up. Spicing up your sex life is one of those things that's fun for both of you!
1. THINK DIFFERENT – THINK VARIATION
Incorporating variation is by far the most important strategy that you need to consider when it comes to spicing up your sex life. Now when I say variation, I DON'T mean that you should do something different every single time you are in bed with your man. What I mean by variation is trying new things with your man at least a few times a month.
Of these new things that you try with your man, you need to keep the things/ideas/techniques/positions that you both enjoy and use them semi-regularly on him, while not focusing too much attention on the ones that neither of you like that much. It's vital to understand that if you use his favorite techniques on him every single time you get sexual and intimate, then he will inevitably get bored of them. But if you use them sparingly, then you will keep him wondering when he's next going to experience it as well as really enjoying it when he does eventually get to experience it.
2. OPEN MIND, NOT OPEN LEGS…
Having an open mind is another strategy if you are serious about learning how to spice up your sex life that also ties in very neatly to 'Think Different – Think Variation'. Firstly, let me say now that having an open mind doesn't mean that you have to be super-sexual or do anything that you don't want to. Having an open mind means having a willingness to experiment and try new things with your partner.
So it could be something as simple as showering together or giving him a massage. Or if you are more adventurous it could be something like having a threesome with him or trying public play. The main idea that I want you to take from this point is having a willingness to try new things that you are at least reasonably comfortable with.
Doing this means that you will quickly build up a good selection of techniques/positions/tips/manoeuvres to use on your man, making it far easier to vary what you do with your man in the bedroom.
3. DISCOVER & EXPLORE EACH OTHERS FANTASIES
You and your man both have sexual fantasies. Some mainstream. Some not mainstream. Some you may readily share with him. Some you may feel a little embarrassed about or even ashamed of. Don't worry, your man is in the exact same situation as you.
The crazy thing is that most people get super aroused by their fantasies…so why not explore and act them out with your man to spice up your sex life? Obviously it's going to be pretty intense to just come out and tell your man every single one of yours in one sitting, one after another. You'll no doubt feel the same if he did this to you. So a much better strategy is to gradually share them with him AND judge his reaction to them over a number of weeks or even months. Making sure to pay attention to his reaction is important because if he seems a little weirded out or uninterested, then you know you need to slow down a bit.
Then comes the fun part…acting them out. When do you act out one of his fantasies, then it's his time to return the favor!
4. THE 'NO SEX' GAME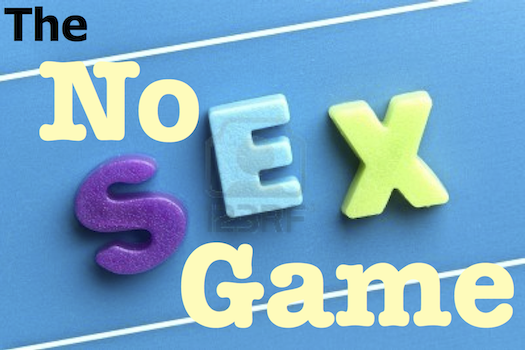 This is surprisingly the most powerful sex game for spicing up your sex life that I recommend for couples. It works much better for couples that have sex regularly, but who are starting to find it getting a bit boring. The aim of the game is to avoid initiating sex with your partner for as long as possible while they do the same. It's very counter-intuitive, but it works!
Each day you and your partner put $5 or $10 into a jar. The first person to give in and initiate sex loses and the winner gets to chose how to spend the accumulated money on a night out for the 2 of you.
The fun part of this game is that it massively builds sexual tension between you and your man. Why? Because you are going to be teasing your man and trying to entice him to have sex with you without actually initiating it yourself while he does exactly the same. You'll be surprised how quickly things escalate and how much you are dying to rip each others clothes off.
Make sure to use everything at your disposal to turn him on whether it's through some sexy text messages, dirty talk or by even asking your man if he'd like to see you perform a striptease for him.
5. A KILLER BLOWJOB
The 'No Sex' Game can only last so long with your man when you are learning how to spice up your sex life. Another way to make things fun for him is to learn how to give him an incredible blowjob. You'll be glad to know that it's surprisingly easy. Just like with giving him great sex, part of the process to giving him a great blow job is using a good deal of variation when blowing him. Here are few very quick tips that I elaborate on in much greater detail in the instructional video I put together that will teach you exactly how to give your man a great blow job. You can watch it here.
The Tip Of The Iceberg – The part of your man's penis that he gets most pleasure from is the top of his penis. Think about it like the clitoris. It's really sensitive and if you want to make him cum very quickly, then make sure to focus the majority of your attention on it.
Don't Forget About The Other Parts – Just because he gets most pleasure from the tip doesn't mean that you should just ignore the rest of it. You can still provide him a lot of pleasure through his shaft (the rest of his penis) as well as gently massaging his balls, his anus and even his perineum (the rough patch of skin between his balls and anus).
It's Wet Outside – All men prefer to get a blowjob that feels smooth and luscious, not rough and dry. You may feel the same about cunnilingus? The best way to achieve this is by using a lot of saliva. But you can also try using flavored lube, ice cream and even syrup.
That's just a small taster of what you'll find in the Blowjob Bible, which I highly recommend you check out if you are serious about improving your bj skills.
6. NEW SEX POSITIONS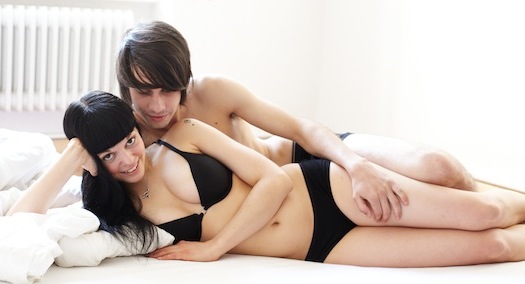 Without a doubt, the quickest way to spice things up in the bedroom with your man is learn some new sex positions. While some sex positions require a good deal of flexibility or strength, most thankfully don't. Rather than explaining which positions work well and which don't work so well, I suggest that you check out the Sex Positions Bible. It's my free resource where I will teach you over 100 different positions to try with your man. I've also included some high quality photos to demonstrate how to perform each of them.
7. LEARNING HOW TO TALK REALLY DIRTY
Learning how to talk dirty to your man is a great way to spice up your sex life both inside & outside the bedroom. You can make sex a whole lot more fun and exciting by talking dirty, but the great thing is that you can also use dirty talk to build sexual tension with your man too! You'll find a number of great examples on the dirty talking section of the Bad Girls Bible as well as in this free video that I put together.