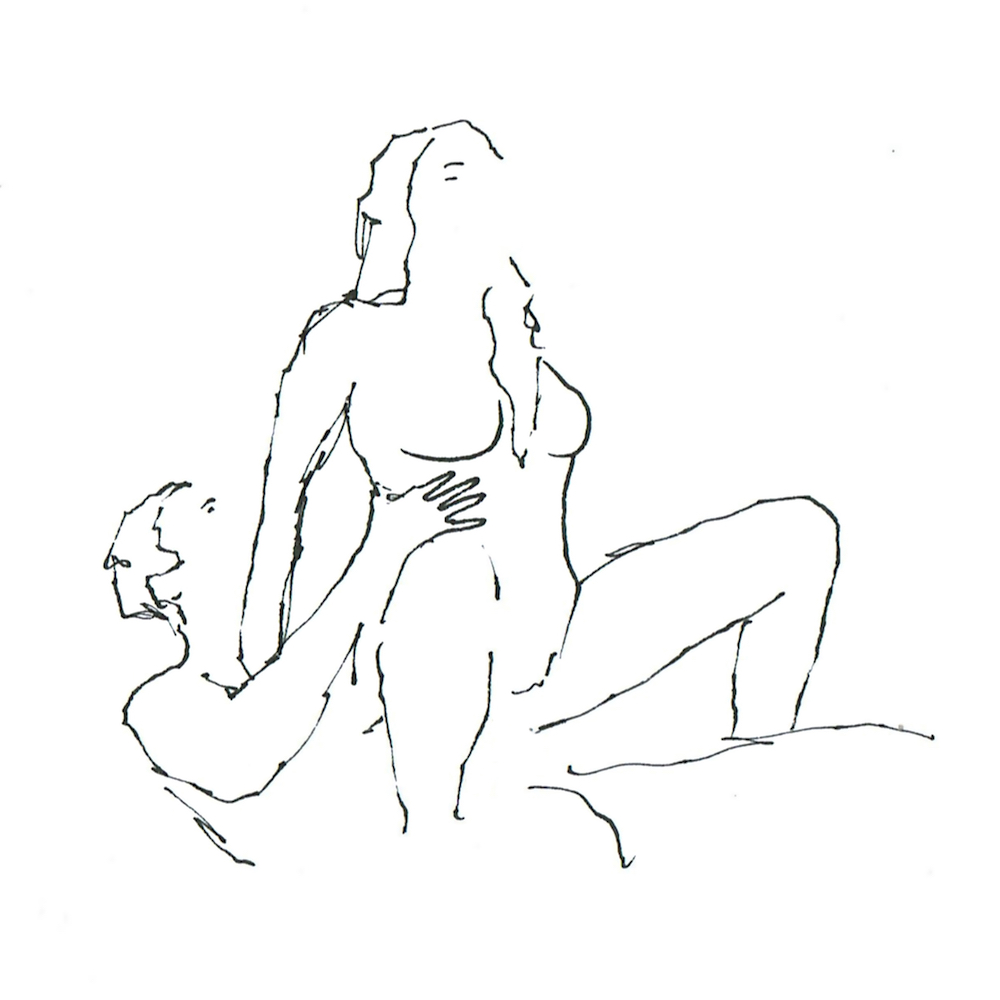 The Princess Fantasy is chock-full of tips, ideas, techniques, and nuggets of information on how to satisfy your man in bed.
But what if I am not that sexually adventurous Sean?
Firstly, it's essential to understand that you don't necessarily have to be sexually adventurous in bed. You don't have to use all or any of the great information that you can find on this site.
It's here as a reference (& inspiration!). But it's up for you to decide whether or not you actually want to use it.
Just because other people seem to be doing all these crazy things with their sex lives, it doesn't mean that you should feel forced into doing those things too. You need to do what you feel comfortable with. Don't let me or anyone else try to tell you otherwise.
But if you have read this far, you probably want to read some tips that will help you take your skills to the next level in the bedroom.
1. BECOMING MORE SEXUALLY ADVENTUROUS – YOUR ATTITUDE
The first stage to becoming more sexually adventurous involves a positive attitude.
I'm not talking about some 'woo-woo' attitude, where you sit and meditate or anything like that.
Heck No!
The Bad Girls Bible isn't about that. We are about actual action and results.
When I say 'positive attitude,' I really mean having the frame of mind where you are more enthusiastic about new sexual experiences, whether they are games, positions, techniques or something else.
Think about that movie from 2008 called Yes Man, where Jim Carrey starts saying yes to more opportunities that arise and as a result, he has some really fun and crazy experiences.
Now I am certainly not saying that you should say yes to every single thing that someone suggests, as you need to keep your safety as priority #1.
But you should at least consider having a more open attitude to trying new things with your man, even if they sound faintly ridiculous.
SO SAYING 'YES' & HAVING A POSITIVE ATTITUDE = BECOMING MORE SEXUALLY ADVENTUROUS, RIGHT?
That's pretty much what I am saying, provided you stay safe.
Once you have an open mind, you can take the first steps to become more sexually adventurous. This doesn't mean you need to buy an all-leather outfit. You can start by reading books (both educational and erotic), browsing the Web, watching porn, and fantasizing.
So should I purchase a book to learn new things?
You'll find a wealth of information right here on The Bad Girls Bible for free. You can also check out the Resource section toward the end of this article for other suggestions.
These resources teach you terms for body parts, tools, and adventurous sex ideas you might want to try. Once you've got a few ideas, experiment with fantasizing. See what turns you on and what you might want to try out for real.
Fantasies such as group sex, power exchange, novelty, romance, being watched or watching someone else, and even cross-dressing are all common according to sex researcher Justin Lehmiller [1 p 11]. Check out some other common fantasies.
It's okay if some things stay in the realm of fantasy. You can think about it and not want to act it out! But you can also try writing them down for your partner to read [2].
CONFIDENCE IS KEY
Now, there might be one specific attitude that's holding you back: your attitude about yourself.
If you feel insecure with your body or your skills as a lover, you'll remain inhibited and not be able to be your authentic sexual self. Research finds that beliefs about your body can even interfere with orgasms [3]. There's a lot of helpful advice in this post about riding your man that can bolster your confidence, but if your insecurity is especially persistent, it might be worth seeing a professional.
One thing that doesn't help is to compare yourself to other people. So, stop comparing yourself to other women, which can feed your insecurity, and stop focusing on what other people do in the bedroom and forget about what is supposedly "normal."
Related: Is Your Vagina Normal? The Different Types of Vaginas
When it comes down to it, bodies and sexualities are varied. Some things are much more common than you might realize because we don't talk about sex that openly. Some common things might not contribute to a great sex life. That's why "normal" isn't really helpful, and you shouldn't get hung up on it.
Sure, it's natural to wonder how often people have sex, but it's more helpful to figure out how often you and your partner want to have sex and to ensure you make that happen.
GET THAT ANXIETY IN CHECK
Finally, anxiety can impair your sex life. First, it tends to decrease sex drive [4, 5, 6]. Secondly, it can stop you from giving adventurous things to do in bed a go. While some sexual anxiety is normal — when you have a new partner, for example, or try something new in bed — high levels of anxiety can make all aspects of your life less enjoyable. Sex is no exception.
Again, a professional might be able to recommend tools to help you deal with anxiety, which can improve your sex life as well.
When you're ready to act on those fantasies and be more sexually adventurous, keep reading.
2. SOLO EXPLORATION
As you're learning how to be sexually adventurous, it might be a little daunting to try something new with a partner, or you may not currently have a partner. Solo exploration is an excellent first step. How do you do that? Through masturbation.
Get all the tips for female masturbation and some great masturbation techniques.
Once you know what you like, you can show your man and expand from there.
3. ORAL FIXATION
Chances are, you're probably no stranger to performing oral sex if you consider yourself a bad girl. But being adventurous means going above and beyond the basic blow job.
I'd like to think that I have created the worlds greatest resource on oral sex tips for women.
I cover some really awesome blowjob tips and oral sex techniques, but before reading them, what I suggest you do first is check out this tutorial video I put together on giving your man an incredible blow job first.
Also, don't forget the killer section where I detail the many different blowjob positions that you can use.
4. YOUR SEXUAL VOCABULARY
While learning new sex positions to use with your man along with learning how to give an awesome blow job is certainly important, there are other great ways to become more sexually adventurous with your man.
Talking dirty is a great one as it can be used in the bedroom as well as outside it to keep things spicy.
You can even send him dirty text messages and talk dirty on the phone to him when you are not together to keep him thinking about you. However, if you want my most effective and useful advice, then you are going to want to watch this dirty talking instructional video where I teach you how to use dirty talk to build sexual tension, turn him on and keep him attracted to you.
Don't think that this is just for your man, either. Many women told me that sexting and similar activities were surefire ways to get horny.
Find out how to get yourself horny.
5. EXPANDING YOUR SEX POSITION REPERTOIRE
Learning new lovemaking positions should be high on your to-do list if you are serious about becoming more sexually adventurous. Without a doubt, you will never get tired of all the different sex positions that you'll find here.
With high-quality illustrations detailing over 100 different sex positions that you can try with your man, you will never get bored.
These include blow job positions, anal sex positions, shower sex positions, and more.
I definitely recommend girl-on-top positions if you want to be more sexually adventurous. These positions allow you to take control and get your pleasure. Speaking of taking control.
6. EXPLORE YOUR DOMINANT & SUBMISSIVE SIDES
Do you like the idea of taking control and using your lover however you like? Perhaps you want to give up control to someone who meets your every need? Submission and domination fantasies are quite common. Researcher Justin Lehmiller found that this was the second-most common type of fantasy [1 p 11].
Whether you feel the calling to perform one role or can do both (these people are known as "switches"), exploring this is one way to be more sexually adventurous.
You can start small, for example, if you feel more dominant, the next time you are home alone with your man, grab him and drag him into the bedroom. Push him onto the bed, jump on top of him and rip his clothes off.
But becoming more dominant in bed doesn't necessarily have to involve something like this.
It could be as simple as initiating sex when you are both already in bed or unbuttoning his trousers and giving him a blowjob when he's not expecting it or pulling him in towards you to kiss him or giving him a back massage when he's not expecting it.
Find out how to how to be dominant in the bedroom.
But if you're more submissive, you might ask what he wants to do to you in bed or invite him to punish you when you've been a bad girl. Discover tips for submitting to your man for kinkier sex.
The whole idea of exploring your dominant and submissive sides with your man is to show him that you are multi-dimensional, that there is more than one side to you in the bedroom.
7. THE TOOLS AT YOUR DISPOSAL
Sometimes the only thing stopping a person from branching out sexually is just remembering to do it. Similarly, some people realize they're not having as much sex as they want just because they haven't made time for it. Fortunately, there are plenty of tools you can use to help.
Start with a calendar or your phone alarm to track what you do and when and to remind you to try new things. You don't necessarily need to say you'll try a specific activity at a certain time, but it's easy to just do the same old thing without a little encouragement.
For those people who are just learning how to be more sexually adventurous, checklists, and similar tools can be inspiring and arousing. Try this sexual bucket list on for size or take a look at this list of fetishes and kinks. You don't need to try every item on the list, but a few will probably sound good!
Are you a little kinkier? Try this BDSM checklist, which can both give you ideas and help you talk about what you want to explore with your man.
When people ask how to get their partner to be more sexually adventurous, I like to encourage them to make a game out of it. In fact, some websites exist where both of you can check off a few interests and see where you overlap in a low-stress way. Sites like Mojo Upgrade should get the conversation started.
8. SHOPPING FOR A SEXIER YOU
If you want to know how to get your partner to be more sexually adventurous or want to be inspired yourself, a shopping trip might just be in order. Now, you don't need to leave the comfort of your home if you don't want to thanks to the Internet. But a trip to the local lingerie or toy store can be rewarding (kinksters are renowned for raiding hardware stores as well).
You might leave with some new goodies and ideas. Even if you don't buy anything, the whole experience might get your juices flowing, so you find yourself unable to keep your hands off your man as soon as you step through the door to your home.
9. YOUR PARTNER MATTERS
A crucial aspect of accelerating your progress in becoming more sexually adventurous is……your man.
Often people underestimate this, but your man plays a vital role in helping you to become more sexually adventurous.
If you're having sex with someone whom you trust and who makes you feel comfortable, it's much easier to be sexually adventurous. If you feel overwhelmed, intimidated, or simply anxious because you're seeing a new partner, it might be easier to stick to the basics until you're more comfortable.
HOW TO BE SEXUALLY ADVENTUROUS AS A SINGLE WOMAN
Much of the advice I've given focuses on people who are part of a couple. After all, I often work with people who want to know how to get their wife to be more sexually adventurous. But a relationship is not necessary to explore your sexual side. Single women can still be sexually adventurous.
In fact, people with a high sociosexual orientation may prefer casual sex and regret passing it up [7]. If you're one of those people, there are ways that you might even be able to be more adventurous in the bedroom when you're single. If you're in a monogamous relationship, you won't have a lot of chances to sleep with other people, but you can when you're single (the same is true if you're swingers, in an open relationship, or polyamorous).
There are a few rules you should follow to get the most out of your single sex life.
Assume people will be attracted to you because they will.
Recognize that you deserve good sex — and ask for what you want. When sex educator Laurie Mintz polled her students, she found that the men were happy to have instructions [8 p 166].
Carry accessories such as condoms, lube, and a small toy to make your sex better.
Be proactive about meeting men (apps like Tinder or Bumble can help).
Dress sexy to turn heads. If you're comfortable, you'll be confident. But it'll show if you're not.
Flirt your heart out (tips for flirting) to get attention and to express your desire.
Be honest about what you want if you're only interested in casual dating and sex.

 

More on that here.
Make sure a trusted person knows where you are if you go somewhere with a stranger.
Don't waste time with selfish sexual partners.
Move at your own pace. Having sex too soon is one of women's' main sexual regrets, espeically when it comes to losing your virginity and pre-marital sex [9]. If you want to move fast, then do. If you're not so sure, then don't feel pressured to have sex.
Get more advice like this in my article about one-night stands. You might also like this practical guide to being a slut.
HOW TO BE SEXUALLY ADVENTUROUS AND SAFE
I would be remiss if I didn't mention anything about sexual safety. While you might be focused on how to get a man to be more adventurous sexually, you must still be safe. I'm mostly talking about preventing pregnancy and the transmission of STI.
This means using birth control to prevent pregnancy (learn more about birth control). Condoms can also prevent pregnancy during vaginal sex and STIs when worn during oral [10]. A dental dam is a type of barrier that can protect you during cunnilingus or analingus [11, 12, 13].
Related: Analingus Guide aka Rimming aka Tossing The Salad
If you're a woman with multiple partners, it's best to always use protection — unless a partner knows you have other partners (and you're aware if he does) and agrees to go without barriers. On top of that, get screened for STIs regularly. The CDC recommends at least yearly testing for gonorrhea and chlamydia if you are sexually active [14]. Ideally, you'd be tested before every new partner and share your results.
Remember that some STIs have an incubation period and won't show up immediately [15, 16], so you may want to go back for testing after being with a new partner.
Furthermore, not all STIs have symptoms.
If you're unsure, then keep an eye out for these STI symptoms.
DOES BEING SEXUALLY ADVENTUROUS MEAN I'LL HAVE BETTER SEX?
When you allow yourself to be more sexually adventurous, you might have better sex simply because you discover how good it feels to lose your inhibitions or you get to explore things that bring you a wider variety of pleasure. However, some people get caught up in the idea of trying new things, making checking each item off of the list a goal rather than simply focusing on what they find pleasurable. When you do this, you run the risk of forgetting to enjoy yourself. It's the same when someone focuses on having an orgasm rather than the journey to get there.
Furthermore, some people's sexual tastes are a little more basic. This is sometimes called "vanilla." And that's perfectly okay. Trying to be more sexually adventurous may simply leave you feeling overwhelmed or take away from your pleasure, much like switching positions right before you get to the really good part.
Psst, here are a few ways to have better sex.
While you don't need to try something new every time you climb between the sheets, a willingness to be sexually adventurous can mean a more satisfying life inside and outside the bedroom. Trying new things brings couples closer together and can teach you more about yourself in the process!