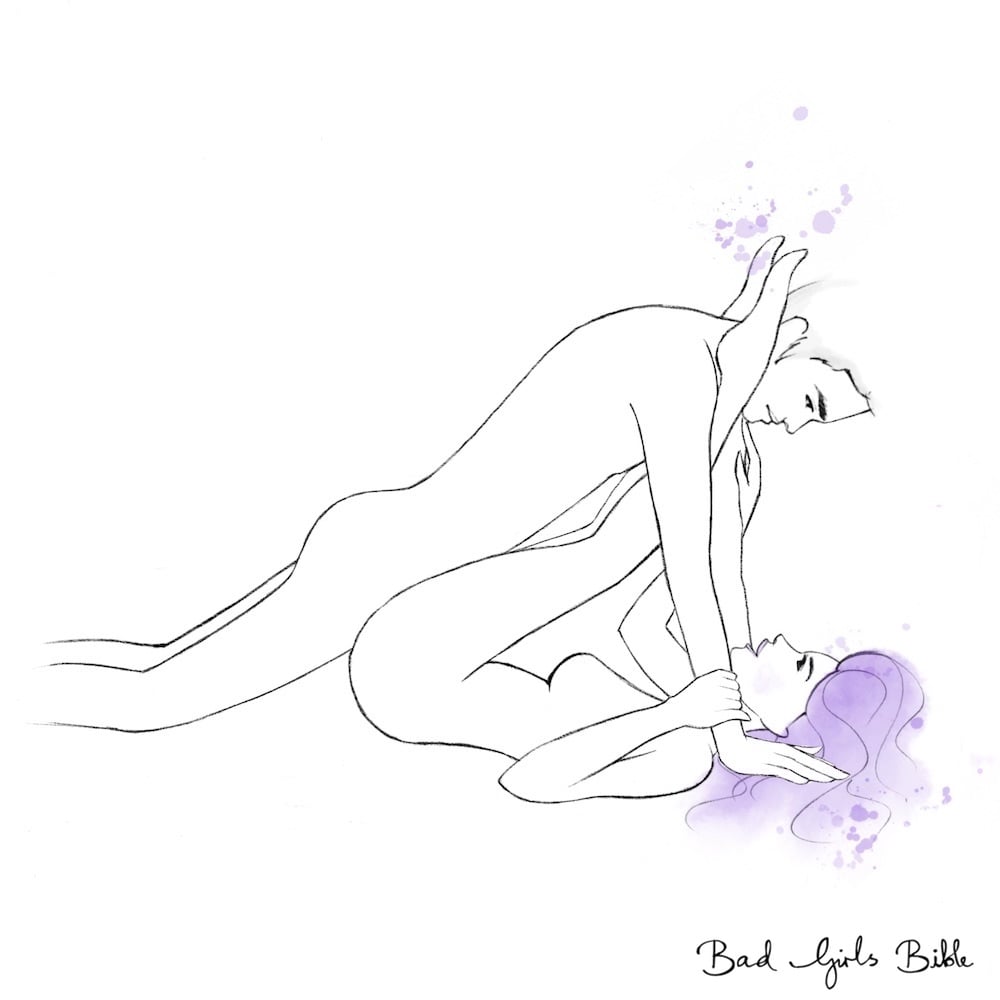 The anvil sex position is a variation of the 
Missionary position
. It's very easy to transition to when you are already having 
Missionary sex
 with your man. The image below shows you exactly how to perform the Anvil position with your man. However, before your race ahead and try it out with him, it's a good idea first to read the rest of this article to make sure you do it correctly and don't accidentally hurt yourself. After that, check out the rest of our 
Sex Positions Guide here
 to add something new to your repertoire.
To have sex in the Anvil position, you just need to lay on your back, as you would when in the Missionary position. Just like when you are in the Missionary position, you need to spread your legs. But instead of resting them on your bed, you need to pull them close to your chest. Your man then positions himself over you. But instead of resting on his elbows, he will be resting on his hands. With the help of your man, position your legs so that your calves/ankles are resting on his shoulders on either side of his neck.
WHAT THE MAN DOES IN THE ANVIL POSITION
With your legs in this position, your man will now be more easily able to rub his pubic bone over your clitoris to stimulate it. He can do this by performing a back and forth motion where he is not moving in and out that much, but rather just rubbing over your clitoris and clitoral hood.
In this position, your man can also penetrate you incredibly deeply. This is great if you like taking him deep. However if your man has a long penis, then you'll find that he will hit your cervix more easily, which can cause considerable pain. Make sure to tell him immediately if he is causing you any discomfort by penetrating you too deeply.
WHAT THE WOMAN DOES IN THE ANVIL POSITION
When you are in the Anvil position, you may feel that your man is in control, but you'll find that you can actually push him off you using your legs if you want (unless of course he is very big and heavy!). This is great as it means that you can control how deep he penetrates you, meaning that you'll almost always be able to find a 'spot' that feels great for you.
When you are in the Anvil sex position with your man, you'll find that he won't be as 'close' to you as your legs and in the way. However, if you want to add intimacy to it, you can gently rub and scratch his arms when they are either side of you.
THINGS TO CONSIDER WHEN PERFORMING THE ANVIL SEX POSITION
Having talked to students, there are a few problems (and interesting bits) that repeatedly cropped up:
You need a little bit of flexibility for this sex position to be comfortable for you.
The more flexible and fit you are, the longer that you'll be able to hold this position before you get tired/sore/cramp.
If you are small, or your man has a long cock, then it's quite likely that he will penetrate you too deeply when in this position leading to considerable pain. Learn

 

how to deal with this here.
When you find 'the right spot' it is incredibly satisfying.
SIMILAR POSITIONS
If you are looking for more sex positions where you are lying on your back then you will find 25 different positions here.
SEAN'S THOUGHTS ON THE ANVIL POSITION
The great thing about the Anvil position is that it's really simple position to change to after doing
Missionary
for a while. It also feels quite different as it allows for deeper penetration by your man.