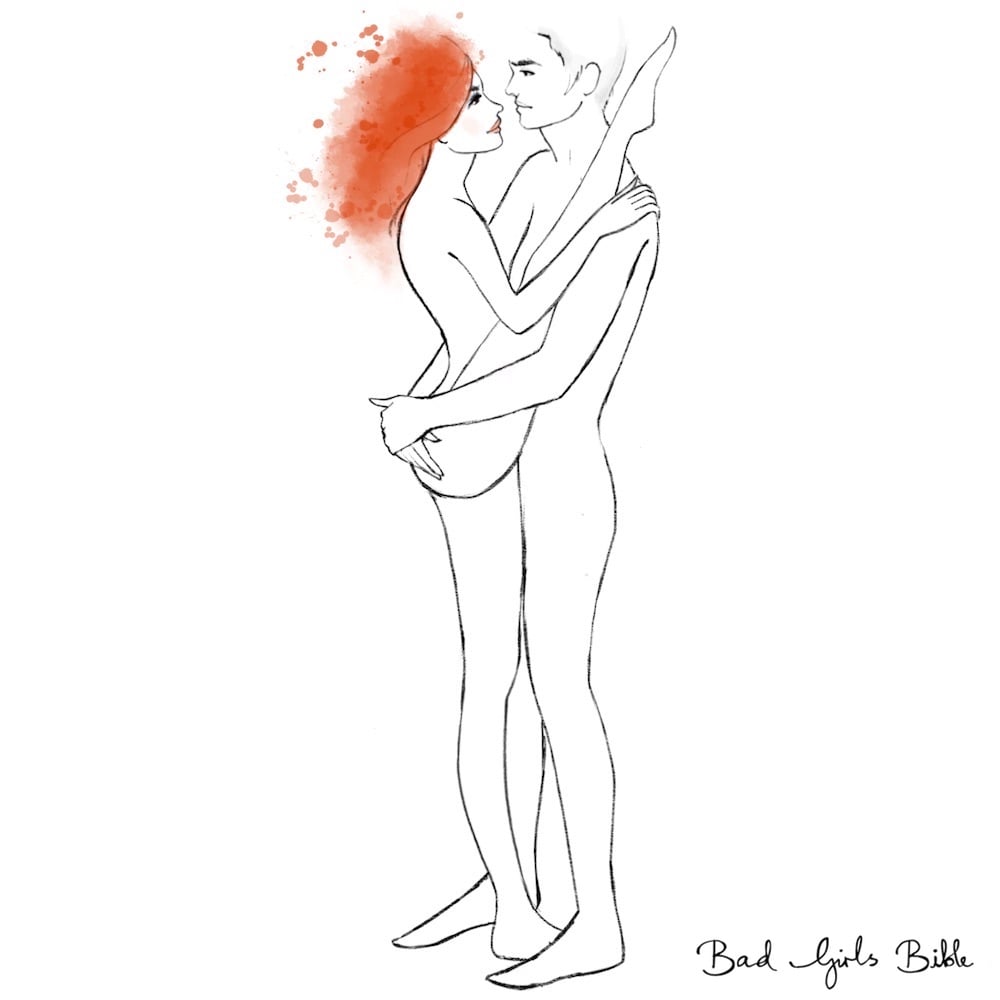 The Ballerina sex position is one of those exotic ones that 95% of girls will just never be able to perform. This is simply down to the issue of flexibility. However if you can perform it, then it can be both very intimate and pleasurable, and it's always fun to 
spice up your sex life
. It's okay if it's not for you, though. There are many more options in our 
sex positions guide
.
To pull the Ballerina off, you both need to start by facing each other while standing. You are then going to need to raise one leg upwards until you are resting it on your man's shoulder, while balancing on your other leg. Your leg that is resting on your man's shoulder is going to be almost straight, allowing you to be very close to your man.
WHAT THE GIRL DOES IN THE BALLERINA POSITION
When performing the Ballerina with your man, you're first job is to get comfortable.
Remember If you are not flexible enough, then you will inevitably be in pain when doing it. So check out some of the many other great sex positions if you can't perform the Ballerina.
You need to spend most of your time staying balanced on one leg which you need to keep straight while allowing your man to do the rest of the work. You also need to make sure that your man doesn't squeeze you to hard when embracing you which will put a lot of extra pressure on your raised leg.
WHAT THE GUY DOES IN THE BALLERINA POSITION
Your man is going to going to be doing all the thrusting in the Ballerina. He needs to first set you up in position with one of your legs over his shoulder and make sure that you are not in any pain before he enters you. When he does enter you, he needs to start out by gently thrusting in and out.
Again, your comfort is the most important thing (especially the first time you try it), so your man needs to take things really slowly initially. If he is taller than you, then he will need to bend his knees a little and thrust up into you. He can also wrap his hands around your back and pull you in gently towards him with each thrust.
THINGS TO CONSIDER WHEN PERFORMING THE BALLERINA POSITION
Only a small number of students have reported being able to perform the Ballerina with their man. Some of their feedback has been very useful and insightful:
A great way to first test the Ballerina with your man is to try it when you are lying down on your back. That way you don't have to worry about keeping balanced. Your man can also angle for

 

G-spot stimulation.
When performing the Ballerina, your man can try thrusting his penis deep inside you and then keep it there while rubbing his pubic bone up and down your clitoris.
If you are very small and very flexible, your man can lift you up and hold you close to him while thrusting in and out.
SIMILAR POSITIONS
Our other standing positions are fun to try the next time you have sex.
SEAN'S THOUGHTS ON THE BALLERINA SEX POSITION
Without a doubt, the Ballerina is probably one of the most exotic and 'out there' positions that you can do with your man. However, just because it's more exotic and out there doesn't necessarily mean that it's better. So don't break your leg (no pun intended) trying to perform the Ballerina with your guy.