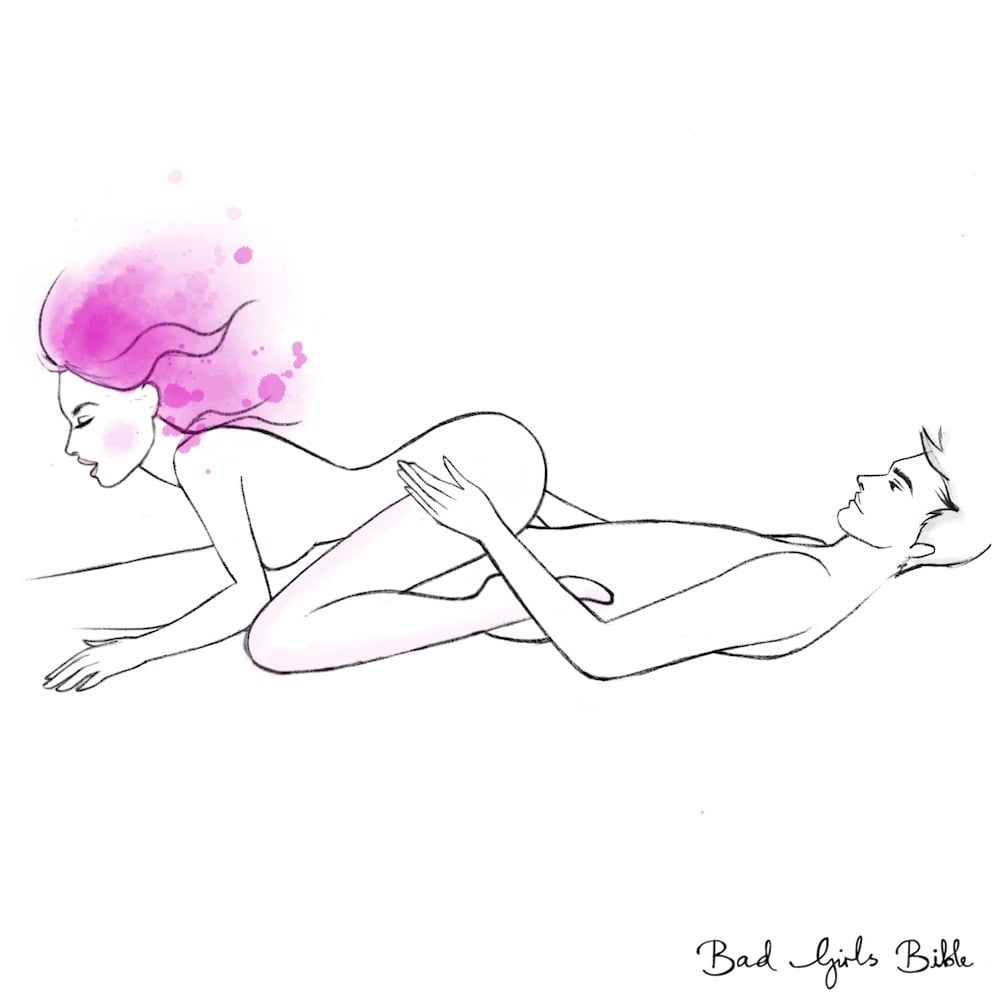 The Betty Rocker sex position is one that most couples never even try. It may look a little 'out there' or exotic, but it's really easy to perform even though we list it as a more exotic position in our guide of over 100 sex positions.
Your man needs to lie flat on the bed with his legs just a little bit apart. You then need to straddle him, but instead of facing him, turn around, so that he is now looking at your back. While upright, slide his penis inside you, so that you are now in the Asian Cowgirl position with him. Once he is inside you, start to lean forwards slowly and rest part of your weight on your arms or his legs.
Now you can start rocking forwards and backwards on your arms and legs. Hence the name Betty Rocker. But the fun doesn't stop there. You can also move up and down on your man's penis, or he can thrust into you if rocking doesn't do it for you.
WHAT THE GIRL DOES IN THE BETTY ROCKER POSITION
When in the Betty Rocker position, you have some choices. You can just slowly rock forwards and backwards on your man.
Just be very careful not to rock too far forwards, as you can hurt your man by putting too much strain on his suspensory ligaments in his penis.
Or you can bounce up and down on him. Another option is to slowly gyrate your hips and waist (for awesome clitoral stimulation) while he remains deep inside you, pressed up against your G-spot. More on that here.
WHAT THE GUY DOES IN THE BETTY ROCKER POSITION
Your man can just lie there and enjoy the view of your bum and back. If he wants to take a more active role, then he can thrust up and down. If you keep stationary while holding your weight above your man, then he can thrust up into you and fuck you really fast. Or you can sink onto his lap for slower butt.
Or you can sink onto his lap for slower but deeper and harder penetration. If your man's waist and legs start to get tired, then he can grab your bum and force you up and down on his cock, with you providing just a little help. Be careful that he doesn't grab you too hard, unless you like rough sex.
If you like it, your man can spank your butt while you are in this position.
THINGS TO CONSIDER WHEN PERFORMING THE BETTY ROCKER SEX POSITION
I have fortunately gotten a good deal of feedback from students who have tried the Betty Rocker sex position with their man. Here is what they had to say about it:
Most had never actually tried it before, even though it's not that difficult to perform.
If your man's penis is not that flexible, then you will be a lot more upright (possibly with your hands on your thighs), making it look a whole lot more like

 

Asian Cowgirl than like Betty Rocker.
A lot of couples consider this to be a hot, dirty and exotic sex position, while not seeing it as that intimate.
SIMILAR POSITIONS
Learn more exotic sex positions here.
SEAN'S THOUGHTS ON THE BETTY ROCKER POSITION
I really like doing the Betty Rocker position. As a lot of couples haven't tried it, it's nice to introduce into the bedroom to spice things up. It's especially good if you want to have a 'hot' sex session as opposed to an intimate one.