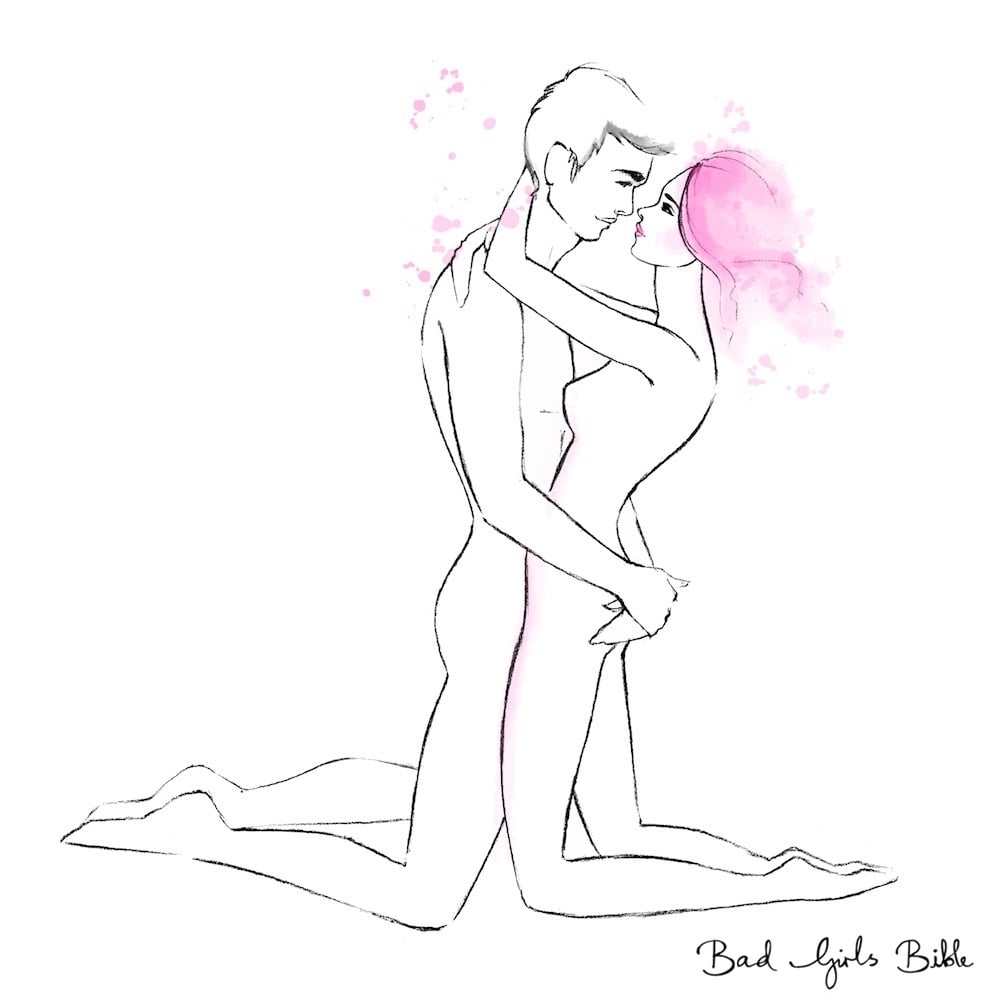 The Book Ends position is a pretty interesting one. A lot of couples find it difficult to achieve penetration comfortably in this sex position. That's not to say that it's not a fun love making position, though! Just like the 
118 more sex positions in this list
, it promises to be a good time!
To perform the Book Ends position, you and your man need to both be on your knees facing each other on your bed. Your man needs to spread out his knees so that he can lower himself toward the bed while you will need to remain as tall as possible. When your man is a little lower than you, he can slip his penis inside (you may need to help guide it in). If it's comfortable, he can then bring his legs together again and start to raise himself upwards. You can also lean backwards to make penetration deeper and more enjoyable for your man.
If your man is a lot taller than you, then you probably won't be able to perform actual penetrative sex in the Book Ends position.
What The Girl Does In The Book Ends Position
When in the Book Ends position you may find that long, deep strokes are just not possible. An alternative is just to grind on your man instead by rotating your hips while he's inside you. This provides clitoral stimulation. More on that here.
For many couples, the Book Ends position is more about intimacy than sex, so you may find that it's best to spend more time concentrating on getting close to him, kissing him and hugging him. So make sure to wrap your arms around your man and to kiss him on his lips, cheek, neck and ears. You can also make it a little sexier by running your fingers through his hair and gently scratching his scalp.
What The Guy Does In The Book Ends Position
At first, he may find that he slips out quite a bit if he is trying for longer strokes and that he may be better off just grinding up against you. He can wrap his arms around your waist and butt to bring you closer to him.
He needs to focus on increasing intimacy in this position. So this means that for the most part, your man will be doing pretty much the same things as you. He also needs to get close to you, hold you, kiss you and rub your back and head with his hands and arms.
Things To Consider When Performing The Book Ends Position
A number of students have tried the Book Ends position with their man. Here is some of the feedback that I have gotten from them on it:
Sometimes there is no need for penetration. Instead, your guy should just try using his dick to rub your vulva and clitoris instead of thrusting inside you.
In this position, you are inches from your man's face. This makes it perfect for making deep eye contact with him. Perfect for bonding!
If you enjoy feeling close and enveloped by your man, then you'll like doing the Book Ends with him.