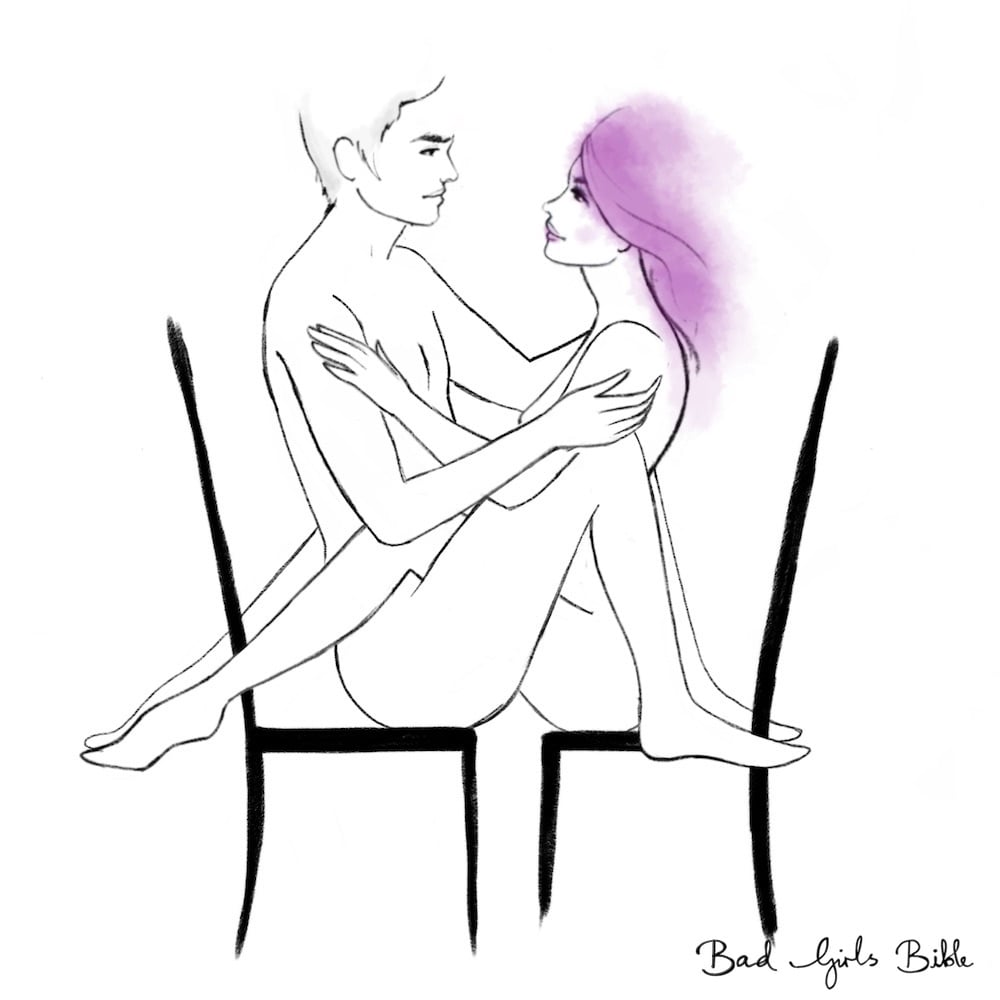 The Chair Riding sex position can be considered a relatively exotic one. As you can probably imagine, the Chair Riding position requires you to use two chairs to do it. If you don't use the right chairs for this position, you may find it to be quite uncomfortable. The Bad Girls Bible lists plenty of positions that don't need props in our Sex Positions Guide with illustrations here.
To set up this position, first, get two chairs so that they are facing each other. They should be quite close together so that they are almost touching each other. Your man then needs to sit down on one and open his legs quite wide. You then need to sit down on the other with your legs close together. You will both be facing each other for this position. Now you need to slowly bring yourself towards his penis while he brings his penis closer to your vagina.
You will find that lifting your legs upwards makes it a whole lot easier. You may even find that putting your ankles over his shoulders like you would when performing the Octopus position makes it a lot more comfortable for you. Your man can then hold onto your legs or grab your arms to gently thrust into you.
WHAT THE GIRL DOES IN THE CHAIR RIDING POSITION
When you are in the Chair Riding position, your main objective is actually to find a comfortable position. If you are using wooden chairs, you actually may find it to be too awkward to enjoy the sex.
You can gently grind on your man or lift your body up and down. You will be slightly hunched over the entire time you are in the Chair Riding position which will allow you to easily masturbate yourself. Other than that, there is not a whole lot you can do in this position. If you like dirty talk, you can try that.
WHAT THE GUY DOES IN THE CHAIR RIDING POSITION
When your man is in the Chair Riding position, he will have his legs open wide, with his feet either on the floor or the edges of your chair. He also needs to try and find a comfortable position for himself so that the chair doesn't dig into his back too much.
To thrust into you, he can grab you by your thighs or by your arms and gently pull you in towards him. Just make sure he doesn't pull too hard. Otherwise, he can hurt your arms/legs. Your man can drop his hand to rub your clit, but other than that, there is not a lot he can do. More clitoral stimulation tips here.
THINGS TO CONSIDER WHEN PERFORMING THE CHAIR RIDING POSITION
Even though I would consider the Chair Riding position to be a niche one, that not many students have tried, I have still managed to get some feedback on it. Here's what they had to say:
Chair selection is important. If you choose the wrong chairs, then you are both in for an uncomfortable time.
You need a little flexibility for this one, especially if you plan on raising your legs over your man's shoulders. Otherwise, you might not be able to find an angle that's pleasurable and not painful. More on that

 

here.
Although you're facing each other, the limitations mean it may not be

 

romantic sex.
SIMILAR POSITIONS
Octopus

 

– Like Chair Riding without the chairs.
High Chair

 

– Another pose requiring a stool.
Face to Face

 

– Sit on the edge of a chair or bed to try this one.
You can find more exotic sex positions to try with your man here.
SEAN'S THOUGHTS ON THE CHAIR RIDING SEX POSITION
If you are interested in trying every single sex position that I describe in the Bad Girls Bible, then I would try the Chair Riding position last. It's really not that fun. Like I always say, just because it's exotic doesn't mean that it 's better.