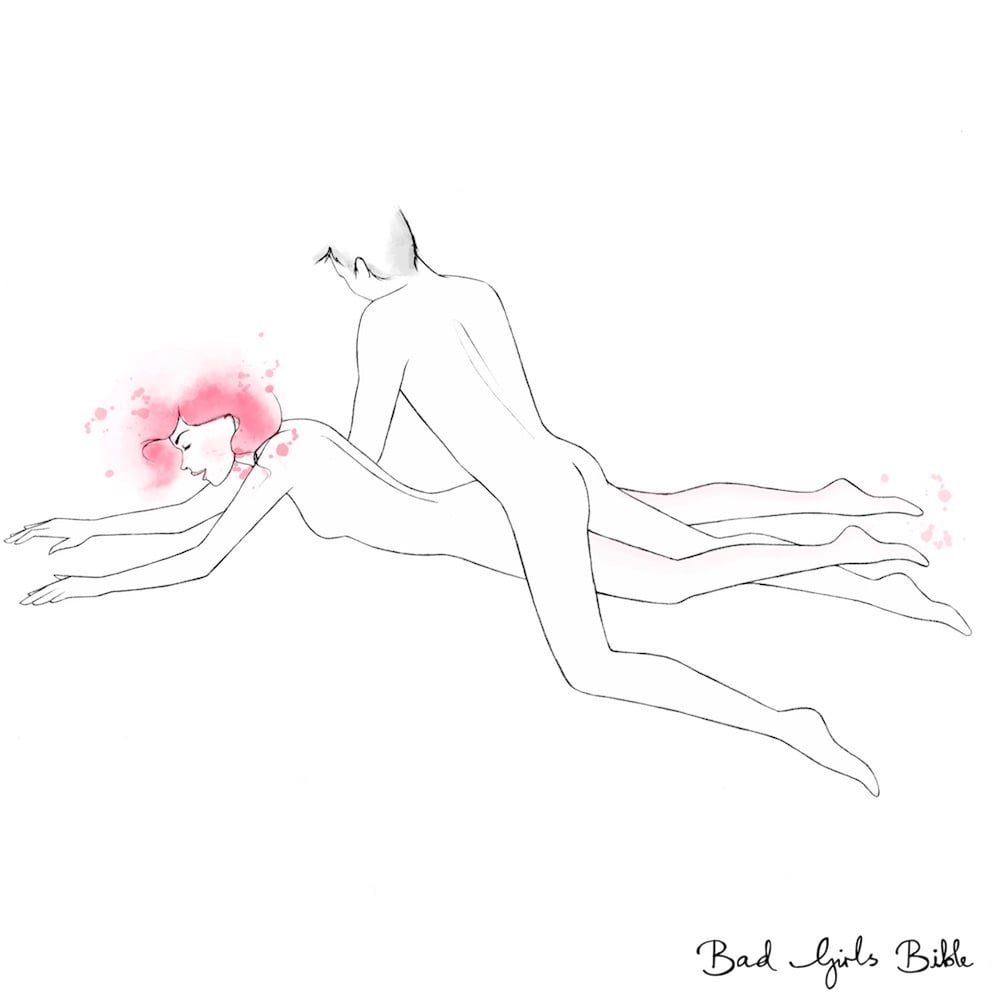 The Cross sex position is exactly as it sounds. When performing it with your man, your bodies will be making the shape of a cross. In many ways, it's like the opposite of the X Marks The Spot position. It's just one of many wonderful positions in our sex positions guide, which is complete with illustrations!
Performing the Cross is easy. You just need to lie down on your stomach, and your man will be on top of you. However, you will be lying with your feet by the end of the bed and your head at the top of the bed by the pillows. Your man will by lying with his feet on one side of the bed and his head on the other side of the bed. This way, your two bodies will form a cross shape. Your man will also be on his stomach, facing the bed and then entering you.
What The Girl Does In The Cross Position
When in the Cross position, you won't actually be doing a whole lot. The Cross is slightly awkward which means that the most you can do is just thrust back against your man. His waist will be lying on top of yours which means that you can gently massage it be reaching backwards. You can also reach over his butt with your hand and gently massage his testicles while he is penetrating you. With your free hand, you can stimulate your nipples.
Consider adding dirty talk to your repertoire in this post.
WHAT THE GUY DOES IN THE CROSS POSITION
Your man will be doing the majority of the work in the Cross position. He will find it easier to thrust in and out if he lies slightly on his side facing in your direction. Doing this takes a lot of the strain off his penis.
Your man may initially find it quite awkward in the Cross position, but if he balances on his knees and elbows, he will have a bit more leverage for penetrating you.
THINGS TO CONSIDER WHEN PERFORMING THE CROSS SEX POSITION
Students that have tried the Cross sex position with their partners have given some insightful feedback on it:
A lot have said that they did not particularly enjoy this sex position. The main reason is because this position is just not that intimate. You aren't making much contact with each other.
You may find the Cross to be a lot more enjoyable if you change your position slightly so that your man's face and shoulders are closer to your face and shoulders.
Try the cross with your man on either side. Some prefer one side much more than the other.
Don't forget to try the Cross for anal sex, along with these

 

preparation tips.
SIMILAR POSITIONS
Jockey

 

– Your man kneels over you while you're on your stomach.
Rear Entry – The perfect position for anal or vaginal sex!
Superwoman

 

– He holds your legs while you're face down.
There are plenty of similar positions in this post.
SEAN'S THOUGHTS ON THE CROSS POSITION
The Cross is another one of those sex positions that couples are often eager to try simply because it looks 'different' or a little 'out there'. Don't let this fool you. I have never gotten much pleasure from the Cross, even when trying the variation.