Sometimes knowing how to talk to a guy you like can be difficult. You're probably feeling nervous, excited and even a little awkward.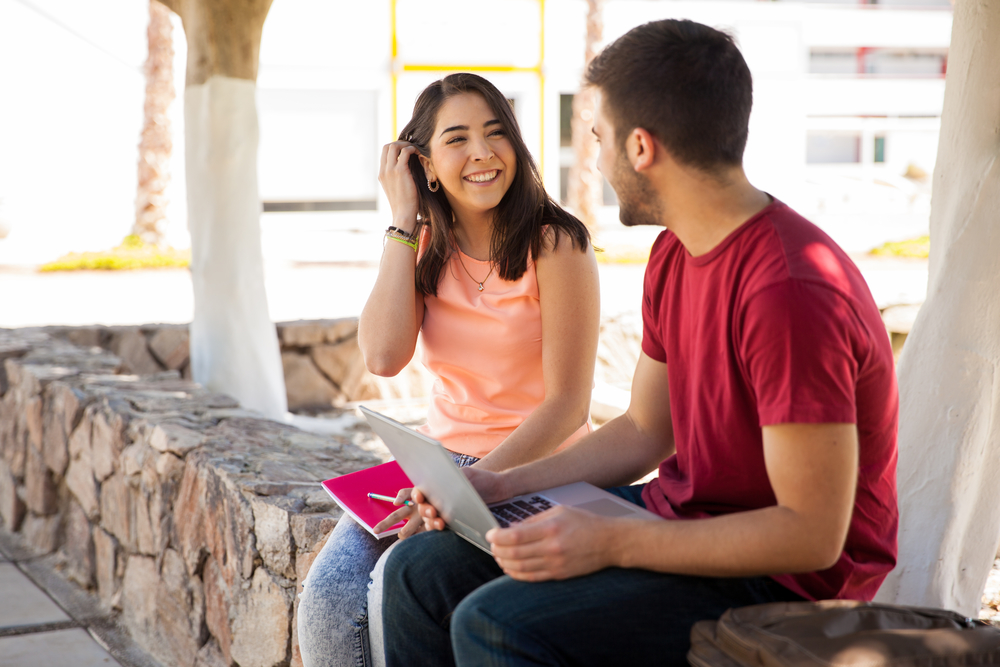 First, relax a little. Take a deep breath and calm down. When people are nervous, they tend to ramble, and you don't want to do that when you talk to a guy. He'll quickly lose interest if you're blabbering on, not paying attention to him and not letting him in on the conversation.
But never fear. Once you learn some tips on how to talk to a guy, you'll actually have some fun, and you might even find that he likes you too.
Here are some of the different methods you can use to talk to a guy in a smooth way.
1. MEET HIM AT A PARTY OR EVENT
It's natural to start talking to guys you don't know very well at a party or event. Guys like it when a girl comes up to them at a party or event and just says "Hi" and then tells what her name is. When you do so, make sure you have a nice smile on your face. It's keep to seduction. More here.
You can maybe even touch his arm. You can then tell him you like his shoes or his shirt, or say that he has nice eyes or that you think he's cute. Guys like compliments from women.
If you feel intimidated going over to the guy by yourself, you can bring a friend with you. If you and the guy you like start to hit if off, your friend can then leave. Make sure she understands to do this ahead of time.
The important thing is to have fun when you talk to a guy. You're at a party or fun event, after all. You can maybe even say something funny to make him laugh.
Flirty behavior is more acceptable in a party or event situation. You can cock your hip, keep the smiling going and touch his arm or shoulder. Don't use closed body language with your arms or legs crossed. All your body language cues should show you like him and are interested in him.
Check out more of our flirting tips here.
2. ORGANIZE A TAG ALONG
Ask one of your guy friends to hang out with the guy you like, and then you can ask to tag along. But first make sure the guy you like is OK with that. Some guys are, and some aren't.
The key is that you're into what they're going to do. That way, you can all enjoy yourselves. This arrangement gives you and the guy you like a way to get to know each other without being on a typical first date that can sometimes be awkward.
Consider a double date as an alternative.
3. TALK WITH HIM IN CLASS
If the guy you like has a class with you, you can ask him something about the class. There are all sorts of discussion topics there: whether you like the class, are having a difficult time with it, are bored, like the teacher or whatever you think of about the class.
If he finds it easy to strike up a conversation with you about the class, you can tell whether he's comfortable talking with you. Maybe this conversation will lead to going somewhere after class.
4. AVOID FORCING CONVERSATION
If you're the only one trying to continue the conversation, it means you're forcing it. One reason this happens is that you're thinking of what you're going to say next instead of listening to what the guy you're talking to has to say. When that happens, you aren't responding to what he just said, and your conversation might then seem forced and unnatural.
The goal for how to talk to a guy is to have an organic conversation that flows. One way to do that is to ask the guy you like an open-ended question. That way, he can answer, and you can listen. Depending on what he says, you might ask him a follow-up question, or you might relate a story on the same topic as what he was talking about. Try some of these questions.
Be careful that your questions aren't too personal if this is the first time you're having a discussion. Keep the conversation light when you talk to a guy. And don't ask him a series of questions as if you're interviewing him. Stay away from questions in this post. Now the two of you are having a conversation and learning about each other.
5. AVOID BEING TOUGH
Don't feel as if you need to be one of the guys to get his attention. Girls who act tough by swearing a lot could turn a guy off. It's also not a good idea to lead into the conversation with being mean by putting down or making fun of people or being negative by complaining about something. More turn offs of guys in this article.
There's room for some of that kind of talk sometimes, but it's better to wait until after you know the guy you like really well, if you want to go there at all. A guy you like will find it easier to like you back if he views you as being a nice person who is kind to others.
6. SEND A MESSAGE OUT OF THE BLUE
This one is risky, but it just might work. Send him a casual text to see how he reacts. Text something like, "Hey, you!" If he responds back with, "Hey," you can start texting. You can then text, "What's up?" You can tell by his answer whether he wants to have a conversation or not. If he texts back, "Busy," for example, the texting idea isn't working. But if he gives you a longer answer that tells you what he's really doing, you are now engaged in conversation.
There are rules to texting, however.
7. THINK OF THINGS TO TALK ABOUT BEFOREHAND
Read your favorite blogs, magazines or the newspaper or watch current event types of shows to get ideas on what to talk to a guy about. You don't want to fall into the trap of discussing the weather. When that type of conversation ends, there's usually an awkward silence.
You might want to bring up the new technology on the market. Maybe ask him whether he prefers Android or iPhone or what he thinks of the Apple Watch. Or ask him whether he likes a particular sports team. If you have one, you can share why you like the team.
Whatever you bring up, after he gives you his opinion, you can give him yours, and now you're talking.
8. PRACTICE IN FRONT OF THE MIRROR
Stand in front of the mirror so you'll know what you'll look like to him when you first approach him and strike up a conversation. Say to the mirror what you plan to say to him. Think of this as a rehearsal before a play. Then when it's really time to talk to him, remember your practice session, and repeat it. Practicing beforehand can give you the confidence you need.
9. FIND OUT WHETHER YOU HAVE MUTUAL INTERESTS
Ask him what he's into. You might find that you share mutual interests, which naturally makes the conversation easy. Even if what you share in common is that you both like the same pizza place, that's a start. You can talk about your favorite pizza, which can lead to one of you saying that you should go together one day.
You might like the same TV show or music. Those are always fun topics to talk to a guy about.
Just be careful that if you do share a mutual hobby or interest, such as sports or gaming, that you aren't trying to one-up him and that you don't dominate the conversation. Many girls think the way to impress a guy is to show him how great they are. It's good to be proud of your accomplishments, and a guy you like should feel proud of you as well. But it usually won't attract a guy if he thinks you're just one upping him the whole time.
Listen to what he has to say about your mutual interest. And then you can share what you have to say. Make the focus be on what you like about the activity instead of your achievements. This can be a fun conversation for both of you.
10. LET HIM LEAD THE CONVERSATION
If you can tell that he's enjoying talking with you, let him lead the conversation. That takes some pressure off you and lets him do the work. Now you can relax, listen, smile at him, make eye contact and just have fun.
11. DON'T BE TOO EASY
Once you've gotten his attention, by all means, keep engaging in interesting conversations. But you also need to stay true to yourself, which means not always agreeing with everything he says or sending off the vibe that you are easily available. Let him know you like him, but don't let him take you for granted.
CONCLUSION
Doing a little prep work beforehand is a really good idea if you want to be smooth when you talk to a guy. Also remember to keep eye contact when the guy you like is talking to you.
It might be intimidating at first to think about how to approach a guy you like. You might wonder how to talk to a guy and what you can possibly talk about, but after you prepare and are ready, you'll wonder why you were ever hesitant.