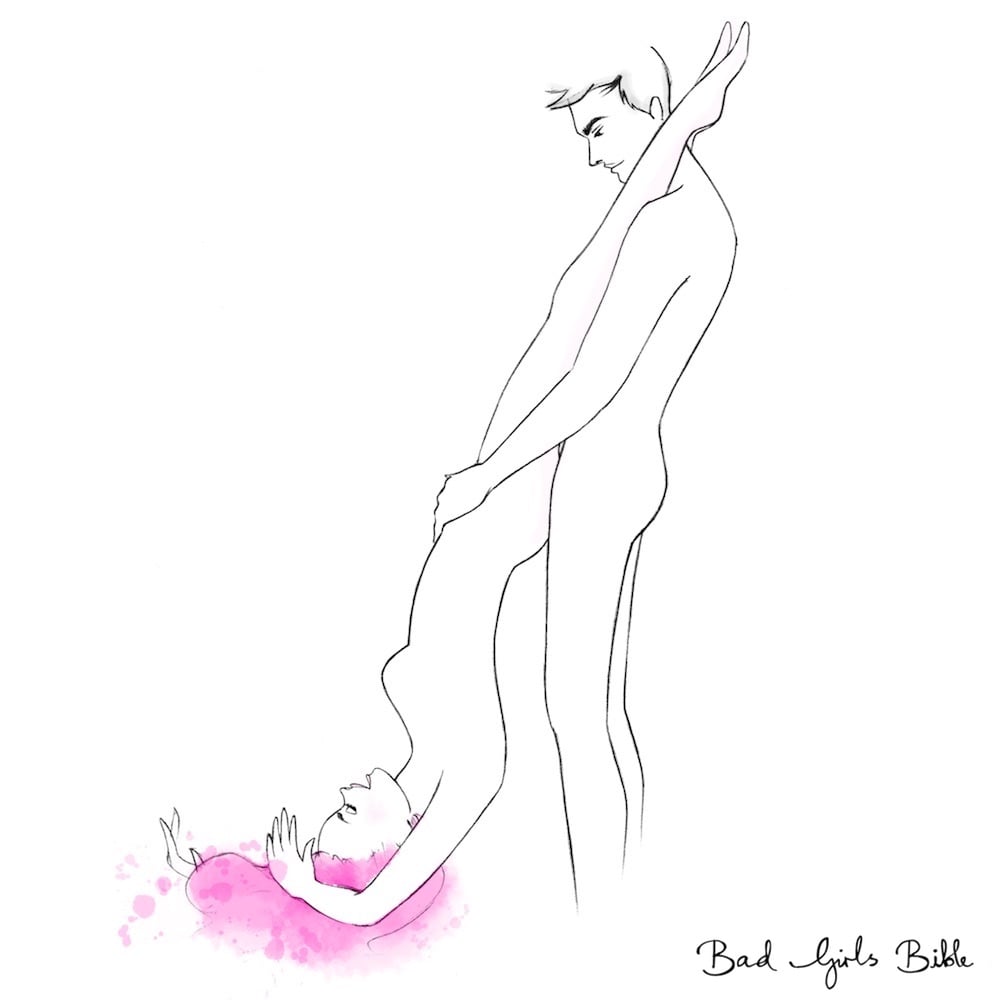 The Down Stroke sex position is similar to the Pile Driver in many ways, but it's not as extreme which is one of the reasons why it's more popular than the Pile Driver. One of the great things about the Down Stroke is that your man provides a lot of stimulation to your G-Spot when he gets his thrusting right. It's not for everyone, which is fine because you'll find over 100 positions in our Sex Positions Guide to keep you busy!
When performing the Down Stroke, you need to start by lying on your back on the edge of your bed or sofa with your legs raised in the air, pointing towards the ceiling like in the Deep Impactposition. Your man will be standing and facing you. He needs to grab your legs and pull you up and towards him so that he can enter you while standing up almost straight. When he lifts you up and towards him, he will be lifting your waist right off the bed so that only your upper back and shoulders and head are resting on the bed.
WHAT THE GIRL DOES IN THE DOWN STROKE POSITION
When your man is holding you like this, you will find it tough to do a whole lot. You will, however, be in a pretty good position to masturbate. Besides this, there really isn't much for you to do besides holding eye contact with your man and driving him wild with dirty talk.
WHAT THE GUY DOES IN THE DOWN STROKE POSITION
The most important thing for your man in the Down Stroke position is not getting the angle right or how he thrusts into you; it's how he holds you. Your man will have his hands wrapped around your thighs and will be pulling you upwards. This can cause a lot of strain on your skin, which feels painful (like it's about to rip) if he is not careful. So the first thing he needs to do is find a way to hold onto your thighs without hurting you.
Once he has found a way to hold onto you, then he needs to concentrate on thrusting in and out. He needs to stimulate the upper wall of your vagina, which makes thrusting horizontally best instead of thrusting up and down.
THINGS TO CONSIDER WHEN PERFORMING THE DOWN STROKE SEX POSITION
Some students who have performed the Down Stroke position with their partner have given me some really insightful feedback on it:
Don't allow your man to thrust too hard until he has found a way to hold onto you without hurting you.
The Down Stroke is an excellent position for having anal sex in, which makes it much easier for you to

 

finger yourself to orgasm

 

or masturbate yourself during it.
Your man should do a little experimentation with how high he should stand until he finds a really good position that you both enjoy.
SIMILAR POSITIONS
If you'd prefer a position where you're comfortably on your back, check out this post.
SEAN'S THOUGHTS ON THE DOWN STROKE POSITION
Even though the Down Stroke position is not really that intimate at all, I really enjoy it. For me, I feel quite dominant and in control, while looking down at my girl. The greatest thing that I enjoy about the Down Stroke is that it's so easy to transition to from many other positions.