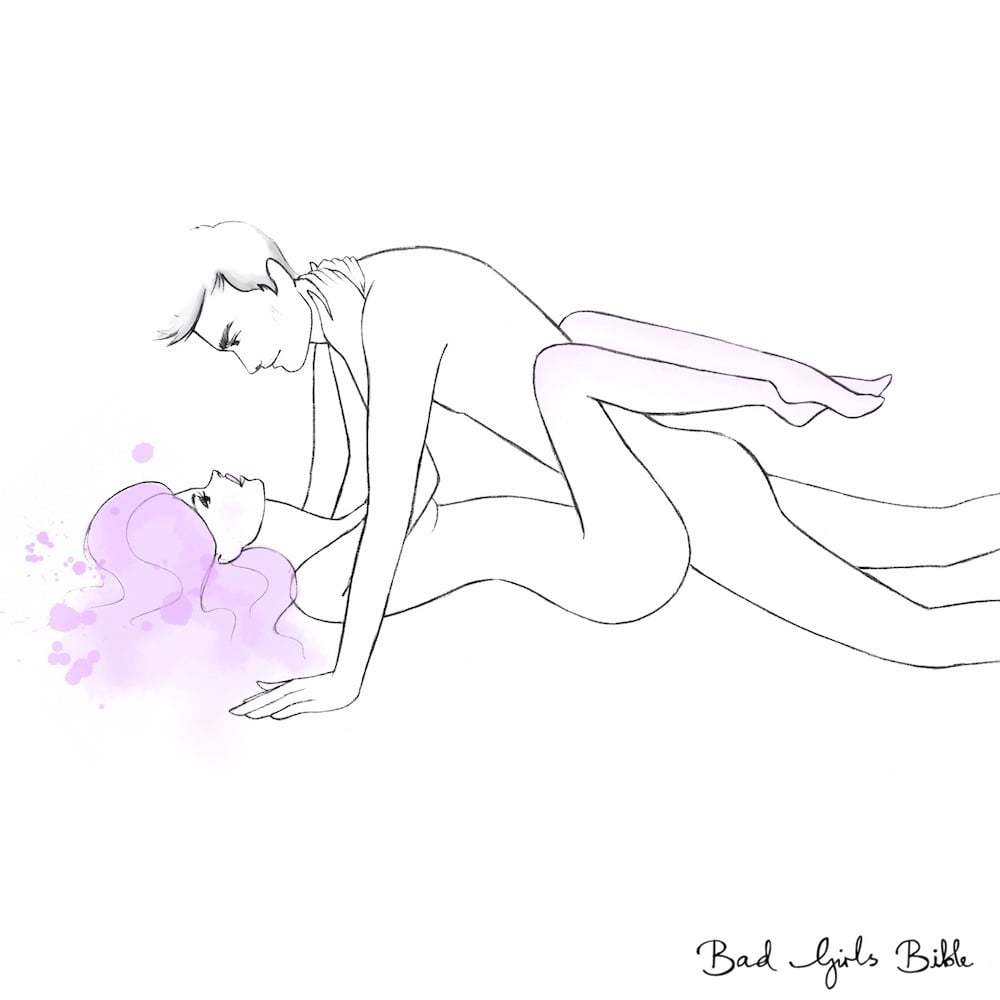 The Drill sex position almost seems to be a combination of both Missionary position and the Coital Alignment Technique. This means that it feels great, and it's pretty easy to perform too! Add it to your repertoire along with any of the other positions from our fantastic illustrated Sex Positions Guide!
The best way to start performing the Drill is to already be in the Missionary position, which means that you should be lying on your back with your legs open. Your man should be on top of you, facing you. When performing normal Missionary or the CAT sex position with your man, you will have your legs on the bed, but this is where the Drill is different. Instead of having your legs rest on the bed, you need to raise them and wrap them around your man's waist. To keep them wrapped around his waist, cross your ankles behind his back. This will help you to grip him and pull yourself into him.
WHAT THE GIRL DOES IN THE DRILL POSITION
You'll find that the Drill position feels a lot better than normal Missionary as your clitoris gets stimulated more along with the penetration being deeper. The first time you try it, you might find it a little awkward to wrap your legs around your man. Don't worry about this at all. Just try it and you'll see that your man won't mind having your legs around him. Most like it a lot!
You can use your legs to gently pull your man in with each stroke. You'll find it easier to pull him in towards you if you wrap them around his butt instead of his waist. To make the Drill more intimate and close feeling, make sure to wrap your arms around your man's neck/back as well.
You can also incorporate elements of BDSM, such as scratching or biting his chest, and you're free to talk dirty. More on that here.
WHAT THE GUY DOES IN THE DRILL POSITION
Your man doesn't need a whole bunch of technical ability in the Drill position. It's just like regular Missionary. He can thrust in and out as normal. Or he can try getting closer and grinding up and down on you to give you more clitoral pleasure. While on top of you, your guy has the choice of either supporting himself on his hands above you or getting closer to you by resting on his elbows. He can even wrap his arms around your back and over your shoulders for even more intimacy.
THINGS TO CONSIDER WHEN PERFORMING THE DRILL SEX POSITION
The Drill is a really popular and pleasurable position that many students use regularly. They have provided me with some insightful feedback on it:
A number of students mentioned that they were hesitant to squeeze with their legs tightly together in case they hurt their man. The truth is you won't (unless he has some rare kidney disease). Unless you are a bodybuilder, you won't ever hurt him. It will feel nice for him as if you are holding him closer.
If your man is well hung and has a long penis, then you might find the penetration to be too deep and painful. If this is the case, then try putting a pillow between your and his legs to stop him from going so deep. You can also read our tips about big penis sex.
SIMILAR POSITIONS
Missionary

 

– Drill position is just an update of the classic sex position.
Lotus

 

– If you wrap your legs around your man while sitting in his lap, you're doing the Lotus.
Big Dipper

 

– In this position, your man supports himself on two pieces of furniture while your legs are slightly wrapped around him.
There are plenty more positions where you wrap your legs around your man or where you're on your back here.
SEAN'S THOUGHTS ON THE DRILL POSITION
The Drill is a great position for all couples to use as it automatically makes sex more intimate and it's so simple to do. It's also one of those positions that your man doesn't need to know much about. So you can surprise him with it the next time your are both having sex in the Missionary position.