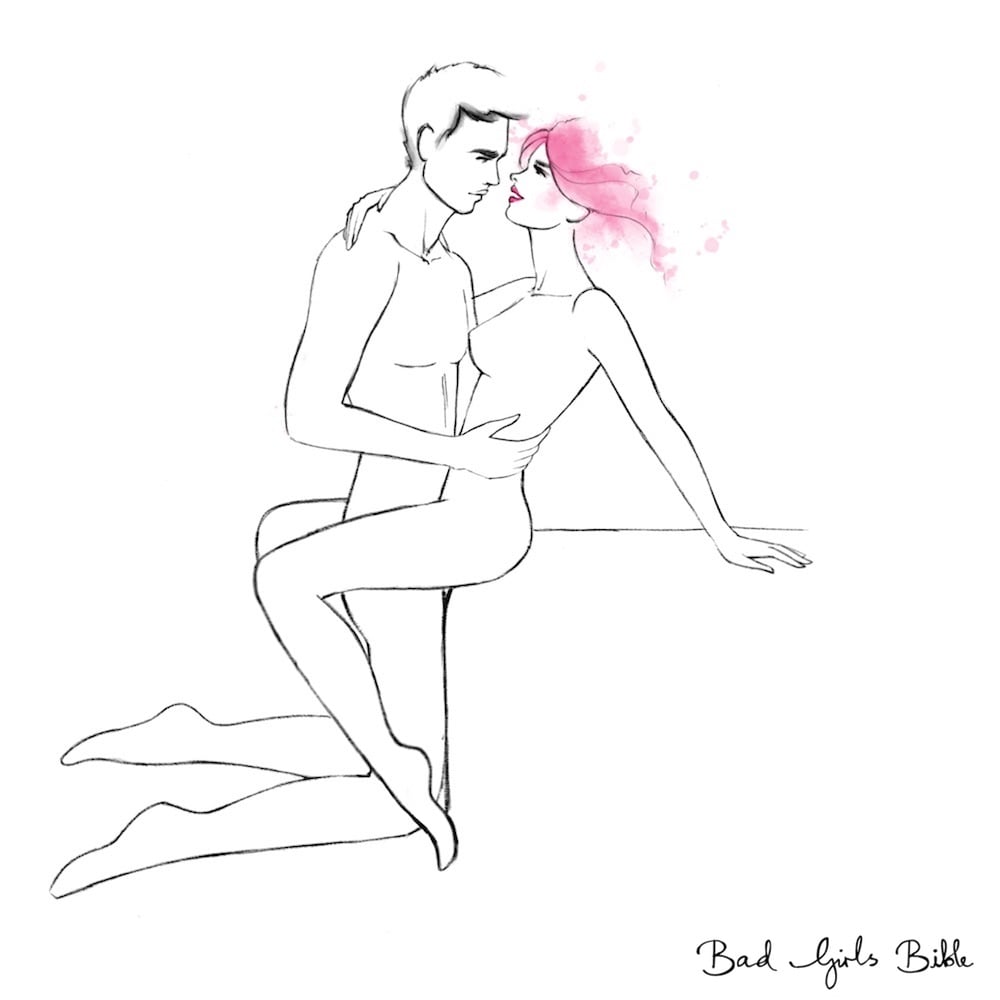 The Face to Face sex position is a great one for when you want to be quite intimate with your man. It's also really nice because you don't have to put in that much effort to perform this romantic positions. It's a great option if you've tried the more basic positions from our awesome 
sex positions guide
.
To set it up, you need to be sitting at either the edge of your bed or a sofa or on the edge of any surface that is about 12-20 inches from the ground. When you are sitting down, open your legs wide. Your man then kneels in front of you, facing you. For him to enter you, you may need to slightly lower yourself over the edge. Your man will usually have his legs close together. He can then grab your waist or legs as he is thrusting into you.
WHAT THE GIRL DOES IN THE FACE TO FACE POSITION
When in the Face to Face position with your man, you can lean back slightly (use your arms behind your back to support yourself). You can then gently push yourself towards your man.
When you first try the Face to Face position with your man, you need to try every angle with him, from sitting up straight with your arms around his neck to lying right back until you find an angle that you both enjoy. If you decide to sit up straight, then you are in a perfect position to kiss your man, making it more intimate. The further back you lean, though, the less intimate it becomes.
WHAT THE GUY DOES IN THE FACE TO FACE POSITION
Your man has a really easy job in the Face to Face position. All he needs to do is just thrust in and out. If you are leaning back, then he can take his hands off your waist and use them to play with your breasts. Tips here. Other than that, this position is incredibly easy and straightforward for him.
THINGS TO CONSIDER WHEN PERFORMING THE FACE TO FACE SEX POSITION
As the Face to Face position is so simple to perform, a lot of students have tried it. Here is some of the feedback that they have given me that will hopefully lead you to get the most out of it with your partner:
Getting the height right can sometimes be frustrating. This means making sure that your man is high enough (or low enough) to make penetration pleasing for both of you. The simple way to fix this height problem is by using some firm cushions from your sofa.
A variation that you might enjoy is if your man puts his hands under your thighs and lifts them up. This will help him to achieve

 

deeper and more forceful penetration.
If you are not getting much clitoral stimulation during penetration, then feel free to use your hands.
Don't forget about eye contact if you want to

 

make this position more intimate!
SIMILAR POSITIONS
Sybian

 

– A stool or ottoman makes this position one you can try in your living room.
Sofa Surprise

 

– He sits and you're in his lap.
Lazy Wheelbarrow

 

– Turn around when you sit on your man's lap.
Check out more sitting positions in this post.
SEAN'S THOUGHTS ON THE FACE TO FACE POSITION
I enjoy the Face to Face position. Provided your bed/sofa is at the right height, it's not difficult to perform. Plus if we are both upright, then it can be quite intimate with our arms around each other with lots of kissing.