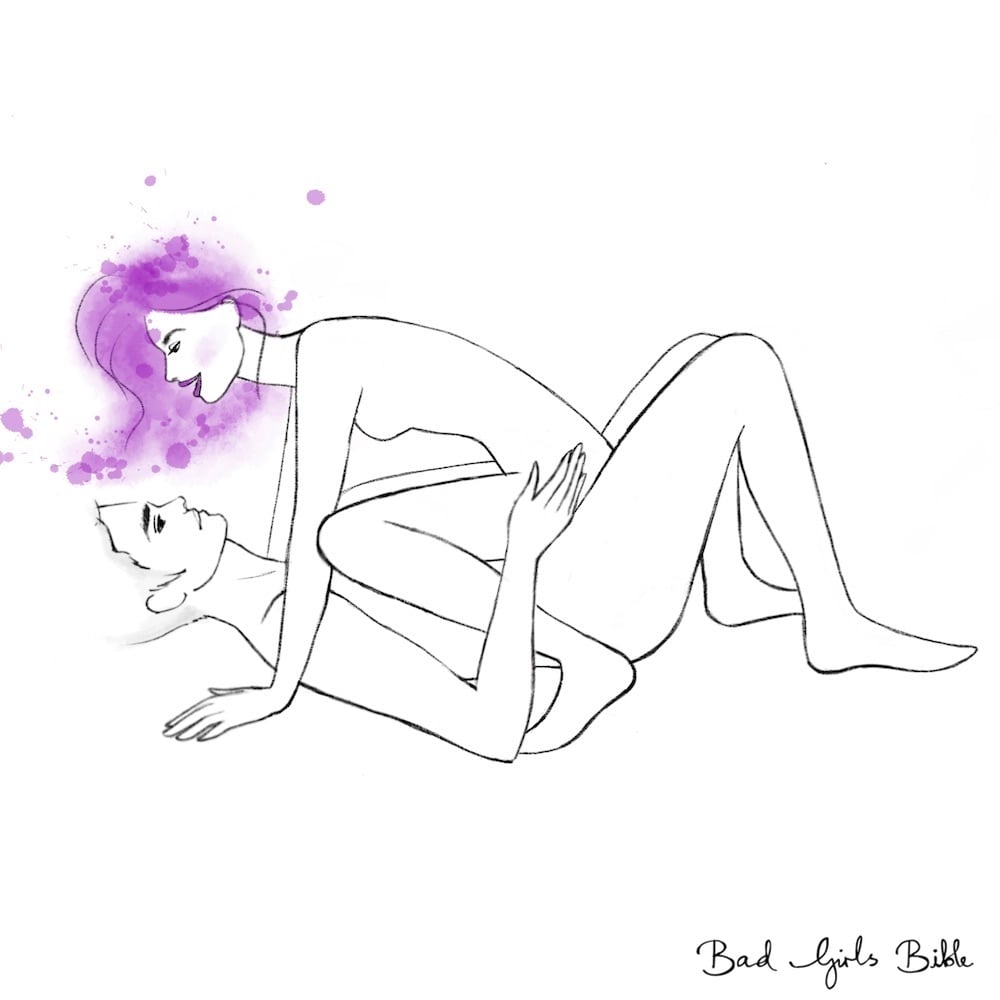 The Fast Fuck sex position is great for when you want a quickie with your man. As the name suggests, the Fast Fuck involves your man rapidly thrusting in and out. In a lot of ways, the Fast Fuck is quite similar to the Cowgirl or even the Asian Cowgirl positions, and you can expand to the various positions in our sex positions guide here.
To set it up, your man just needs to lie down on his back and bend his knees slightly with his feet planted on the ground. You then need to straddle him. You have a choice of being on your knees or your feet. It's up to you. But you will be leaning forward, resting on your hands or elbows. You need to position yourself so that you are slightly raised above your man.
You won't be resting on your man's crotch at all. He will then start thrusting up and down rapidly. The penetration won't be very deep, but it feels wonderful for your man.
WHAT THE GIRL DOES IN THE FAST FUCK POSITION
You will usually be in the Fast Fuck position for only about 1-3 minutes before one of you becomes too exhausted to continue or he climaxes and ejaculates, which means that there's not much time to worry about sexual anxiety! The entire time that you are in this position, you just need to keep your body in a static position, raised above your man and never resting on him.
For some girls, they find it easier to be on their knees, while others will find that crouching on their feet like in the Asian Cowgirl position to be best
WHAT THE GUY DOES IN THE FAST FUCK POSITION
Your man will be on his back, with his legs slightly bent and his feet planted on the floor. This will give him the leverage necessary to rapidly penetrate you. In this position, all your man needs to do is thrust in and out. Because you won't be resting on him at all, there will be very little resistance for your man. And that's it. There is nothing else that he needs to do in this position.
If he finds that he is getting tired, then he can change the angle he is bending his knees at or even straighten his legs out.
THINGS TO CONSIDER WHEN PERFORMING THE FAST FUCK POSITION
Even though the Fast Fuck position is very similar to many other girl-on-top positions, very few have actually tried it. I've been fortunate to get some feedback from those that have. Here's what they had to say:
The Fast Fuck is perfect for

 

quickies.
The Fast Fuck feels great for your man, no matter what angle he enters you at, but you need to do a little experimentation with how you position yourself (on your knees/feet/how far forward you lean over) to find a spot that you really enjoy.
The Fast Fuck usually doesn't feel great for

 

anal sex

 

unless you use large quantities of lube.
One drawback to the Fast Fuck is that it's not particularly intimate. You won't be making a lot of physical contact with your man during it. Learn

 

how to make sex more intimate.
SIMILAR POSITIONS
Man Missionary

 

– Like regular Missionary but you're on top.
Rodeo

 

– Face away from your man when you ride him.
Find more positions where you're on top here.
SEAN'S THOUGHTS ON THE FAST FUCK SEX POSITION
As a guy, I'm a big fan of the Fast Fuck position, especially when I am just looking for a quickie in the morning with my girl. However, it's not a great position to use for intimate, sensual sex.