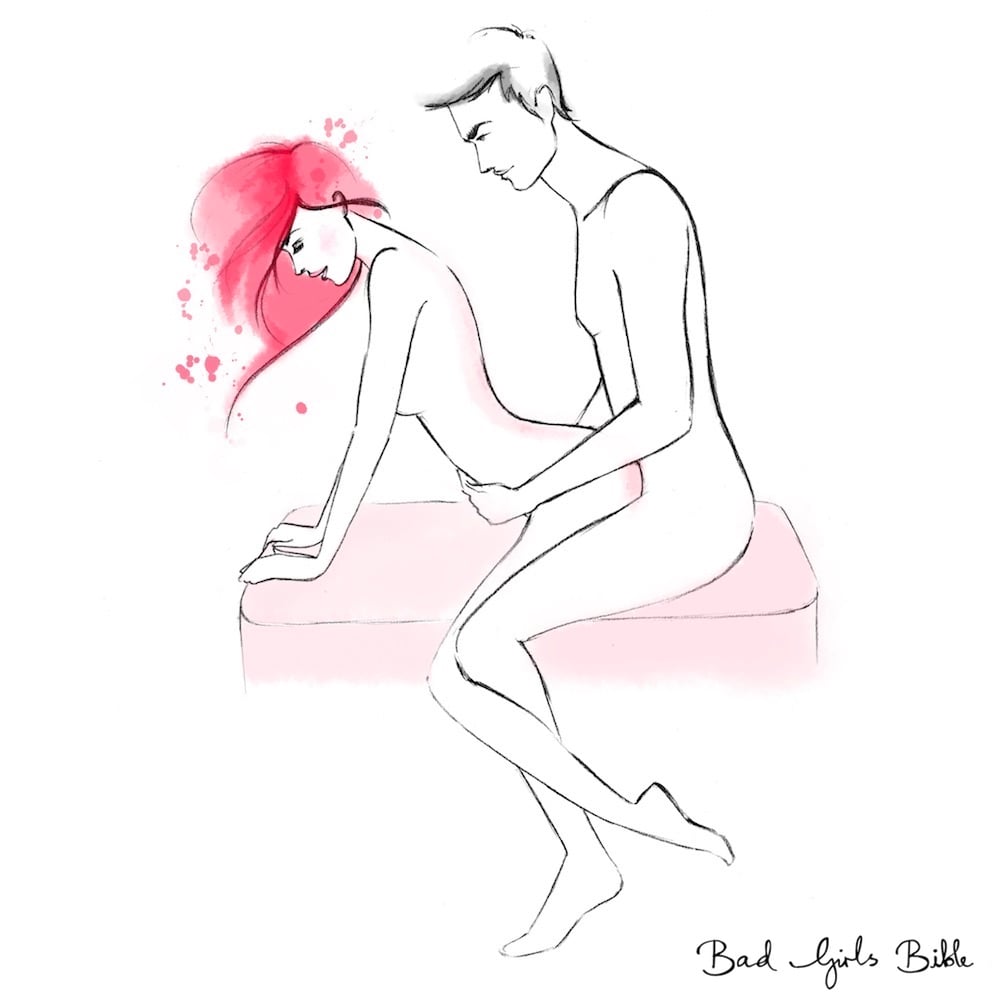 The Final Furlong is a nice variation of Doggy Style. It's simple to perform and doesn't take much effort. It's also much more intimate than Doggy Style. The Final Furlong gets its name from the fact that you both look like you are riding a horse like a jockey. Of course, you'll find more than 100 positions to try in our guide to sex positions.
The hardest thing about performing the Final Furlong with your man is finding the right furniture! This is because you will both be sitting in the same position. Ideally, you will have a foot rest or wide stool that can accommodate both of you. You both need to sit down, to straddle the stool/footrest while facing the same direction. Your man will be behind you. You need to lean over slightly so he can easily enter you. Then once he is inside you, he can hold you close like you are in the Spoons position and start thrusting.
WHAT THE GIRL DOES IN THE FINAL FURLONG POSITION
The Final Furlong position doesn't require too much effort, which makes it nice for slow, sensual sex. Learn more in this post. To increase the intimacy, you can lean backwards towards your man and put your arms gently around his head or back.
If it's comfortable to do so, you can push back against your man for harder penetration. Other than that, you should just sit back and enjoy the ride.
WHAT THE GUY DOES IN THE FINAL FURLONG POSITION
Your man will be doing a little more in the Final Furlong position. He will be thrusting in and out. He'll find it easier to thrust in an out if he raises himself off the stool/footrest slightly. To help with thrusting in and out, he should put his arms around you: either around your waist or under your arms and reaching up toward your shoulders. He can also reach around and hold your breasts to get some nipple stimulation going in this position.
The Final Furlong is an equally great position for both anal and vaginal sex.
THINGS TO CONSIDER WHEN PERFORMING THE FINAL FURLONG POSITION
I have talked to many students about the Final Furlong and have managed to get quite a bit of feedback from them. Here is what they have had to say about it:
Even though it has a name that suggests it takes a lot of effort, the Final Furlong is an awesome position if you want to have slow and sensual sex with your man without having to be super flexible or strong.
It makes for an excellent combination when your man switches from thrusting in and out to grinding his hips and making a "figure 8" motion inside of you.
The Final Furlong is a lovely position if you like

 

using a vibrator during sex.
SIMILAR POSITIONS
Stairway to Heaven

 

– This is another pose that requires you to kneel on something, but you switch it up by using your staircase.
Corner Doggy

 

– Use the corner of your bed or another piece of furniture for additional clitoral stimulation! More on that

 

here.
Speed Bump – If you adapt this position to use an exercise ball to lean on, you can have a lot of fun.
Don't forget about other variations of doggy style here.
SEAN'S THOUGHTS ON THE FINAL FURLONG SEX POSITION
I am a big fan of the Final Furlong as it feels nice for relaxed, natural sex as well as more animalistic sex. When I am feeling in the mood for something a bit more passionate, my girl can lean forwards while I stay fairly upright. Then I can grab onto her waist or shoulders for better leverage. Your man can also grab your hair in this position.