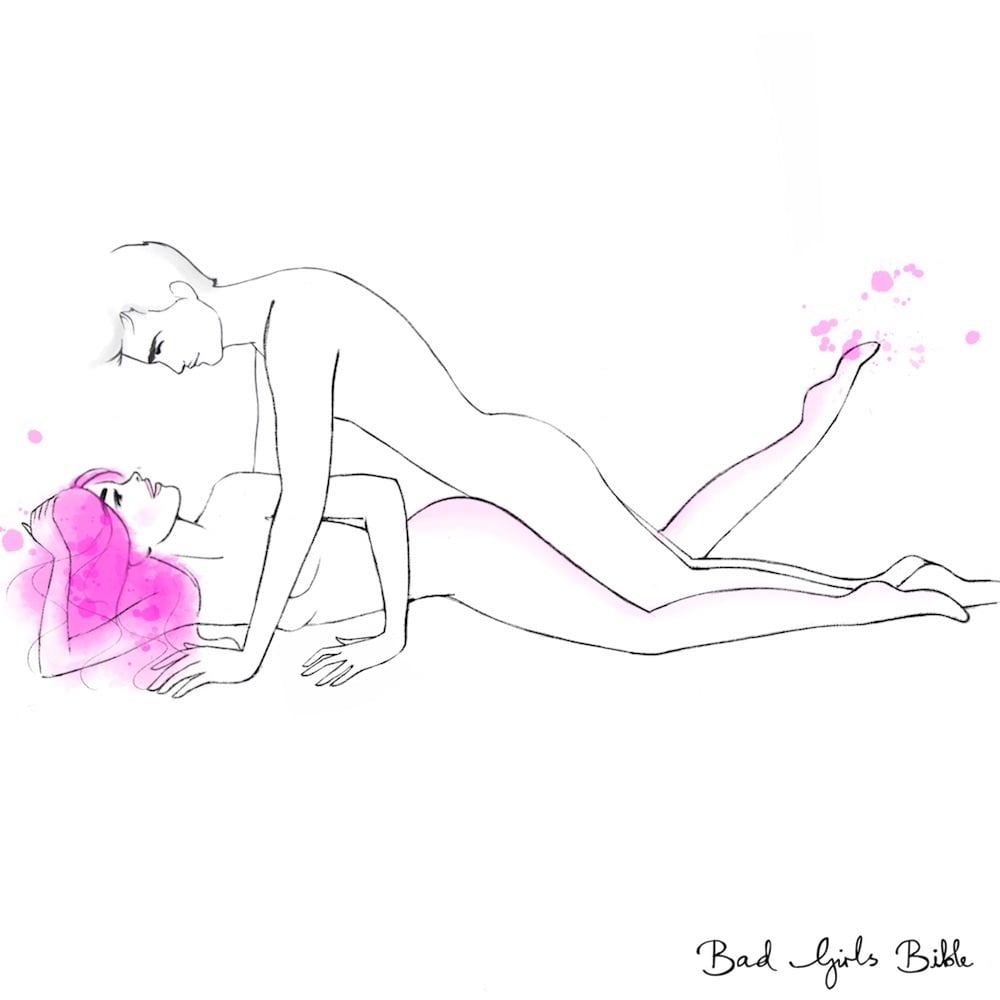 Although it's called the Flatiron position, it actually doesn't look much like a flatiron at all. You will be lying on your side on the bed with your legs together and bent. Check out the rest of our sex positions in our illustrated Sex Positions Guide for more ideas.
Most girls are flexible enough in this position to turn and face their man to increase the intimacy. Meanwhile, your man will be on his knees and will enter you from behind. So your man will be in the same position he usually is when performing the Missionary position while you will be in this new position on your side.
WHAT THE GIRL DOES IN THE FLATIRON POSITION
When you are in the Flatiron position, you will find it difficult to move with your man on top of you. So it will be hard to thrust back onto him. However, you will have both hands free to put around your man's neck and back. You can also pull him towards you to kiss him as well. By lifting your legs closer to your stomach or straightening them, you can control how deeply he penetrates you if he's well endowed or if you like deep penetration.
WHAT THE GUY DOES IN THE FLATIRON POSITION
When your man is in the Flatiron position, he will be doing most of the work. He can just stay on his knees and hands and keep thrusting in and out. But this will get a little boring after a while. He also needs to move around slightly until he finds the right spot. When I say move around, I mean to move a little to the left or a little to the right (i.e. closer to your back or closer to your stomach until he is hitting the most pleasurable areas for you.
He can bend closer to your ear to whisper dirty talk into it too. More on that here.
If he wants to make it more intimate, he can lean right over you and start kissing you. If he wants to penetrate you with more intensity while leaning over you, he can grab your shoulders. Or if he is upright on his knees, he can put his hands on your upper hip and pull you in with each stroke.
THINGS TO CONSIDER WHEN PERFORMING THE FLATIRON POSITION
I have talked to quite a few students about the Flatiron Position. Here is what I have learned from them:
It's quite easy to transfer from regular

 

Missionary to Flatiron without any loss of intimacy.
You may not get that much out of it until your man tries out a lot of different angles, by moving slightly to the left or the right when entering you.
This position is perfect for

 

anal sex

 

too.
If you are not that flexible, it's fine to lie on your shoulder while in this position. Or you can even assume the fetal position.
SIMILAR POSITIONS
Screw – Very similar but your legs are closed.
Pretzel – He kneels between your legs.
Spooning – A super intimate position with your man behind you making lots of body contact.
Expand your sexual repertoire with similar lying-on-your-side sex positions from this list.
SEAN'S THOUGHTS ON THE FLATIRON POSITION
This position is great for couples who get bored of regular Missionary. I strongly advise that you try out lying on both sides when doing the Flatiron. A lot of students that I've talked to about it have told me that they often prefer lying on a specific side.