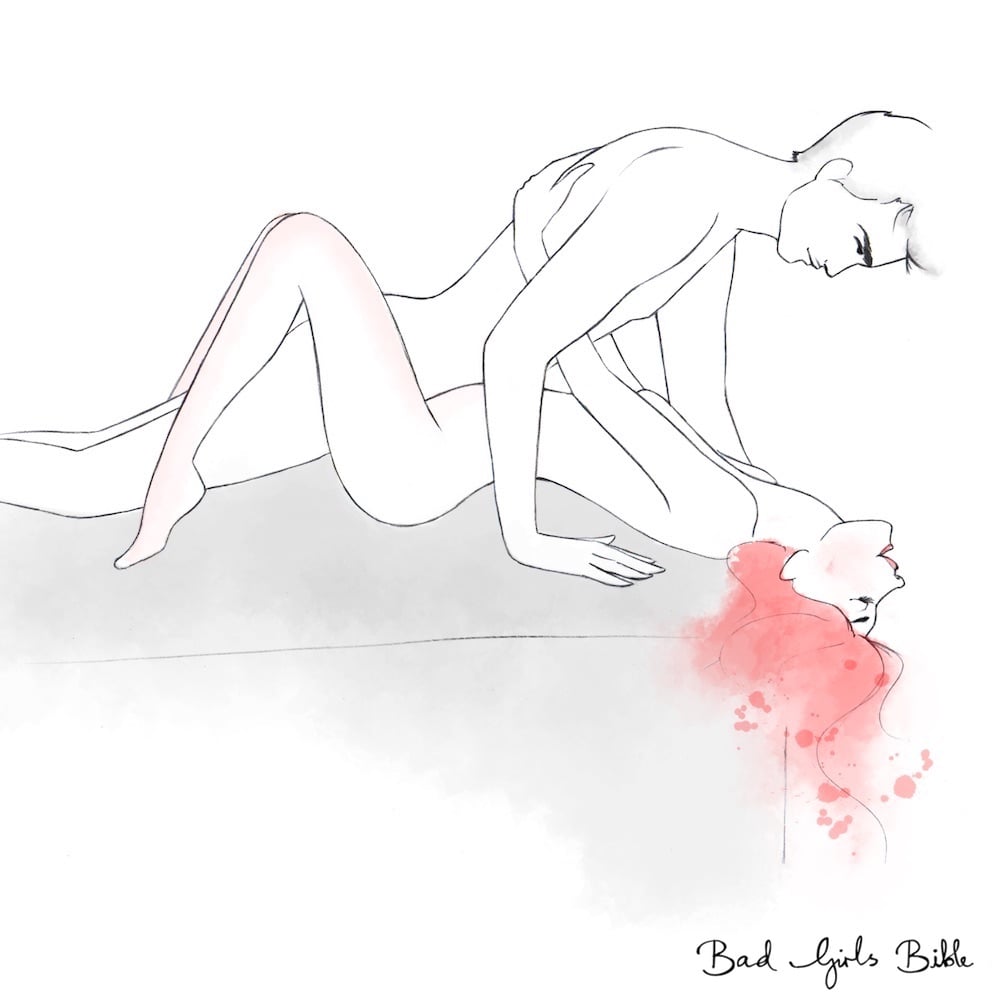 The Hang Loose is an easy-to-perform variant of regular Missionary position. You don't have to be a gymnast or 'Stretch Armstong' to perform it with your man like you might with some sex positions. By the way, if you want to find the perfect position for you and your man, then you'll find over 100 more in our Sex Positions Guide.
To get into the Hang Loose position with your man, just start off in the regular Missionary position with him, except do it at the end or side of the bed, so that you can hang your head over the edge of the bed. Your man should be able to support himself with his hands on the bed, like in the illustration above, but he may need to place them on the ground if he comes over the edge.
The Hang Loose got its name from the fact that you will be hanging over the edge of your bed.
WHAT THE GIRL DOES IN THE HANG LOOSE POSITION
Like I've already said, the Hang Loose is just a slight variation of regular Missionary. As you are lying over the edge of the bed, it allows you to more easily arch your back to help create a slightly different angle of entry for your man.
You'll find that having your head and part of your shoulders hang over the edge of the bed doesn't allow you to do a whole lot. This is the whole point of the Hang Loose. It enables you to 'let go' and let your man take control.
If your hands are free, you should rub your clit.
Try talking dirty, too! Your man will love it. Gets tips here and in this post.
WHAT THE GUY DOES IN THE HANG LOOSE POSITION
Your man will be thrusting in and out like he normally does during the Missionary position. He can also grind up against you too. For some couples, this can feel almost identical to regular old Missionary position. This is why I recommend that your man tries slightly different positions, like penetrating you while he is on his knees and your legs are in the air, similar to the Deep Impactposition or the Coital Alignment Technique position – if he can get himself into the right position while hanging over the side of the bed.
THINGS TO CONSIDER WHEN PERFORMING THE HANG LOOSE POSITION
Having discussed the Hang Loose position with quite a few students, I have managed to get some encouraging and insightful feedback on it:
It's an excellent (and easy) position to do if you want to change things up when having regular Man-On-Top sex with your man.
If you like, you can outstretch your arms behind yourself and put your hands on the floor to help keep yourself balanced in the Hang Loose position. This also arches your back.
The Hang Loose is a great position if you like your man taking control during sex.
Do not perform the Hang Loose position if you have a bad back or neck.
SIMILAR POSITIONS
Looking for more positions where you're leaning or resting on your back? Click here.
SEAN'S THOUGHTS ON THE HANG LOOSE SEX POSITION
I love the Hang Loose position. There are loads of variations of it (based on other Man-On-Top sex positions) which means that you won't get bored for a long time.