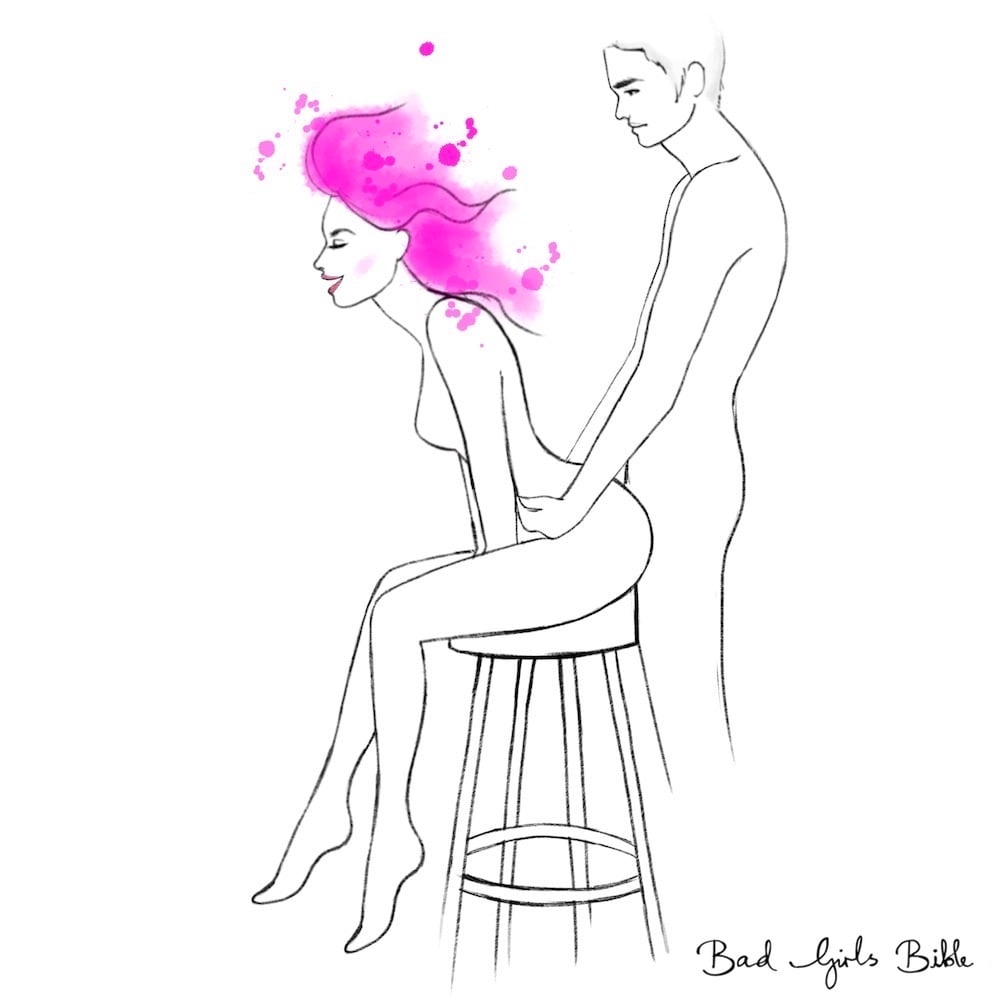 The High Chair is a fun rear entry sex position, where you get to sit and relax while your man does most of the work. The only thing you'll need to perform the High Chair with your man is a bar stool/tall stool. Find more positions to try in the illustrated 
sex positions guide
.
To set it up, you are going to be sitting down on the bar stool with your butt hanging out over the edge. So really you are going to be sitting on the underside of your thighs, not your butt. Your man will enter you from behind. You can then lean forwards away from your man or backwards into your man to find the right angle. If your man is not tall enough to penetrate you, then get him to stand on something firm.
Do not put anything under your bar stool, make sure it is on a firm, solid surface to prevent any accidents.
WHAT THE GIRL DOES IN THE HIGH CHAIR POSITION
When you are in the High Chair position, you do not have much to do. You just need to sit there and let your man do all the work. You can lean really far forward to the point where your stomach is touching your thighs. Or you can lean backwards, right into your man for more intimacy.
If you are not leaning that far forward, then you will be able to masturbate yourself while your man is fucking you.
WHAT THE GUY DOES IN THE HIGH CHAIR POSITION
Your man has a pretty simple job when performing the High Chair with you. He just needs to thrust in and out. If you are leaning back into him, then he can wrap his arms around you and even massage your breasts.
Your man should experiment with penetrating you at different heights. So he should try coming from right below you so that he is penetrating you quite shallowly. Then he should try getting higher and higher until you find something you both enjoy.
THINGS TO CONSIDER WHEN PERFORMING THE HIGH CHAIR POSITION
Even though the High Chair position is easy to perform, the majority of people have not actually tried it with their partners. I have managed to get some great feedback and insights from those that have:
The High Chair is a

 

great position for those that like anal sex. Tips for great anal sex can be found here.
It works best if your stool does not have a back support. If it does have a back support, then you should face it with one leg on either side of it, so that your man can easily enter you from behind.
Remember that you should be sitting on your thighs (not your butt), so that you butt hangs over the edge of the stool and allows for easy entry.
If you are interested in keeping everything nice and clean, then put a towel on the seat before you get down to business.
SIMILAR POSITIONS
There are more positions where you're sitting in our ultimate sex positions guide.
SEAN'S THOUGHTS ON THE HIGH CHAIR SEX POSITION
The High Chair is a position that I really enjoy, not only that, but it's super easy to perform too. I definitely recommend that you try it out.