Ending a relationship is never easy, but it can be that much more difficult when you're walking out on a marriage. If you want to know how to leave your husband, you have to consider the logistics and plan for your emotional and financial future. If you share children or pets that depend on you, it becomes harder to leave your husband. That's why we recommend having a detailed plan that you stick to.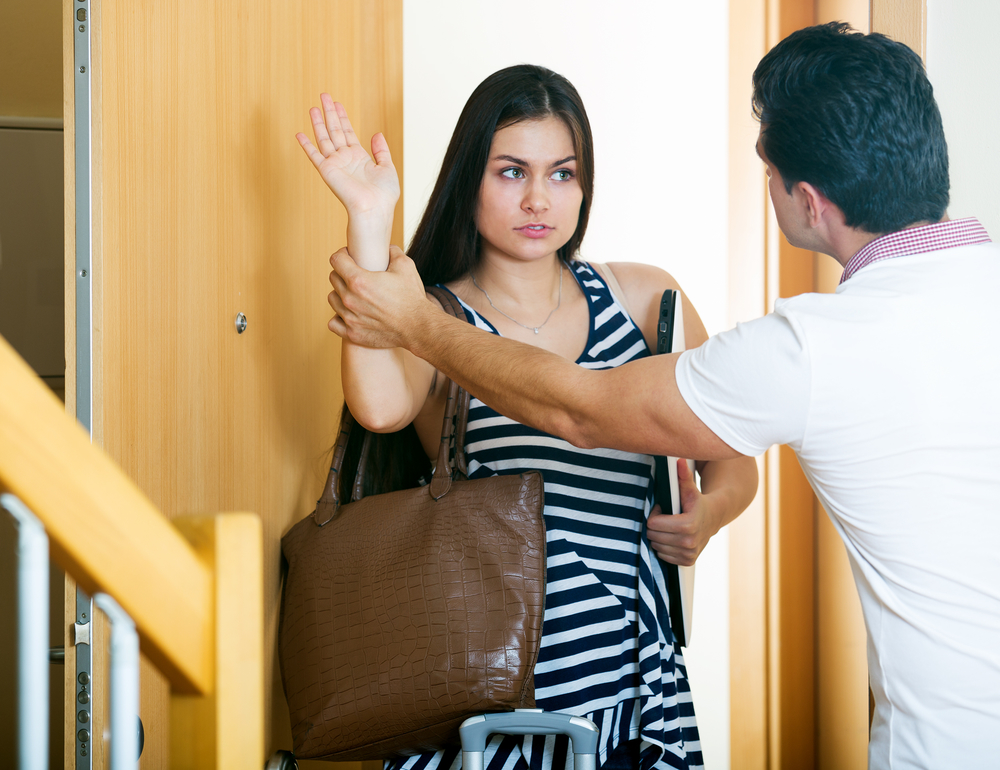 PREPARE TO LEAVE YOUR HUSBAND
Before you leave your husband, determine whether you should break up at all. Leaving your husband is about more than just packing a bag and leaving, and it gets even more complicated if you have children or pets that you have to consider. There are some times when you might have to leave right now, including if your husband will become violent upon learning that you intend to leave, emotional abuse – more on that in this post – or the potential for harm to yourself, your family or your belongings.
However, in most situations you not only can take some time to prepare to leave your husband, but you should. This ensures you're thinking clearly so have the law on your side, you have some place to go and can support yourself once you leave your husband, you don't forget anything, and you make the right choices for any children you might have. We'll begin with what you need to do to make the plan to leave, which may require several months to a year.
Save money in an inconspicuous way. So open a bank account that your husband doesn't know about or file for a credit card under your name only, allowing you to have emergency funds. You may need to carefully move money from your accounts if your husband monitors them closely. Cutting back on some expenditures can help you to save money, or you may consider getting a part-time job if you usually don't work or getting a second job.
Make a new budget.

 

Determine how much money you'll need every month to take care of yourself and potentially your kids. This helps you determine how much money you'll need to set aside to leave your husband and how much you'll need to earn to survive by yourself.
Arrange for someplace to stay.

 

You might need to stay with friends or family temporarily or, if you're in danger, contact your local woman's shelter. If you've got time and money, you can look for an apartment to rent and sign a lease or find a house to buy and apply for a mortgage loan. The person who leaves the marriage leaves the shared home, even if you'll move back into it later.
Determine whether you'll take kids – or pets. Are they better off with you or your husband? Can you afford them? Will he be able to care of them if you've always been the main caregiver? Don't let your negative feelings about your husband get in the way if he's a good father.
Make a list of your possessions.

 

What do you need? Who will get what? You might not take everything now, but it's good to know where you stand.
Confide in someone.

 

But just a single person. Make sure they'll be supportive and can keep a secret. If you don't have anyone like that in your life, you might skip this step. Be prepared to call this person after the big leave or to have them with you at the moment.
Contact a divorce lawyer. Learn about your legal rights regarding possessions and children. Follow the lawyer's advice when leaving. You may first want to file for legal separation or even getting a restraining order against your husband.
Prepare to lose friends.

 

People take sides in divorces. Your soon-to-be-ex might paint you in a bad light, and others might view you harshly for breaking up your marriage and family, even though there are many

 

reasons for divorce. But if you've made up your mind, you need to make this sacrifice.
Plan your departure.

 

When, where and how will you leave? Will you need help moving your items? Do you have friends and family to help or do you need to hire a moving company? You may need to rent a storage facility for all your belongings where you'll be staying immediately are moving out.
Have an honest discussion with your husband.

 

You might be able to salvage your relationship (you can fix an unhappy marriage

 

in some cases), or you may simply warn him that you're leaving so he's not surprised, and he can leave the house when you plan to pack up and move out. However, you might prefer to leave in secret if your husband has an anger problem. How much you disclose will depend on how safe you feel doing so. This conversation will go the smoothest if you plan a script and stick to it!
Again, we stress that it might not help to know how to leave your husband if time is not on your side. You might want to leave now because your safety is on the line, which means you'll need to skip most or all of these steps and proceed with the following…
HOW TO LEAVE YOUR HUSBAND SAFELY
You've made preparations, and the day has come. If you're moving in secret, you'll need to be fast; although, you may not have been able to pack anything before now. This is where that list of possessions comes in handy. If you've talked to your man, you'll want to leave as soon as possible after dropping the big news. Here's how to leave your husband as efficiently as possible.
Try to keep your kids out of it. Moving while they're at school or a friend's or with a trusted relative might be best, especially if you worry there will be arguing with your husband whom you're trying to leave. Bring friends to help pack and for emotional support. If your husband is there, they can offer protection. You can also contact local law enforcement to accompany you if you feel unsafe.
Make sure to pack the following:
Clothing
Toiletries
Favorite toys
Medicine, prescriptions and glasses or contact lenses
Paperwork, including IDs, vehicle titles, home loans, medical records, so on and so forth
Pet supplies if you're taking your pets
Know what you absolutely need to live – and what you can let go of. Sometimes when you leave, you lose material possessions, so don't get caught up on things. Your health and happiness are more important than an antique vase. For people who are moving, have boxes, tape, and other packing supplies ready. Garbage bags can work in a pinch. If at all possible, have a "go bag" containing these items ready to grab on your way out of the door. Read out other advice for breaking up without drama.
The more organized you are, the more you'll be able to keep your calm during this otherwise stressful situation. This is necessary for talking to your children. They're going to struggle with the change whether you take them with you or they stay with your husband. Explain to them that you're leaving and that it's for the best, but don't talk badly about your husband in front of them.
If you're looking for information about how to leave your husband, you're probably upset. Whether you love him but just don't see how you can save your marriage, or your marriage has been over for a while (read about the signs) and you have been waiting to escape, it's a difficult situation to be in. And adding kids to the mix can be difficult. Once you do leave, you may be tempted to come back. However, you no longer live in your home. You're a visitor, and you should arrange with your husband if you want to visit your home, children or pets or if you need to pick anything up that you've left.
Similarly, you'll want to specify rules for communication. You may need space, but if your husband is surprised by your decision to leave, he might become clingy and blow up your phone. Some men also respond to rejection or breakups with anger.
Of course, this will be an adjustment period for you. You may have a new job and home. You may not have a vehicle. You may have to enroll your kids in a different school. Our tips on how to leave your husband can help things go as smoothly as possible, but it's impossible to know how your husband will react. This is why the plan for leaving your husband comes in handy: it enables you to be as safe as possible during a tumultuous time, even if you eventually get back together.