What do the Obamas, George Clooney and a hundred celebrity couples have in common? They've all engaged in PDAs, also known as public displays of affection. If you're like the typical woman, you probably like PDAs better than your man; although, this isn't always the case.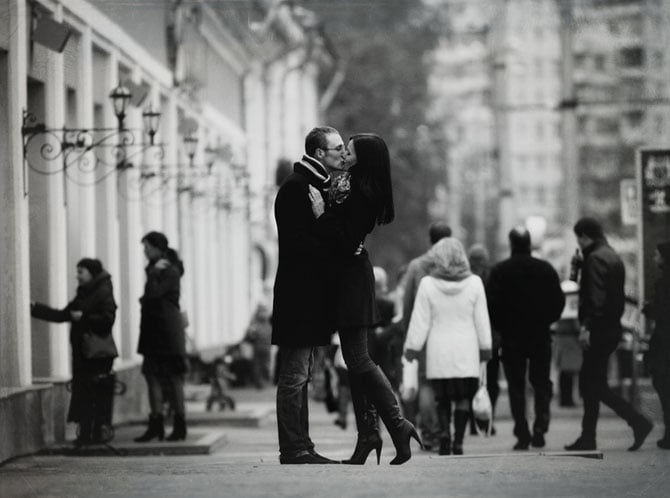 PDAs are pretty controversial. People who are young or under the influence will often engage in them without a second thought as to whether people around them are comfortable, while some people, especially the conservative, will do anything to prevent a public display of affection. So how do you carefully navigate society's rules for PDAs? Read on!
WHEN ARE PUBLIC DISPLAYS OF AFFECTION OKAY?
There are a few locations and instances when no one could fault you for kissing in public or sneaking in a PDA.
1. A ROMANTIC DINNER
What romantic dinner wouldn't be complete without candles, soft music in the background and gazing across the table as your hands lock? Of course, this is better if you have a corner booth all to yourselves and you're not bothering other diners. If the restaurant atmosphere isn't intended to be especially romantic, keep the PDA off the table, literally! A crowded or loud greasy spoon diner isn't the place where you'd want to profess your love, anyway!
2. WEDDINGS AND ANNIVERSARIES
It's a no-brainer that the happy couple is going to express their love for one another at their wedding or anniversary. But there's good news for the guests, too! Few people would think negatively of you if you just had to hug or kiss your partner, especially when you're dancing close on the dance floor. It's easy to get swept away in the emotion of it, and these special events remind us about what's important in life.
Of course, kissing in public isn't a good reason to get married. See why people still do here. Wondering if he's the one? Check out this post!
3. SAYING "HELLO" AND "GOOD BYE"
For daily routines, a quick kiss as you greet in public is just fine. And if you're seeing your partner off for deployment, a mission to the International Space Station or the Peace Corps, then people are less likely to mind a public display of affection, especially if it's paired with tearful "good-byes." But remember to keep those long hugs PG because you never know who might be watching!
4. WHEN YOU HAVE TO SHARE PERSONAL SPACE
In crowded locations, you may have to lean in to your honey to make room for everyone else. Think of things like an elevator or bus. This gives you time enough to share body heat without any explicit public display of affection. Plus, you can lightly lean your head against his sh0ulder or chest for just a second.
Generally, a quick kiss on the cheek or hand-holding will be acceptable by people in public locations as long as it's not disturbing someone else. For example, break that handhold when you're in a crowded subway or crossing the street in front of waiting traffic. Don't hold up pedestrians because you want to stop and kiss your spouse, and take a look around before you try to do anything you wouldn't be comfortable doing in front of your grandmother!
5 TIMES TO AVOID A PUBLIC DISPLAY OF AFFECTION
Although people say it's okay to kiss in a movie theater, you probably don't want to unless it's absolutely empty. Still, the sticky floors and chairs that have seated a million behinds are probably not the most arousing places to fool around. And you'd be committing a social fax pas with a PDA in any of the following situations.
1. WHEN SOMEONES IN UNIFORM
If either of you are a member of the Armed Forces, then it's against the rules to show PDAs – even holding hands! Source. This is one of many rules that enable you to remain professional and a perfect representation of your job and country, so it's best to pay attention.
2. WHEN IN CERTAIN COUNTRIES
You know the saying, "When in Rome.." And while you can actually get away with public displays of affection in Rome and most places in Europe, that's not the case if you're in China or the Middle East. So keep your hands – and lips – to yourself to avoid a public faux pas!
On the other hand, some places are more acceptable of PDAs. For example, Honolulu, Hawaii and New York City are among the most accepting of the PDA according to research done by Chemistry.com. But Seattle and Vegas aren't down with the touchy-feely PDA.
3.  WHILE YOU'RE AT WORK
Perhaps your boyfriend stops by to drop off lunch, the keys or just to say "Hi." That's sweet, but you'd better think twice before planting a big wet kiss on his lips – unless you have a private office. Even if you're the boss, this can come across as unprofessional. If it's a small work space without any customers, you may be able to see whether your coworkers are okay with public displays of affection, but be prepared to skip them.
4. AT SCHOOL
Even if you didn't go to a strict religious school run by nuns who would slap you with a ruler if you were causing showing public displays of affection, there were probably rule against PDAs in your school! Whether you're going to college, visiting a school where your partner works or even attending a teacher's conference for your little ones, leave the PDAs at the door where they belong!
5. AT YOUR PLACE OF WORSHIP
Visiting your church, temple or other synagogue should connect you with the deity in which you believe – not your partner's lips. You can stick to worshiping him in the bedroom. More on that here.
6. AT FORMAL AFFAIRS
If you're at a black-tie event, keep any public displays of affection inside the tinted limo. Just like emotional affairs are frowned upon, so too is kissing at a formal affair.
7. ON SOCIAL MEDIA
It's easy to let the world know how much you love your significant other on Facebook, but it's also easy to annoy your friends, family and coworkers with your flowery descriptions of your never-ending love. Let's be serious here. Not all relationships will last forever, and you often end up looking paranoid and possessive when you lay claim to your man like that in such a public space. Save it for anniversaries or birthdays, when your loved ones will be happy for your happiness.
IT'S NOT ALWAYS ABOUT "WHEN"
Obviously, there are some times and locations when you should stay away from a public display of affection. But your partner might not be down with public smooching or anything else no matter the situation. There are a number of reasons this might be. For starters, society teaches women that's it's more okay for them to show emotion or vulnerability than it is for men, which means your man might not want to show how much he loves you in public. In fact, AskMen says that even using pet names in public is a no-no!
Some men will automatically pull away if they sense you're going in for a public display of affection, so it's best not to make a big deal about it. Instead, ask him about it at a later time when you're calm. Let him know that you understand he may be uncomfortable, and see if the two of you can figure out why. This is a great time for you to explain to him why PDAs are meaningful for you and how they can be beneficial to your relationship.
Remind him that a hug, kiss or holding hands can be hood for you, too. Public displays of affection like this are good for releasing cortisol in your body, which helps to reduce stress. Similarly, cuddling is great for building bonds and increasing intimacy because it increases oxytocin in your body. Of course, you won't want to cuddle in public, and acceptable PDAs are about showing that you care and not trying to get into each other's pants.
Ultimately, it's about moderation. And isn't everything? While you might be comfortable with a full-on makeout session in front of your parents, it's okay if he's not. Find the middle ground. Perhaps it's holding hands, a hug or like peck on the cheek when one of your walks into the room. Or maybe you need something more subtle such as a hand on the small of your back or elbow when you walk into a room together. If your partner knows you don't want to get down and dirty at Grandma's 80th birthday, he'll likely compromise a bit.
You may also be able to sway him with the idea that disobeying society's implied rules with illicit public displays of affection and being able to break the rules without being caught. This might mean a hand on your knee or thigh under the table at dinner, grabbing your backside quickly during a hug or sneaking your hands under the other's clothes with no one being the wiser. You can even make a sexy game out of it!
But know when and where it's okay to be sneaky, to kiss on the lips or hold hands. Chances are, the people you're with and the venue will impact whether you should consider any PDA. No matter how much you might want to grab your man's tushie, think of the people around you. Be easy on yourself if you break this dating rule, however.