If you're into a guy, it's easy to find yourself looking for signs that he feels the same about you. You're constantly distracted, wondering "Is he into me?". But not every guy is honest or knows what he wants. You could be letting him string you along if you're too busy looking for signs that he's into you.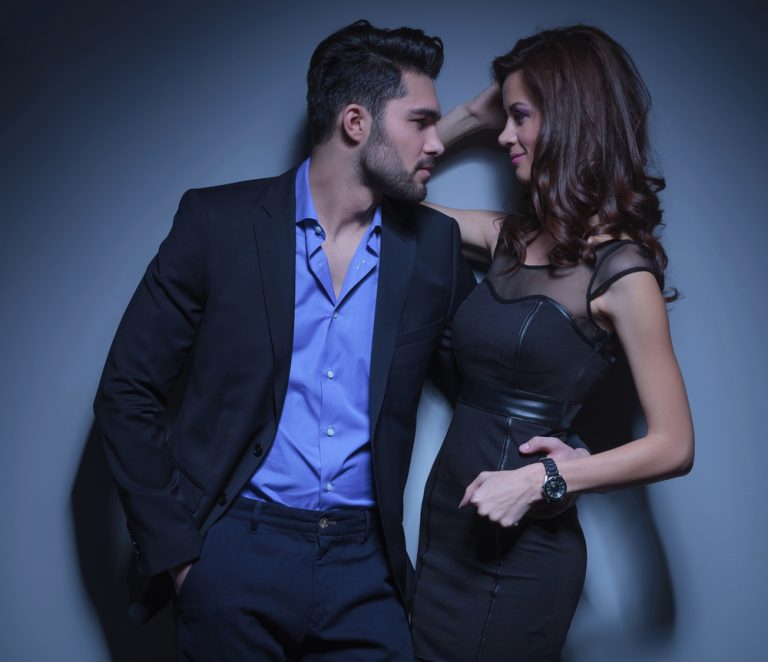 SIGNS HE'S INTO YOU
You're asking yourself "Is he into me?". You should be looking for the following signs that this guy likes you
He prioritizes spending time with you. He'll spend time with you rather than his friends, and you'll do things more than just have sex.
He flirts with you.

 

Look for smiles, eye contact, mirrored body language (learn

 

more about body language) and small touches, among other signs. Flirting is an easy way to show he likes you without saying it. If you're into him, flirt back.

 

Learn how.
He makes excuses to talk to you.

 

Perhaps you work with a guy who's into you. He suddenly finds himself in your department or making an excuse to talk to you. We have an idea what this could mean!
He contacts you first

 

because it's not just about sex or the attention you lavish on him.
He listens when you speak

 

and wants to know more, so he'll ask questions.
He's vulnerable with you

 

and opens up. He wants you to know him just like he wants to get to know you.
He talks about the future.

 

Maybe he just wants to know when the next date will be, or he's inviting you to a wedding. This brings us to our next point.
He introduces you to friends and family

 

and wants to meet yours, too.
He wants to define the relationship, so he asks where it's going.
These aren't the only signs he's into you, however.
Find out if he likes you. Discover 16 signs he's into you in this post.
There's a chance he's into you, but he's giving mixed signals or not being super obvious about it. He may be wondering if you're feeling the same, he may be shy or he may be afraid of commitment. A recent breakup may contribute to his confusion and yours by association.
We're socialized to believe that men should pursue women, and it's certainly easier to let him come to you. But that doesn't mean it can't work out if he's the shy one or afraid of making a move.
Sometimes you need to be the one to initiate the conversation, ask him out (learn how here) or lean in for the kiss to see where things are going. It may lead to rejection, but you can get over that. Discover 9 ways to deal with rejection.
Figuring out if he's into you might be the only way to get over a crush and move on with your life. More on that here.
On the other hand, you might think he likes you, but you're not into him, so discussing it can help him to move on and perhaps enable the two of you to be just friends – if you want that, of course.
SIGN'S HE'S NOT REALLY INTO YOU
If it were easy to tell if he's into you, you probably wouldn't be reading this post and wondering "Is he into me?", but here you are. Part of the reason it can be so difficult to tell is that this guy is showing some signs he's into you along with signs that he's not into you.
Why would a guy do this? Perhaps he likes the sexual or romantic attention, but he doesn't really want a relationship (at all or with you). He's likely to string you along because the situation works for him, and he justifies doing this because he's provided some of the following hints that he's not into you. It's not his fault if you don't pick up on them.
1. HE ONLY HAS TIME FOR SEX (SOMETIMES)
A guy who only has time for you when he wants sex, especially when it's on his schedule, isn't really into you. You're convenient, and he's going to ditch you when someone who is more convenient, attractive or better suited to a relationship pops up. Obviously, he doesn't have time if you need a favor or a friend, so you shouldn't make time for him.
2. HE'S IMPOSSIBLE TO CONTACT
Does he take days or weeks to reply to texts or return phone calls? You're obviously not a priority, which may be due to the above point. He replies when it suits him, perhaps when he's bored or horny.
3. HE DOESN'T WANT YOU TO MEET HIS FRIENDS OR FAMILY
Nor does he meet yours. These are emotional connections that you only make with someone when you're really into someone, so why would he do those things?
4. HE DOESN'T SPEAK OF THE FUTURE
Because, to him, there is no long term benefit of being with you. If he does speak of the future, it's only in friendly or sexual terms. And if you try to make plans, he'll dodge the subject.
5. HE DOESN'T COME THROUGH ON HIS PROMISES
Sometimes a guy who isn't into you will make future promises, but he never comes through. So you'll find yourself disappointed, stranded and waiting around for him to show up. Of course, he never does, and you should learn to depend on your real friends.
6. HE DOESN'T RESOLVE ISSUES
Perhaps you've brought up how there seems to be no future, or he's not dependable. The fact of the matter is, he's not interested in apologizing or making it up to you because you mean less to him than you think – or want. So there's no use spending time discussing things, getting on the same page or ironing out any kinks in the relationship. He can just walk away when it pleases him.
Someone who is really into you will want to communicate effectively and move past problems (it's one of 10 essential relationship rules!); although, not everyone is good at that off the bat.
7. HE DOESN'T RESPECT YOU OR YOUR OPINION
You can carry on with someone whom you don't especially like or respect if you only want something physical, which is why this is a big clue he's not into you. He doesn't make space for you to talk about your opinions or he belittles you if you do.  After all, you only try to come to an agreement with someone when you care about them.
Stop asking yourself "Is he into me?" if he shows you no respect. Even if a guy says he loves you, respect is necessary for a healthy relationship. Check out the 9 signs of a healthy relationship – and never settle for less!
8. HE'S SEEING OTHER PEOPLE
Sometimes it's okay for a guy to see other people. It's a new relationship, and you haven't yet decided to be monogamous. You've decided you want an open relationship (read 13 critical rules for an open relationship), so it's only fair for the two of you to see others.
Read this post about casual dating if you don't want to be monogamous.
But if you expect exclusivity and you know he's not giving it, then he can't really be that into you, can he?
9. HE SAYS HE DOESN'T WANT A RELATIONSHIP
Maybe he adds the qualifier "Right now." Maybe he says it outright. Maybe what he really means is he doesn't want a relationship with you specifically, or he wants to keep his options open.
Either way, him saying this is the clearest signal at all that he's not really into you, and it's in your best interest to believe him!
If this guy is doing any of the above, it's up to you to walk away and stop providing him with the attention or sex if you know you want a relationship. He's counting on you to ignore them while you focus on any signs he's into you, even if those signs are few and far between.
You might be realizing that you're the one always holding out hope and waiting, and this realization can be a difficult one. But don't be hard on yourself. Even if you find yourself in this cycle often, it's human. We all want connection, and we sometimes do unwise things to feel that connection.
Instead of waiting for a guy who doesn't seem to know what he wants, look for a good man instead. Discover the 17 qualities you should look for in a good man.
If you're not ready to give up on this man, you might want to make him fall in love with you. It sounds impossible, and it may not be advisable, but sometimes it's possible to use the science of falling in love to your advantage. Learn more.
A lot of negatives can come from constantly asking yourself "Is he into me?". You might let him string you along, you might miss someone who is into you because you only have eyes for this guy, or you might find your self-confidence and esteem dropping (which only encourages you to spend more time on the one person who seems to pay attention to you).
Sometimes it's better to bite the bullet and be upfront with this guy. You risk rejection, but you also run the risk of wasting your time because he's happy with the status quo or not acting on a possible connection when the window of opportunity is open.