In a relationship, both parties should give and take. But if your man is just taking, it's not fair or healthy for you. Although society often stereotypes women as using men (usually for money), men can and do use women just as much (usually for sex). Here are 13 signs he's using you and the flags to look for to help you answer the question, "Is he using me?"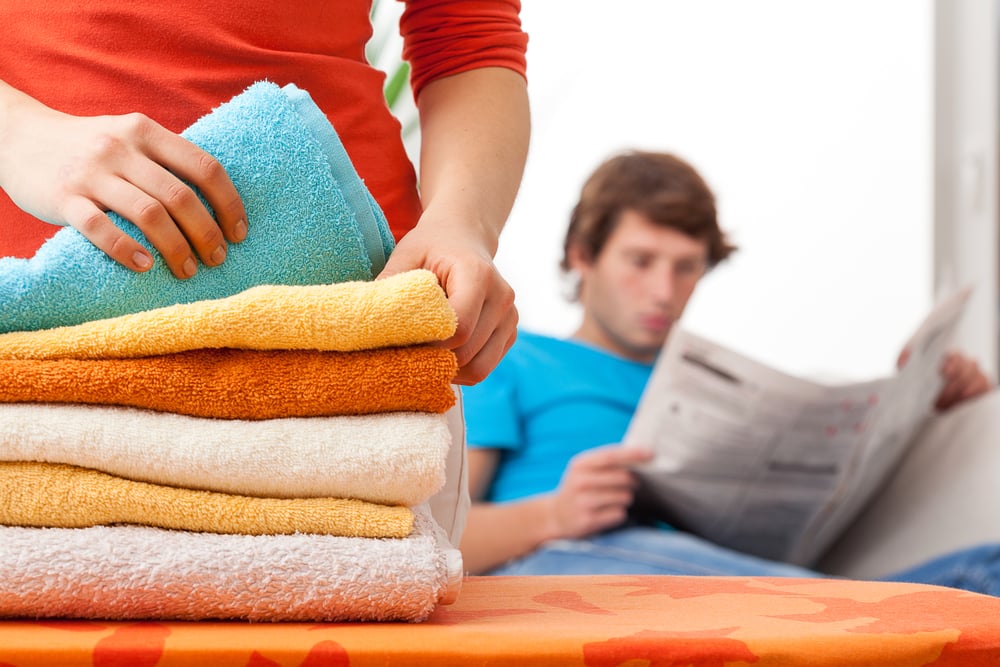 1. YOU SEE HIM ONLY FOR SEX
If he just wants sex, this is the classic way men use women and is one of the biggest signs he's using you. But how can you tell whether he's just so into you he can't control himself or whether he is using you and he just wants sex?
If you never go out on an actual date, and you see him only for sex, he's using you. It's possible to have stay-at-home dates where he really likes you and is not there only for sex. You can tell the difference. Let's say you're watching a movie together. If he tries to have sex with you during the film, and it's clear that you don't want sex, and he then finds an excuse to leave, you have your answer.
Other signs he only wants sex would be if he only texts or emails you and never calls. It's even worse if he texts you after midnight to come over. Basically, if a guy barely puts in any effort to win you over, he's just using you for sex.
Don't get us wrong, sex is important to a relationship. But it's not everything.
2. YOU CAN'T REACH HIM SOMETIMES, BUT HE EXPECTS TO REACH YOU
The reason you can't reach him sometimes is that he wants to maintain his independence. It's likely he's seeing other women. But when he wants to see you, he expects you to be there for him. You might be flattered that he expects to reach you whenever he likes, but it is definitely not good to have the balance of power shifted so far to his side.
You shouldn't be the one to initiate contact all the time. Find out why.
When a guy doesn't have your best interests at heart and thinks only of himself, he's likely using you. It's either that or he has narcissistic personality disorder, and people like that are usually terrible in relationships.
3. HE NEVER PAYS
It's one thing if you've been dating for a while and you pick up the check sometimes. But if you pick up the check on the first date and continue to do so all the time, you don't need to wonder is he using me — he's definitely using you.
Although this custom is old-fashioned, it's still a societal norm for men to pay in many countries, especially on the first date. You might make more money than he does, and if that's the case and the reason you're paying, no big deal. But even in that situation, if your man really cares about you and is not just using you, he will want to treat you occasionally.
4. YOU FEEL LIKE HIS TAXI
If you're always picking him up and doing the driving when you go out, he's using you. There are exceptions. Maybe he doesn't have a car or his driver's license has been suspended. In those cases, you'll be the one driving. But you'll need to ask yourself if you want to be with a guy who might be irresponsible.
If he does have a car, yet he still expects you to be the one to pick him up or to go to his part of town for dates, he's not that into you. This goes to the same theme of not putting in much effort. Why drive and spend the money on gas when he's not willing to do so? This attitude shows he doesn't really care for you.
5. YOU DO HIS CHORES
If you stay at his place quite a bit, you might wish to show off your excellent homemaker skills. You might cook for him and even clean up the place and do laundry. If you're just dating, you're doing far too much for him. If you do those things, you're acting like his maid, not his girlfriend. If he really cared for you, he wouldn't want you doing his chores for him. He'd be trying to impress you.
6. HE KEEPS YOU SECRET FROM HIS FRIENDS AND FAMILY
After you've been dating for a while, such as a couple of months, you should have met his friends and family. If not, ask yourself if he is using you, because this is a pretty big sign. The most obvious one is that he doesn't think of you as his girlfriend and he's only using you for sex. If you think the relationship is boyfriend-girlfriend status, ask him why you haven't met his friends and family. Maybe there's a good reason…but maybe there isn't.
7. HE FOCUSES ON LOOKS VS. EMOTIONAL COMMITMENT
It's great if he's attracted to you. That's important to have in a relationship. But if that's all you have, the relationship isn't likely to last, and it's pretty likely that he is using you. You need to get past the attraction level and have a relationship where you both can open up emotionally. If he's unavailable to you in that way, it probably means he's using you. He probably likes the conquest of getting you as a sex partner, but when that gets old, he'll be off to someone else.
8. HE DOESN'T OPEN UP OR WANT TO GET TO KNOW YOU
If your guy doesn't care about you or ask you questions, and if doesn't share much information about himself, he's not into you. He probably just wants you for sex, and when that's over, he'd rather be doing anything else than having a personal conversation with you. You deserve more than that from a man. If he never wants to open up or get to know you, find someone who does.
9. HE DOESN'T TALK ABOUT THE FUTURE
There's one reason the guy you're dating doesn't talk about the future: He doesn't see a future with you in it. You're not "Ms. Right" if he doesn't talk about future plans. You're just "Ms. Right Now."
If you're okay with just dating for today and not knowing what the future will hold (or pretty certain there will be no future because he just wants sex), you should get out before you waste more time with this guy.
10. HE CANCELS WHEN BETTER PLANS COME UP
If you never get to date him on prime date nights (Friday and Saturday), that's because he's either dating someone else or he wants to be with his buddies those nights. That's bad enough, but when he does make a date with you and cancels frequently, it's likely because he got a better offer.
If this guy were really into you, you would be the better option. Unless you always want to be toward the bottom of his list, you'd be wise to forget this guy.
11. INTUITION MAKES YOU FEEL LIKE SOMETHING'S OFF
Trust your intuition when wondering if he is using you. If you feel unsettled in the relationship, it's probably because the guy you're with isn't making you feel secure. If you don't get the feeling that he considers you the most important person in the room, that he can't wait to be with you, and that he loves being with you, it's time to have a talk with this guy.
Intuition is a powerful thing, and you should listen to it. But it isn't always accurate, which is the reason a conversation is in order.
12. HE TAKES YOU FOR GRANTED
If you always do what he asks, drop everything you're doing to answer his texts immediately, and put up with his being emotionally unavailable, he will take you for granted. Guys like a challenge, which is why playing hard to get often works really well.
But if you have no life other than him, he'll eventually find that boring and will just start taking you for granted. He's unlikely to further the relationship past what it is right now since he's already getting everything he wants out of it.
13. HE'S TRYING TO MAKE OTHER WOMEN JEALOUS BY BEING WITH YOU
If he turns on the charm and is more interested in you when you're around another woman, he might be putting on a show to try to get her jealous. Maybe this guy is already in a relationship and is only using you to get to her.
People often try to hold onto their mate by showing them how attractive other people think they are. Don't be used in this way.
WHAT THESE SIGNS MEANS
A man who shows signs he's using you and meets many of these criteria is probably a user whom you should dump ASAP! Some men specifically look for women who are vulnerable and who won't stand up for themselves, even if they know they're being used. This can lead to emotional abuse. More on that in this post.
However, if he has only a couple of these traits, then the relationship might be worth working on, especially if the two of you can talk about the problems and make strides to remedy them. Furthermore, some women aren't looking for emotional commitment or a long-term relationship. Only you know what you won't stand for.
It's easy to ignore signs he's using you, especially if you're blinded by love. However, it's wise to look for more signs if you suspect he's using you or that he just wants sex. Finding out early will help prevent you from getting seriously hurt by devoting yourself to a man who is using you.