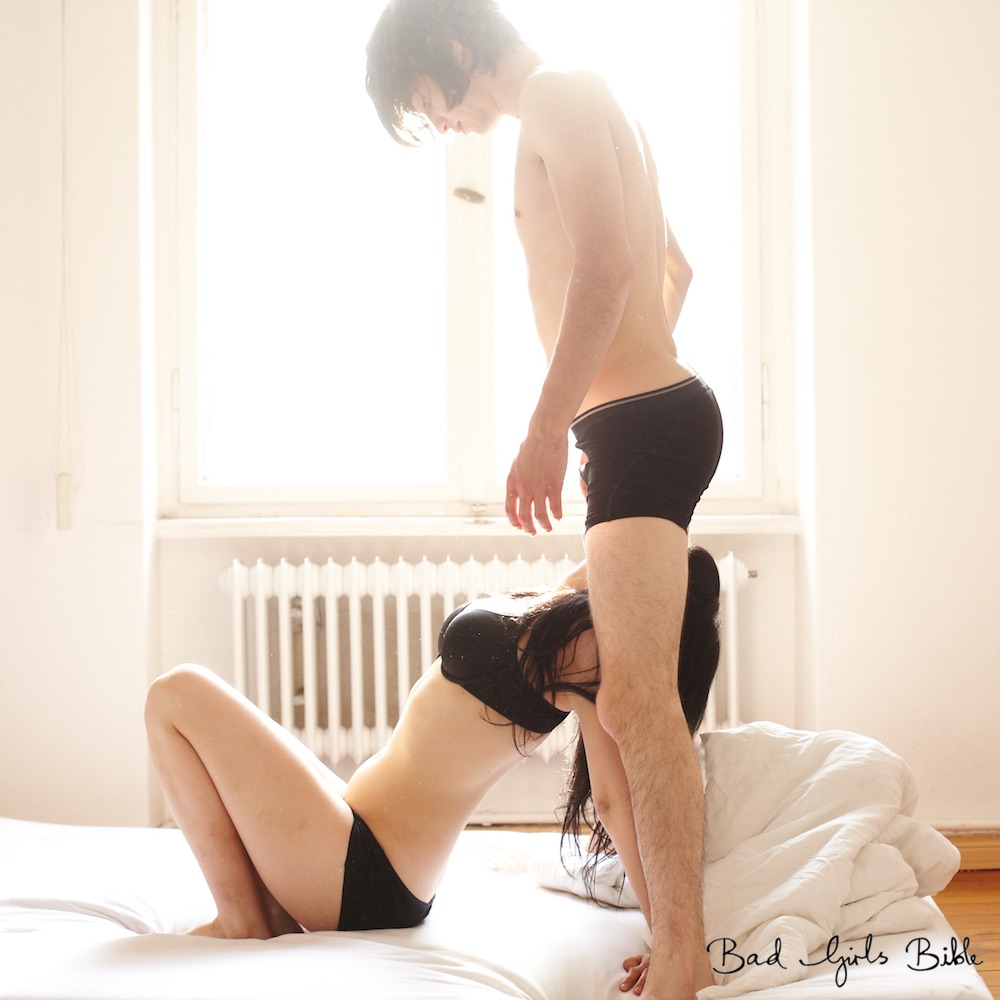 The Jack Hammer blowjob position is similar in many ways to the Pile Driver sex position as your man will be squatting up and down while you are directly below him. However, in this case, you will be giving him a blow job, not having sex. Read the in-depth Blow Job Guide here (over 50 different blow techniques).
HOW TO PERFORM THE JACK HAMMER
To get into the Jack Hammer position, you first need to start off by sitting down on a relatively firm surface, like a carpeted floor. Your man will then stand right over you so that he is straddling you and his penis is right above your head. Next you need to lean your head right back and slowly pull your man's penis down towards your mouth with your hands.
Be slow and careful when pulling his penis downwards so as not to hurt him.
Your man can then slowly squat up and down so that his cock goes in and out of your mouth, giving him oral sex.
EXTRA TIPS FOR THE JACK HAMMER POSITION
Be Careful – Firstly, make sure that you perform the Jack Hammer on a firm surface, not a bed so that your man can easily keep his balance. If he can't, then he might slip and fall and possibly hurt you or himself by accident.
Gagging – Don't let your man get too carried away in the Jack Hammer position. He only needs to squat up and down a few inches. If he gets too carried away and starts going too deep, then he may trigger your gag reflex, which I'm guessing is something that you don't want! If you have a particularly sensitive gag reflex, then these tips will help you to reduce it.
However, if you enjoy deep throating your man, you'll be glad to know that this position will have your mouth and throat in alignment, making deep throating him much easier than a position like the Cinema or Face Fuck blow job positions.
Use Your Hands – You can also use your hands in the Jack Hammer position. Try wrapping a hand around the base of his penis so you can better control how deep you take him into your mouth.
You can also take a break and give him a hand job in this position (hand job tips here)
Facial Finish – If you enjoy taking a facial from your man, then you are in the perfect position to receive one. All your guy has to do is pull out and move back a few inches to finish on your face.