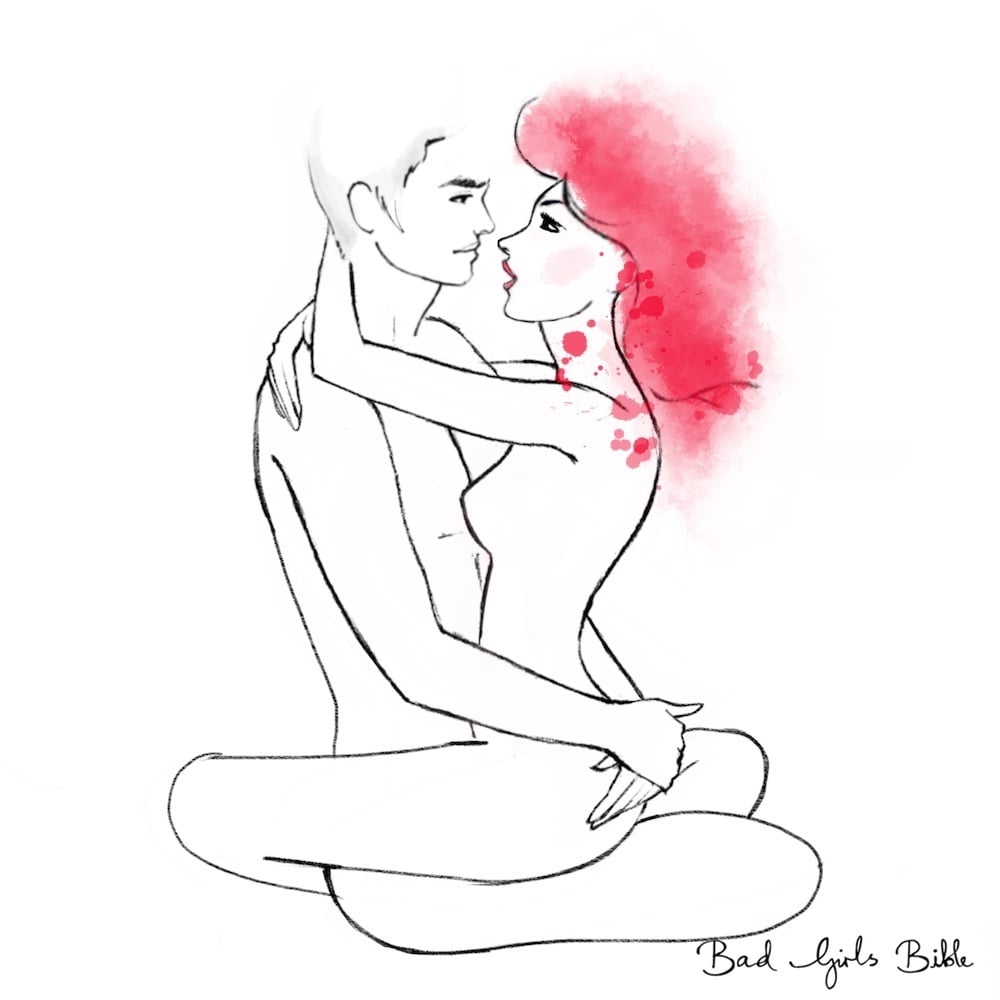 The Lotus sex position is a really intimate one and is sometimes known as the Lotus Blossom position. While it requires a little bit of flexibility and strength from both you, it's fairly easy to do. Find positions for every desire and body type in our sex positions guide with illustrations.
To get into the Lotus sex position, your man needs to sit down on his butt with his legs crossed and pulled fairly close in front of him like the traditional yoga pose. You then need to sit down on his crotch while facing him and hold on to him quite tightly by wrapping your arms around his back and putting your legs around his back as well to pull him into you. Your man will also hold on to you quite firmly as well by putting his arms around you.
WHAT THE GIRL DOES IN THE LOTUS POSITION
In the Lotus position, you will find it hard to do a lot of in & out thrusting with your man. Instead, you will be grinding and rocking on your man. Imagine dry humping, but without the clothes! But the Lotus is not just about having sex. It's about getting close to your man.
When your arms are around his back, you can massage and rub them. You are also in the perfect position to kiss your man: on the lips, cheeks, neck and ears. You can also put your arms under his arms and reach around to grab his shoulders. This will allow you to pull yourself up and down on your man while grinding and rocking on him.
WHAT THE GUY DOES IN THE LOTUS POSITION
When your man is in the Lotus position, he will find it very difficult to thrust into you. Instead, he will be in a more fluid rocking/grinding motion with you while holding you tight with his arms around your back.
One important thing for your man is where he positions his legs. As his legs will be crossed close to the ankles, it's important that your man doesn't allow you to sit or lean on them as it will put a lot of pressure on them and cause him some pain.
If he finds it more comfortable, he doesn't have to cross his legs and can instead put them out straight in front of him or to the side, even though this is not "technically" the Lotus.
He can reach around for some anal fingering if you like. More on that in this post.
THINGS TO CONSIDER WHEN PERFORMING THE LOTUS POSITION
Many students of the Bad Girls Bible have tried out the Lotus Blossom or a slight variation of it. They have provided me with some really interesting feedback on it:
It's an intimate position, not a 'hardcore sex position'. So use it for when you want to get closer and more intimate with your man. It's ideal for

 

slow sex.
Don't worry if your man can't cross his legs or finds it painful. It's just as pleasurable when he has them straight.
You may find that leaning backwards slightly during it allows your man to provide more stimulation to your G-Spot.
SIMILAR POSITIONS
Octopus – An exotic position where you rest your legs on his shoulders.
Jellyfish

 

– You both support your weight with legs slightly bent.
Piston

 

– While your legs are wrapped around him, he stands.
More positions like this in our sex positions guide.
SEAN'S THOUGHTS ON THE LOTUS SEX POSITION
I find that Lotus position can be a little awkward the first few times you try it. But once you get used to it, and your man can position his feet comfortably, you will both really enjoy it.