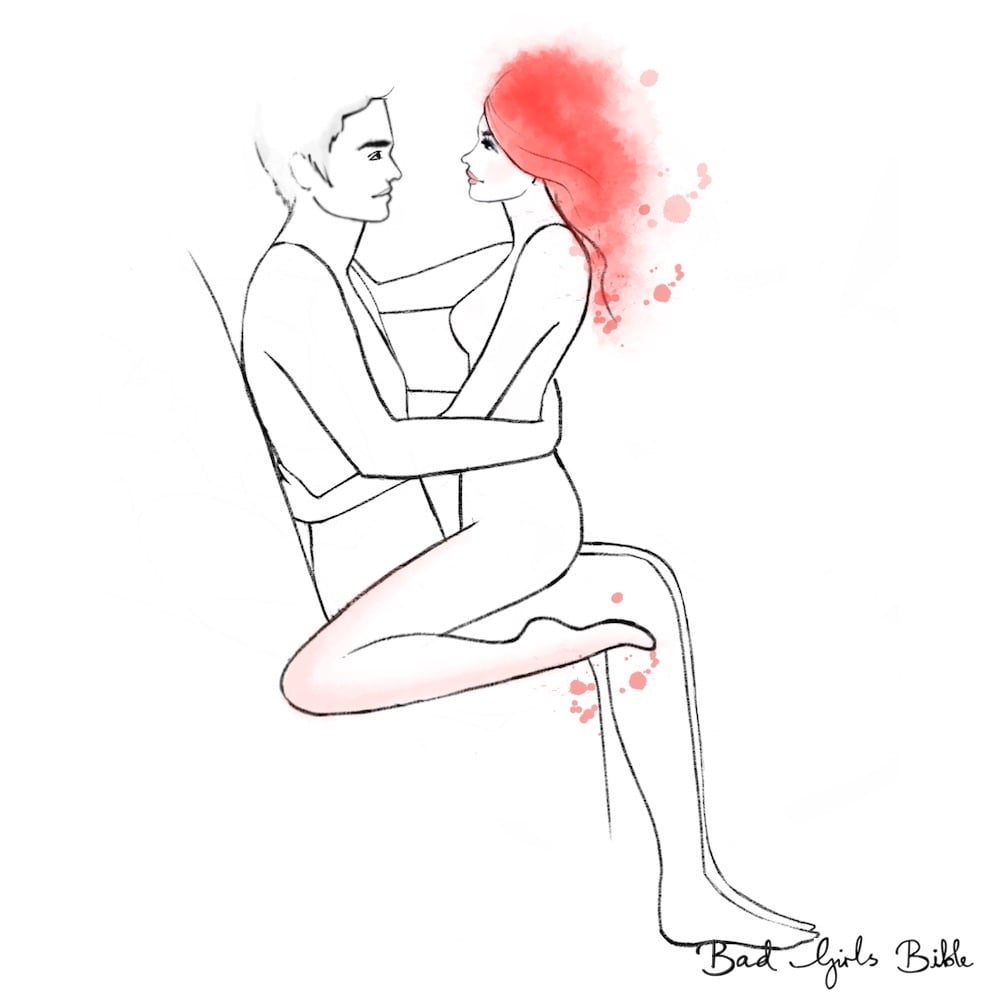 The Mastery position is one of those sex positionsthat is fun and satisfying, but not that many people know about it. Thankfully the Princess Fantasy will show you exactly how to do it and how to get the most out of it. We offer similar advice for over 100 positions in our sex positions guide.
To get into the Mastery position, your man needs to sit on the side of the bed (or on a sofa), with his feet on the floor. He should have both his thighs and butt on the bed. You then need to either kneel down onto your man's lap or squat down like in the Asian Cowgirl position. You can then wrap your arms around your man's neck. Your man can try thrusting into you when you are on top of him, and you can try lifting yourself up and down on him, but you'll find that it's far easier to rock and grind on him.
WHAT THE GIRL DOES IN THE MASTERY POSITION
In the Mastery position, you will find it easy to raise yourself up and down on him. The Mastery position is intimate for both of you as you are facing your man, so you can kiss him and maintain eye contact.
Don't forget that you can also put your hands around his neck and lean right back to change the angle.
You can also use your hands to pinch, scratch or do other things that make you feel more dominantwhen you're on top. Consult our article about rough sex for ideas.
WHAT THE GUY DOES IN THE MASTERY POSITION
Your man has a choice of what he does in the Mastery position:
1) If he puts his arms around you (when you are sitting or kneeling on him) then it will feel more intimate. More on that here. But when he does this, he won't be able to thrust that much. Instead, he will just be able to grind up against you.
2) He can instead put his arms behind his back and on the bed/sofa to support himself and give him leverage to thrust into you.
Both choices are great and slightly different. When combined with you either kneeling or sitting on him as well as leaning right back, you have a lot of different variations of the Mastery position.
THINGS TO CONSIDER WHEN PERFORMING THE MASTERY POSITION
Although the Mastery feels exquisite, not that many people have actually tried it with their man. Those that have had some interesting and helpful things to say about it.
As there are so many different variations of Mastery, you need to do a little experimentation to find what you like best.
Maintaining eye contact with your man during Mastery can make it super intimate.
Don't forget about

 

kissing your man

 

in the Mastery position.
SIMILAR POSITIONS
Lap Dance

 

– Give him the VIP treatment when you're grinding against him!
Sofa Surprise

 

– Your sofa is a more comfortable place to ride your man.
Stand & Carry – If he's strong enough, he can hold you in this position.
This is just one of several positions where you sit in his lap.
SEAN'S THOUGHTS ON THE MASTERY SEX POSITION
The Mastery position has a lot of different variations and combinations for you to try which makes it very versatile. You'll find that it is quite an intimate position, and you can have great sex in it, without tiring out too quickly.