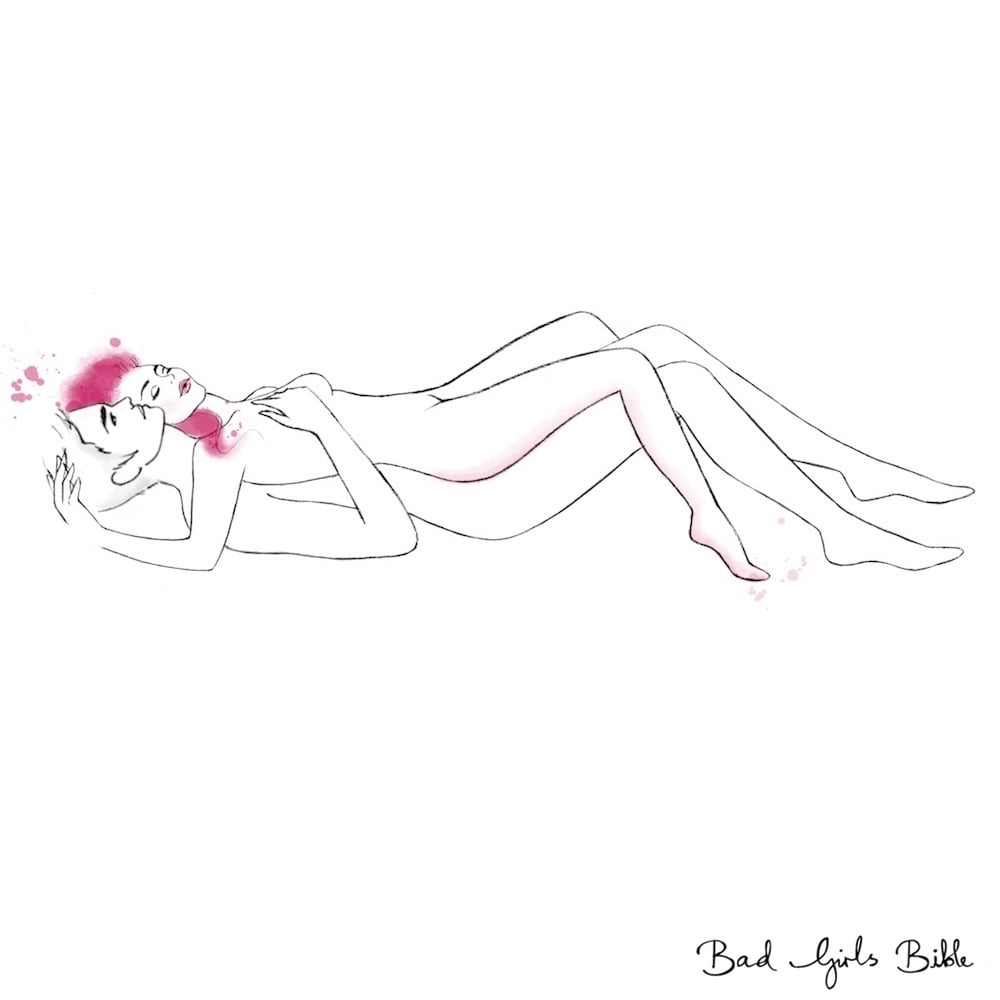 The Pearly Gates sex position is not a crazy position that requires lots of flexibility or strength, but a lot of people have still never attempted it. Don't forget to add it to your to-do list when you're trying new positions like the ones in our Sex Positions Guide.
Both you and your man will be facing in the same direction. Your man will be lying on his back on the bed with his knees bent and feet planted on the bed. You will be lying on top of him, also on your back with your head above his and to the side while your man penetrates you. So you will look like you're Spooning while facing the ceiling. To stay balanced while on top of your man, you need to spread out your legs and bend them so that you can keep your feet on the bed. You may also want to spread your arms out too to stay balanced. Your man can then wrap his arms around your waist or chest or under your arms, grabbing your shoulders.
WHAT THE GIRL DOES IN THE PEARLY GATES POSITION
When you first try out the Pearly Gates position, you are going to find it awkward to keep your balance, but after a little bit, you will get used to it. When you find that you are no longer worrying about keeping your balance, you'll find that you'll be able to thrust back onto your man's penis as he is thrusting into you. You may even find that you can balance with just one hand while using your free hand to provide some 'digital' stimulation to your clit.
WHAT THE GUY DOES IN THE PEARLY GATES POSITION
Your man has two jobs when in the Pearly Gates position:
1) His first is helping to keep you balanced by putting his arms around you. The tighter he holds you, the less that you'll have to do to keep yourself balanced.
2) His second job is thrusting into you from below. By bending his knees and keeping his feet on the bed, he can get quite a bit of leverage to do all the penetration so you can just relax and enjoy it.
He can also play with your nipples. Because his mouth is right by your ear, he's in the perfect spot to whisper sweet nothings or dirty phrases.
THINGS TO CONSIDER WHEN PERFORMING THE PEARLY GATES POSITION
I have talked with many students of the Bad Girls Bible who have tried out the Pearly Gates position with their man, and they have given some great feedback on it as well as some wonderful insights:
There are a lot of variations of the Pearly Gates that you can perform: You can put your arms behind you on your man's chest or the bed so that you can raise yourself upwards. You can also bring your knees close to chest for a slightly different angle of entry
Many enjoy the exposed feeling you experience when your man has his arms around you and is grabbing your shoulders.
Your man can reach downwards with one hand to start massaging your clitoris.
SIMILAR POSITIONS
Bent Spoon

 

– Bend your knees to support some of your weight and gain leverage.
Acrobat

 

– A flexible woman can lean back on her partner's body from kneeling position.
Exposed Eagle – Switch directions from the Acrobat to try this one.
Some of the exotic positions from this post are as easy as the Pearly Gates.
SEAN'S THOUGHTS ON THE PEARLY GATES SEX POSITION
The Pearly Gates position will not be the first position that comes to mind when you are having sex with your guy, but you should definitely try it (or it's variations) if you want to learn new ways of making love and want to keep things interesting in the bedroom.