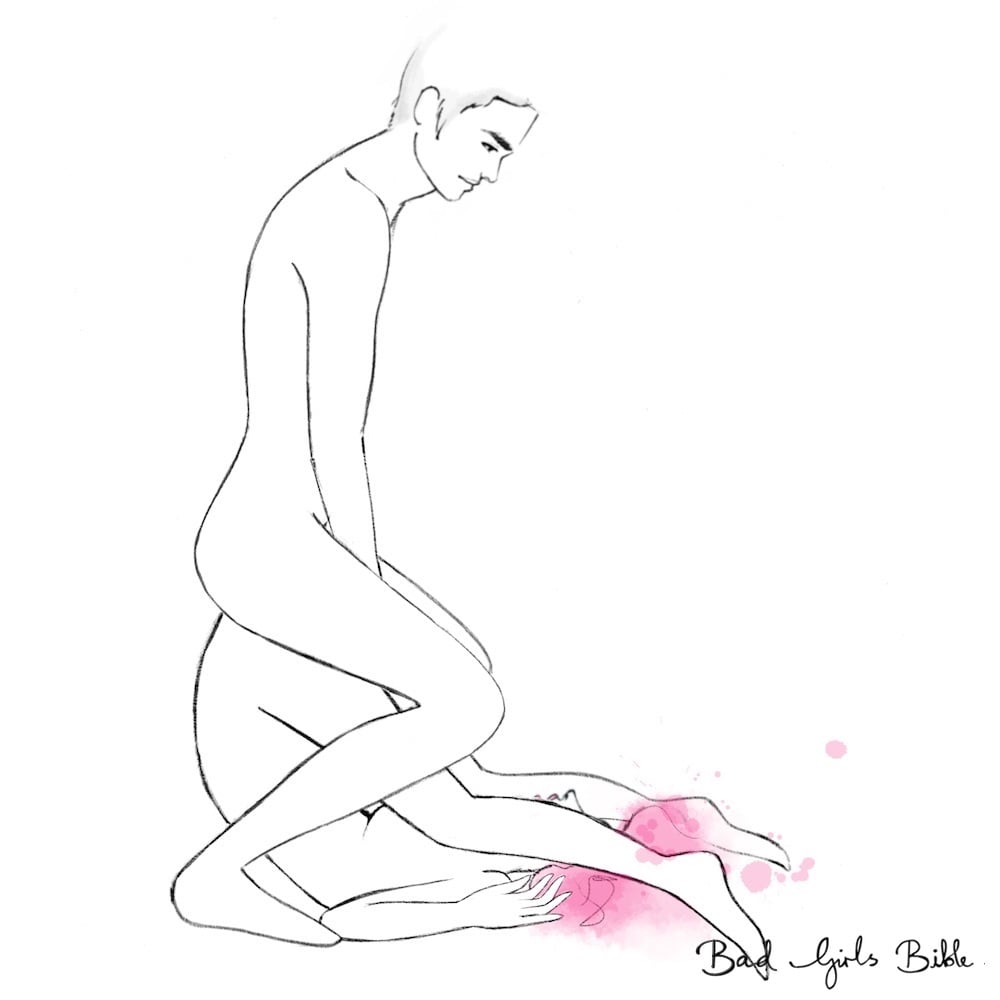 The Piledriver sex position is quite an exotic position that requires a lot of flexibility. It can be very awkward to get into this position with your man. And once you are in it, it can be quite uncomfortable for both of you. One of the best aspects of the Piledriver position is that both vaginal and anal sex are possible. You can have fun trying out all the suggestions in our Sex Positions Guide.
To perform the Piledriver love making position, you need to first lie on your back. Next, you need to lift your legs in the air. Your partner then needs to grab the back of your ankles and slowly push them towards your head. This will cause your lower back to start lifting up off the bed. Ideally (if it's comfortable) your man will keep pushing your ankles towards your head until all of your back is off the ground and the only thing that's left on the ground is your shoulders and the back of your head.
This will leave you very exposed (which is a real turn on for many). The man needs to keep at least one hand on your ankles so that he can hold you in place. To enter you, he will need to point his penis downwards which can cause considerable strain on his suspensory ligaments.
WHAT THE GIRL DOES IN THE PILEDRIVER POSITION
When you are in the Piledriver position, you don't need to do anything at all except to hold yourself steady. You can do this by putting your arms on the ground or by grabbing your man's ankles. When you are in the Piledriver position, you will find that it's very easy to masturbate if your arms are long enough, which can make sex a lot more fun than usual.
WHAT THE GUY DOES IN THE PILEDRIVER POSITION
Your man needs to do most of the work. He needs to keep you steady while penetrating you at the same time. If you are having vaginal sex, then he can use one of his hands to rub your clit. Or if you are having anal sex, he can finger your vagina while penetrating you.
TOP TIP
A much easier way to get into this position is to sit down on a sofa the opposite way to how you normally would. This means that your back and waist is supported by the backrest while your shoulders and head are where your butt usually is. This will be far more comfortable for you.
THINGS TO CONSIDER WHEN PERFORMING THE PILEDRIVER SEX POSITION
I have talked to students and discovered some useful insights that can help you when performing the Piledriver with your man.
Both of you need to be quite flexible.
You shouldn't perform it at all if you have a bad or weak back.
A small number of people (both guys and girls) have said that they haven't got much from this position.
If you like feeling like your man is in total control

 

and having him in a dominating position, then you will enjoy the Piledriver.
The Piledriver is great if you like having anal sex while also having your vagina stimulated (fingers/vibrator/dildo). Check out our sex toy recommendations.
SIMILAR POSITIONS
Deckchair

 

– If you like positions where you support your man's weight, try this one.
Anvil – Your man faces you as he leans his weight over you.
Brute

 

– Your man faces away from you in a related position.
This is just one of the more exotic sex positions you can try with you man. You can find more positions here.
SEAN'S THOUGHTS ON THE PILEDRIVER POSITION
I like the Piledriver because I am definitely the one in control when performing it. However, I often find myself leaning over quite a lot to prevent excessive strain on my penis which is not the most comfortable position to be in. On the upside, it's super easy to provide some manual stimulation directly to my girl's clit and vagina.