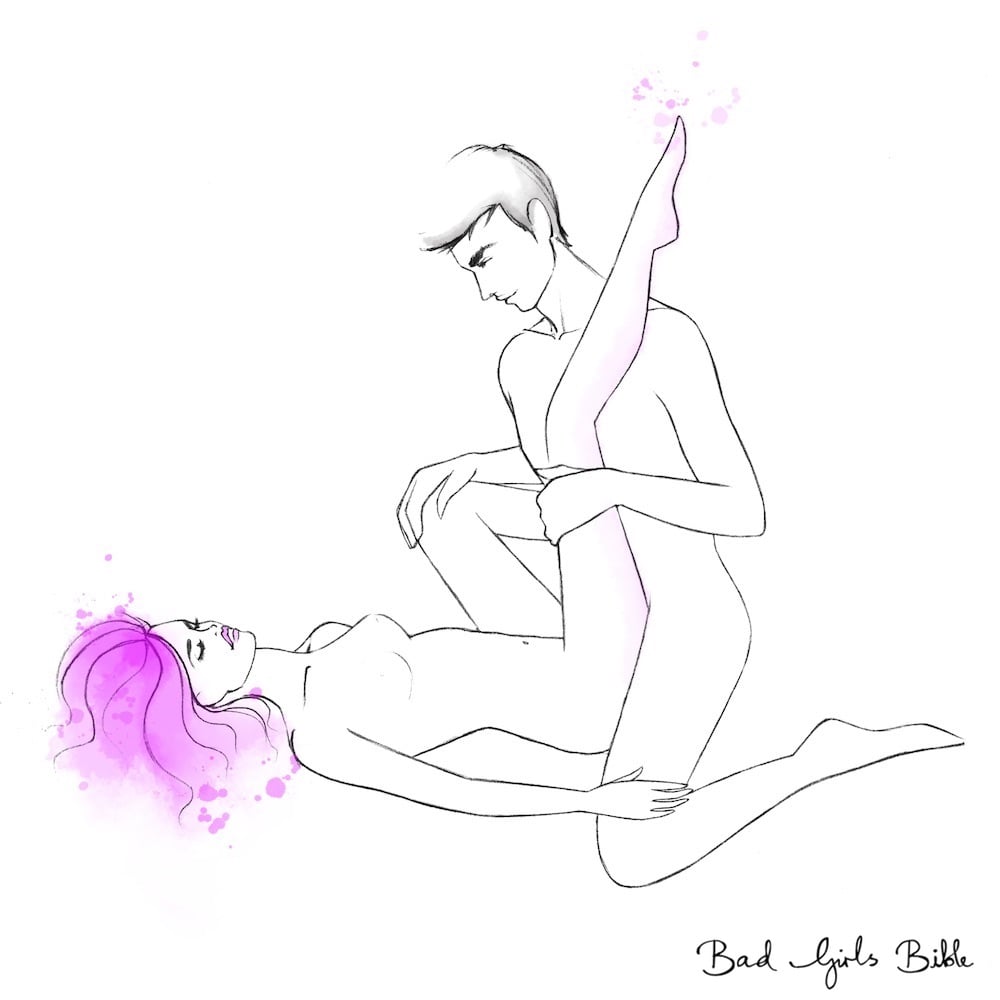 The praying mantis sex position is like a cross between the Deep Impact position and the Leg Glider position. It's one of many positions where you're on your back, which are some of the most popular positions from our Sex Positions Guide.
To perform it with your man, you need to start by lying on your back like you would for normal Missionary sex with your legs open. Your man then needs to kneel down beside your vagina, facing you with his legs spread apart so that he can lower himself down and enter you. He then needs to grab one of your legs and slowly bring it up so that it's pretty much pointing towards the ceiling. He can then rest it on his shoulder and put his arm around it.
WHAT THE GIRL DOES IN THE PRAYING MANTIS POSITION
The praying mantis is very similar to the Deep Impact position in that you don't have much to do at all. If you like, you can lower your hand to help you give yourself more pleasure. A simple way to make the praying mantis a lot more intimate is to maintain eye contact with your man. It'll be harder to kiss, but you can touch his chest and even scratch it if you're into that. You can also play with your breasts.
If you are not that flexible, then you need to let your man know if he is putting too much pressure on your leg. You can bend it to reduce the pressure.
WHAT THE GUY DOES IN THE PRAYING MANTIS POSITION
Your man will be thrusting into you as he normally would in the Deep Impact position. This means that he will have one arm wrapped around your raised leg and his other holding onto your leg that 's resting on the bed so that he can powerfully thrust in and out of you.If your man is not that flexible, then he won't be able to spread his legs that much. This means he will need to pull you up to him to penetrate you fully. If you are flexible enough, then your guy can also lean over you while you are having sex to make it feel like he is dominating you. Surprise him with a few submissive tricks from this post.
THINGS TO CONSIDER WHEN PERFORMING THE PRAYING MANTIS POSITION
I have discussed the praying mantis position with some Bad Girls Bible students. They have provided me with some helpful feedback on it:
Try alternating between which leg is raised and which leg is lowered. Many have found that they slightly prefer having one leg raised and the other on the bed.
If you want to feel your man even deeper, then wrap your leg that isn't raised around your boyfriend's back and pull him in towards you with each thrust.
If you like fast,

 

passionate sex

 

with your man, then he can put both arms around your raised leg and hold on to it tightly, allowing him to thrust really hard.
SIMILAR POSITIONS
If you like it on your back, you can find even more lying on your back sex positions here.
SEAN'S THOUGHTS ON THE PRAYING MANTIS SEX POSITION
I consider the praying mantis sex position to be a variation of other sex positions. It's not some crazy, weird new position that will give you radically different sensations and pleasures. But it is great for changing things up with your man in bed. And that's one of the most important things when it comes to getting better at sex. Trying new things and injecting variation into your sex life.