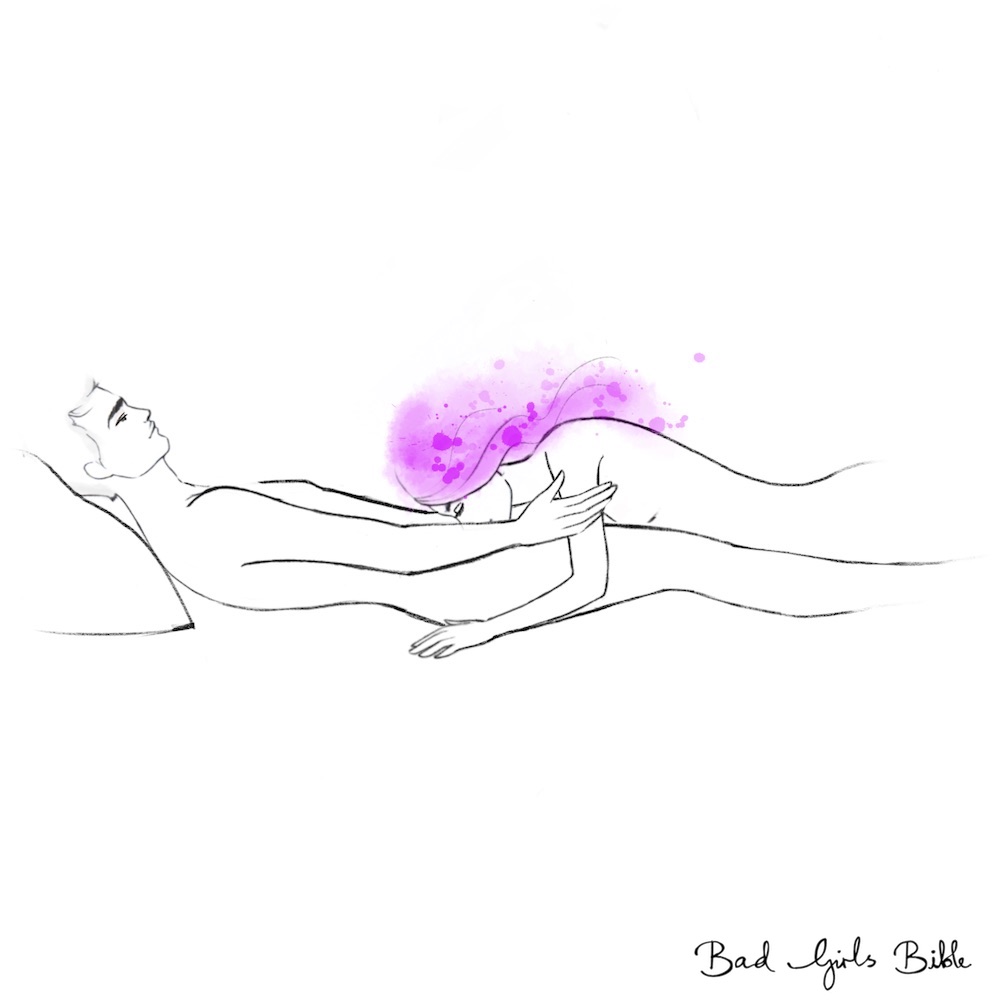 The Regular blowjob position is the one that most girls use on their man in the bedroom. If you are interested in learning about more interesting and different bj positions, then make sure to have a read about the Lie Back position, the Plumber position and the Doctor position.
By the way, if you're interested in learning hundredsof different blow job tips, techniques and ideas to use on your man to drive him wild with pleasure and give him intense orgasms, then you may want to check out the illustrated Blow Job Guide here.
HOW TO PERFORM THE REGULAR BLOWJOB POSITION
Performing the Regular blow job position is easy. Your man needs to lie down on his back with his legs open. You then need to lie down on your stomach on the bed below your man with your head by your man's crotch like in the illustration. Then it's just a matter of giving him a blow job (learn incredible oral sex tips here).
EXTRA TIPS ON THE REGULAR BLOW JOB POSITION
Lights Off – If you have never given a blowjob before, then you may feel quite nervous. A wonderful way to help relieve the pressure is to turn off the lights before going down on him. Another way to help you feel less nervous is to give him the blowjob underneath the bed covers. Of course, our comprehensive Blow Job Guide will also help you to deal with any nerves.
Take A Handy Break – If you are giving your man a blowjob for a long time, you may find that your mouth and jaw start to get tired. A great way to give them a break, but to continue satisfying your man is to start giving him a handjob, check out this in-depth guide on how to give a handjob for more tips and info.
Moving Downtown – If you want to transition smoothly to the Regular position, then wait until you are on top of your man and straddling him. You can kiss your way down from his lips to his neck to his chest to his stomach until you are at his crotch.
Hands On Stomach – While giving him a blow job in this position, try placing one or both hands on his stomach or chest. Doing this is a lot more intimate and hot than just placing them on the bed.
Ask Him To Hold Your Hair – If you have long hair that you feel is getting in the way, then get him to hold it out of the way while you focus on the task at hand.