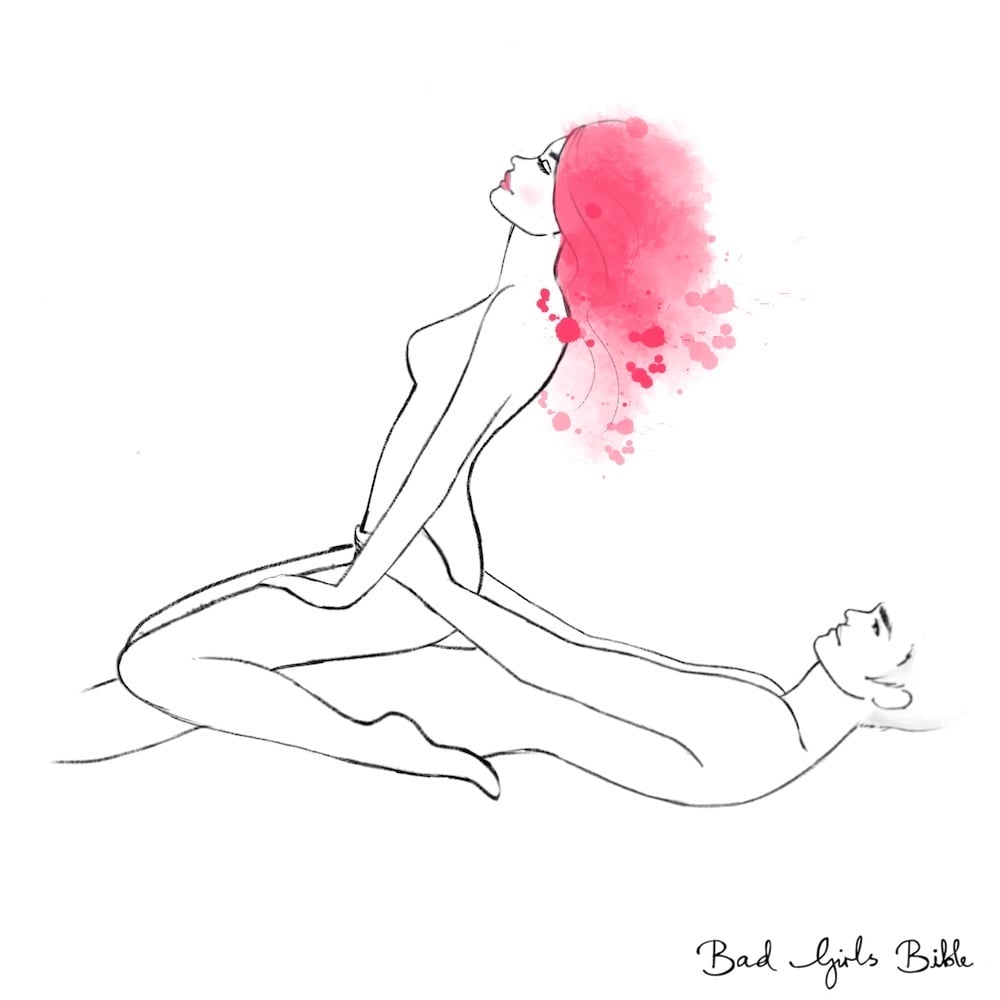 The Reverse Cowgirl sex position is one of the more well-known sex positions out there. It's great for those who like being on top of their man, but don't want to spend all your time looking into his eyes; although, there of plenty of positions like that in our ultimate guide to sex positions.
Getting into the Reverse Cowgirl position is easy and thankfully doesn't require a huge amount of flexibility. Your man first needs to start by lying down on his back. You then need to get onto your knees, with one on either side of him, over his lap so that he is facing your back. Then just lower yourself down on him.
You can then start to slowly grind on him or you can start bouncing up and down. In many ways, the Reverse Cowgirl position is very similar to both the Acrobat sex position. If you and your man switch positions, you'll be performing the Reverse Cowboy.
WHAT YOU DO IN THE REVERSE COWGIRL POSITION
One of the best things about the Reverse Cowgirl position that makes it easier for those who are a little shy or nervous being on top is that you don't have to face your man while performing it, which takes a lot of the 'performance pressure' or anxiety out of the equation that some girls feel when on top of their man.
Once you get comfortable being on top of your man, there are a few things you should try out. Experiment with leaning either forwards or backwards (using your hand to support yourself) to change the angle of entry. You also have the choice of either grinding on your man or bouncing up and down on him or a combination of both.
WHAT YOUR MAN DOES IN THE REVERSE COWGIRL POSITION
Your man can choose to take either an active or more passive role during Reverse Cowgirl. He can lie there while you do all the work or he can become more involved.
If he wants to become more involved, then he can grind back up against you as you are grinding on him. Or he can thrust up and down. If you want, lean back towards your man so he can use his arms to support you.
MORE TIPS WHEN PERFORMING THE REVERSE COWGIRL
There are a bunch of girls who have tried out the regular Cowgirl Position with their man, but few who have tried out Reverse Cowgirl. For those that want a more fun experience when performing the Reverse Cowgirl position, here are some tips:
You can also switch roles by performing the Reverse Cowboy sex position, where your man is on top, straddling you and bending his penis right down to enter you. Just make sure your man has lots of penile flexibility!
Try doing it in front of a mirror. The cool thing about performing the Reverse Cowgirl position in front of a mirror is that you can see everything you're doing while your man is obscured. This is one way to

 

give your confidence a boost!
Try performing Reverse Asian Cowgirl. This is simply a combination of the Reverse Cowgirl and

 

Asian Cowgirl

 

positions.
Reverse Cowgirl is perfect for

 

anal sex

 

as well as regular vaginal sex.
SIMILAR POSITIONS
Don't forget to try all of the girl-on-top positionsfrom our guide.
SEAN'S THOUGHTS ON THE REVERSE COWGIRL SEX POSITION
I really enjoy the Reverse Cowgirl sex position. It's a nice and easy variation of the regular Cowgirlposition. If you are a girl who finds themselves feeling awkward or a little nervous being on top of their man, then you should try Reverse Cowgirl, as you don't have to worry about making eye contact with him.