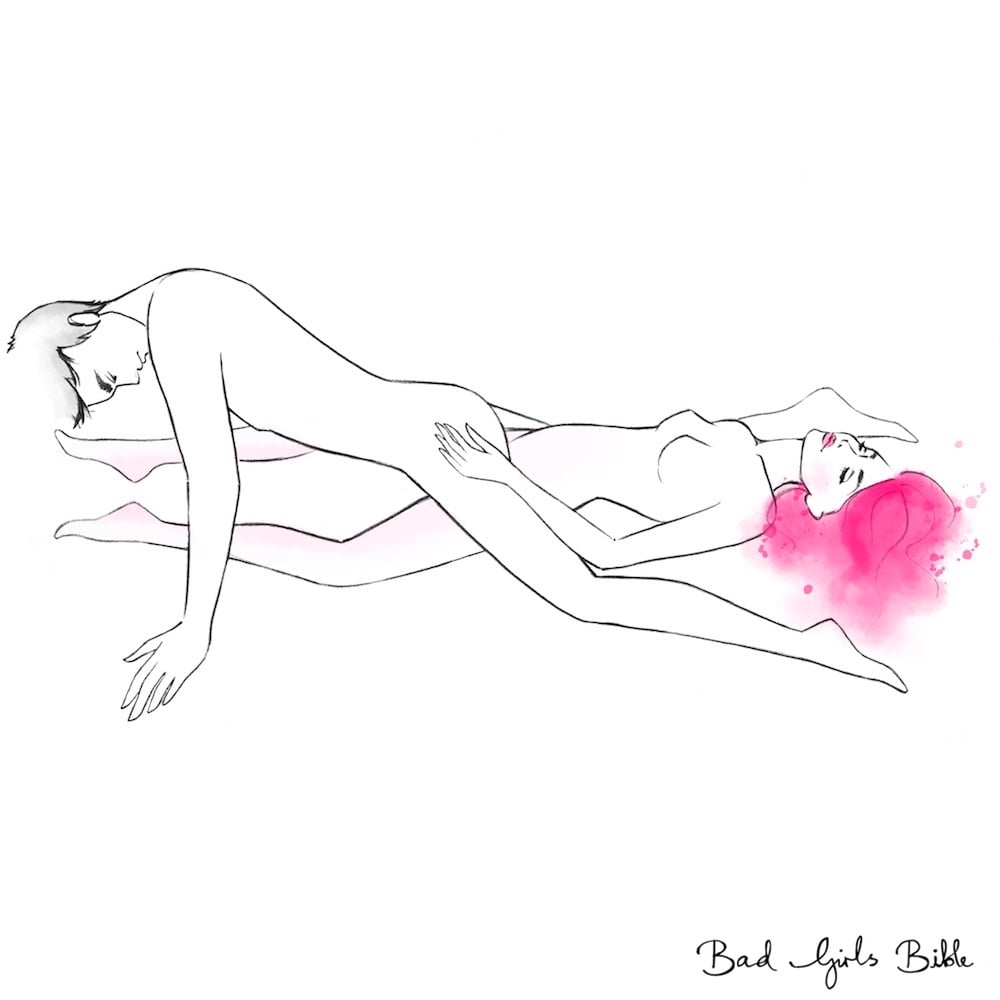 The reverse missionary sex position is like a combination of both the Betty Rocker position and regular Missionary. For your man, it will require quite a bit of flexibility in his penis to perform it. There might be a sex position better suited to you in our ultimate guide to sex positions (with illustrations) if this one doesn't do it for you.To get into the reverse missionary position, you first need to start by lying down on your back with you legs fairly spread out. Your man will then lie down on top of you. But instead of lying face-to-face, he will be lying head-to-toe with his legs spread out so that they are resting on the bed on either side of you. He then needs to slowly and carefully push his penis downwards so that he can enter you. This will put a lot of strain on the suspensory ligaments in his penis, so he needs to be extra careful while doing this.
WHAT YOU DO IN THE REVERSE MISSIONARY POSITION
Firstly, it's really important not to pull his penis with your hands when he is getting into the reverse missionary position. You don't want to hurt him! But it's a good idea to use your hands to help guide him inside you.
When he is inside you, try to stay quite still while your man gets comfortable. Once he is comfortable thrusting into you after a minute or two, you can try to slowly thrust back against him. You can put your hands on his butt to help him find an angle that you both enjoy and provide some extra thrust for deep penetration. More on that here.
You're also in the perfect position for some anal fingering if your man likes prostate play!
WHAT YOUR MAN DOES IN THE REVERSE MISSIONARY POSITION
Like I have already been saying, your man needs to be quite cautious when trying out the reverse missionary position. He can really hurt himself if he's not careful. So if he does feel an excessive strain on his penis during sex, then he should pull out and try a different lovemaking position.
While performing the reverse missionary, all your man needs to do is just thrust up and down.
MORE TIPS WHEN PERFORMING THE REVERSE MISSIONARY
There is not a lot of students of the Bad Girls Bible who have tried reverse missionary with their man as it's both such an exotic position and a difficult one to perform. Those that have tried have some interesting feedback on it:
It can be painful for your man in this position, so don't worry if you can't pull it off, there are

 

100's of other great sex positions for you to try. It shouldn't be painful for you, either. Here're some

 

tips to make sex more comfortable.
An excellent way to see if your man will be able to perform reverse missionary is first to try out the Betty Rocker position with him as it's almost identical, but you can take the pressure off his penis more easily.
SIMILAR POSITIONS
There are over a dozen more positions where you're on your back if you're not sated yet!
SEAN'S THOUGHTS ON THE REVERSE MISSIONARY SEX POSITION
To be perfectly honest, I included the reverse missionary position because it's different and exotic, but I don't personally enjoy it much at all. I find that it's more pain that pleasure. So remember that just because a position looks interesting, it doesn't necessarily mean that it's very pleasurable.