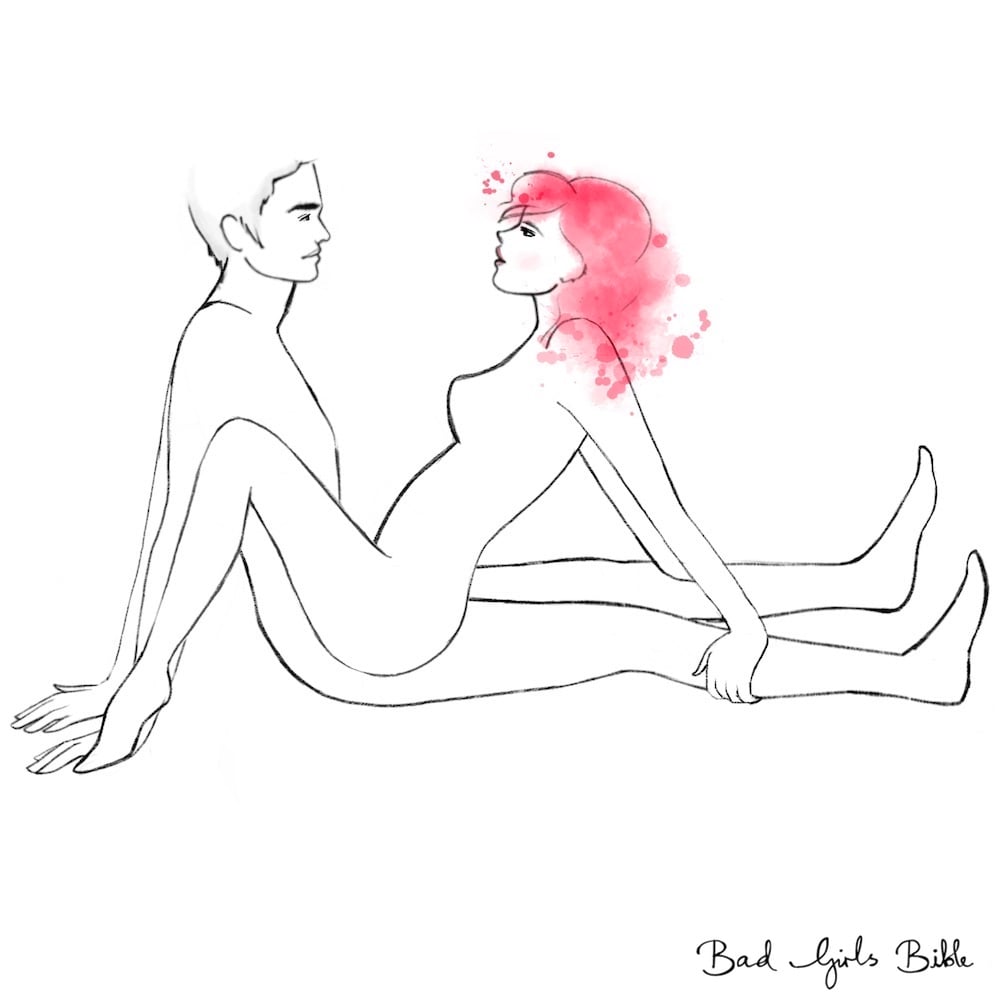 The See Saw sex position is a fun, but quickly tiring sex position. There are no positions that are very similar to it, making it unique. It also makes a great change from something like Doggy Style or regular Missionary position. You'll find plenty of positions to switch it up in our sex positions guide.
To get into the See Saw position with your guy, start by having him sit down on the bed. You then need to sit on his lap while facing him. Next spread your legs out wide so that you are comfortable. You now need to lean backwards and put your arms either on his shoulders or behind you. This position allows you to either move up and down on his penis or grind forwards and backwards on your man all while facing your him.
WHAT THE GIRL DOES IN THE SEE SAW POSITION
When in the See Saw, you can pump your legs to move up and down on your man's cock. But this will tire you out quickly. Your other option is to grind forwards and backwards with his penis inside you, like you would during a lap dance. To grind forwards and backwards, you can use your hips together with using your arms placed on his shoulders or wrapped around the back of his neck.
While you will spend most of your time leaning backwards in the See Saw position, don't forget to lean forwards and hold him close to make it more intimate for both of you.
WHAT THE GUY DOES IN THE SEE SAW POSITION
When in the See Saw position, your man won't physically be able to thrust into you. He can help to lift you up and down on him by putting his arms under your thighs instead of behind him, but like your legs, his arms will get tired of this quite quickly. If he is not lifting you up and down, then he can use them to help you grind on him by pushing you forwards and backwards.
Besides the actual sexual intercourse element of the See Saw, your man can also easily make eye contact with you during it.
If he finds it to be a bit of a strain on his back, then your man can try leaning backwards a bit or he can even put pillows under his lower back to offer some support.
THINGS TO CONSIDER WHEN PERFORMING THE SEE SAW POSITION
The See Saw is not super hard to perform and it feels good, especially for those who like to 'grind'. Many students of the Bad Girls Bible have tried it and have given some great feedback on it:
Don't feel like you have to perform the See Saw perfectly, doing a variation of it is perfectly fine (like being on your knees instead of sitting down on his lap).
Don't be afraid to lean right back (just make sure you don't overstrain your man's penis!). You can lean all the way back until you are pretty much lying on your back on the bed.
SIMILAR POSITIONS
Big Dipper

 

– A more strenuous pose where you straddle his lap.
Corner Cowgirl – Stay on top and use the corner of your bed as leverage.
Piston

 

– With your legs bent, you rest your feet on a bed behind your man as he holds you up.
If you like this type of position, click here to see more.
SEAN'S THOUGHTS ON THE SEE SAW SEX POSITION
I like the See Saw. It's easy to do (provided your man doesn't have a bad back), and it's quite different from a lot of other positions, making it perfect for when I want to spice things up a bit.