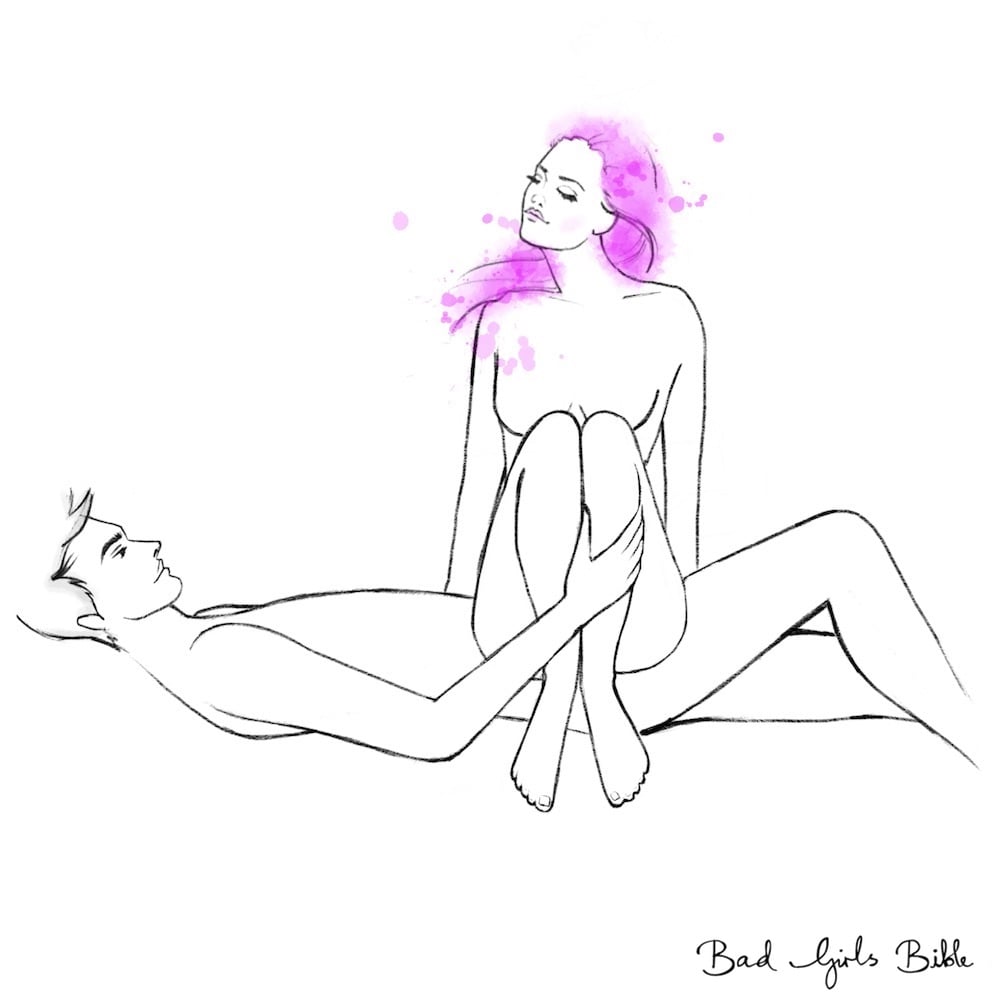 The Side Ride sex position is basically just a variation of the regular Asian Cowgirl position. It's super easy to perform and is great if you like being on top of your man during sex. If this position isn't your style, stop by the sex positions guide to find more inspiration!
To get into the Side Ride position, your man needs to lie down on his back like he would during the Cowgirl position. He should bend his knees slightly so that he can put his feet on the bed to give him some leverage for thrusting into you. You then need to sit down on your man's lap, allowing him to enter you. But instead of facing him or having your back to him, you are going to be sitting sideways on him. This means that you can sit on him with your feet on either the left side or the right side of him.
WHAT THE GIRL DOES IN THE SIDE RIDE POSITION
When in the Side Ride position, you have some choices. If you like, you can stretch your legs out fairly straight so that your man is doing most of the work. But if you bring your feet closer in by bending your knees, you will be able to push yourself up and down on him. Try leaning forward a bit towards your knees so that you take some of your weight off your man.
To help you balance yourself, try putting your hands on your knees or him. If you are leaning really far forwards, then you can put them on the bed.
Make sure to experiment with sitting on either side of your man to see what side you prefer.
Some women feel a little sexual anxiety when riding their man. This post can help you to ride your man with confidence.
WHAT THE GUY DOES IN THE SIDE RIDE POSITION
As I said previously, your man should have his legs slightly bent to give him some leverage for thrusting up into you. This is all he has to do really. If he finds it easy to do, then he can lean to either side just a little bit to change the angle of entry slightly. If you are having anal sex with your man, then he can slip a hand under your thighs to start rubbing your clit.
THINGS TO CONSIDER WHEN PERFORMING THE SIDE RIDE POSITION
Quite a few students of the Bad Girls Bible have tried the Side Ride with their man. Some of their thoughts on it have been incredibly insightful and helpful:
You don't have to sit perfectly to the side of your man (at a right angle to him). Try varying how you sit on him (i.e. with your feet close to his head down to having your feet by his feet.
This might not be the best position for

 

clitoral stimulation.
The Side Ride is perfect for those who also like anal sex.
It's also easy to grind on your man in the Side Ride position.
SIMILAR POSITIONS
Side Saddle

 

– Have your back to your man man when you ride him.
Little Dipper

 

– Lean back and elevate your legs to get into this pose.
Cowgirl

 

– The classic woman-on-top sex position.
You'll find more sitting in his lap sex positions in this post.
SEAN'S THOUGHTS ON THE SIDE RIDE SEX POSITION
I like the Side Ride position as it's a good change from positions like Cowgirl or the Rodeo or Asian Cowgirl. A variation that I really enjoy is when my girl sits on me with one leg on either side of my leg.