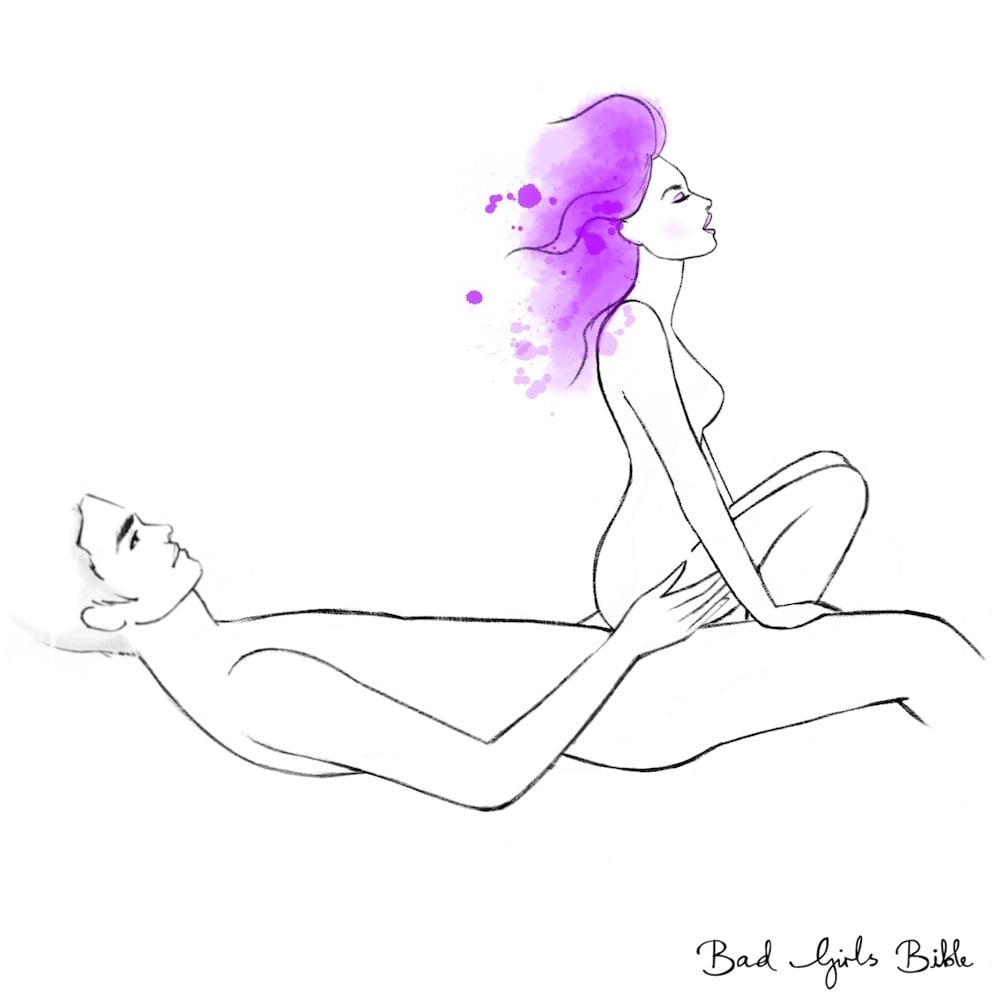 The Side Saddle position is great for when you want to take control and want your man to just relax and take it easy during sex. It's a great position to transfer to after you have been giving him a blowjob. By the way, there are plenty more positions to try in our Sex Positions Guide.
To set it up, your man needs to lie down on his back on the bed. He should have his butt at the edge of the bed with his legs hanging over it with his feet on the floor. He has a choice of how he positions his legs. Either together or spread out and open. You will be standing over your man with your back to him. You can sit down on top of him while spreading your legs if his legs are closed and together. But if he has his legs open then you need to sit on top of him with your legs closed and together.
WHAT THE GIRL DOES IN THE SIDE SADDLE POSITION
When you are in the Side Saddle position you will be using your legs to move yourself up and down on his cock. This makes the Side Saddle a great position for performing some Sexercise! But you don't have to just bounce up and down on him, otherwise you'll tire yourself out. You can also sit right down on him and just start grinding on him, moving backwards and forwards. You can put your hands on your man's legs to help balance yourself.
You may find that you prefer it either when you are straddling him with your legs open or with your legs closed. Try both to see what you prefer.
WHAT THE GUY DOES IN THE SIDE SADDLE POSITION
If you want, you can make the Side Saddle all about your man and he doesn't have to do anything except just lying there. But if he wants then he can thrust back into you. He'll find it a lot easier to thrust into you when he has his legs firmly planted on the floor.
Your man can also put his hands on your waist to help lift you up and down on him. If you are grinding on him, while he is inside you, then he can help to move you forwards and backwards.
Unfortunately, it's not a good pose for kissing or to increase intimacy. But he may scratch your back or pull your hair if the two of you like having rough sex.
THINGS TO CONSIDER WHEN PERFORMING THE SIDE SADDLE POSITION
Quite a few students of the Bad Girls Bible have tried out the Side Saddle position with their man. Here is some of their feedback and thoughts on it:
You should try changing your position on your man, from leaning quite far back towards him to leaning quite far forwards so that you are facing towards the floor.
The Side Saddle is perfect for those that enjoy

 

anal sex.
If you want, you can use your fingers to

 

masturbate yourself

 

or even

 

finger yourself

 

if you are having anal sex.
SIMILAR POSITIONS
Don't forget about other sitting in his lap positions.
SEAN'S THOUGHTS ON THE SIDE SADDLE SEX POSITION
I like the Side Saddle position. It may not be the most fun position, it's great for spicing things up.