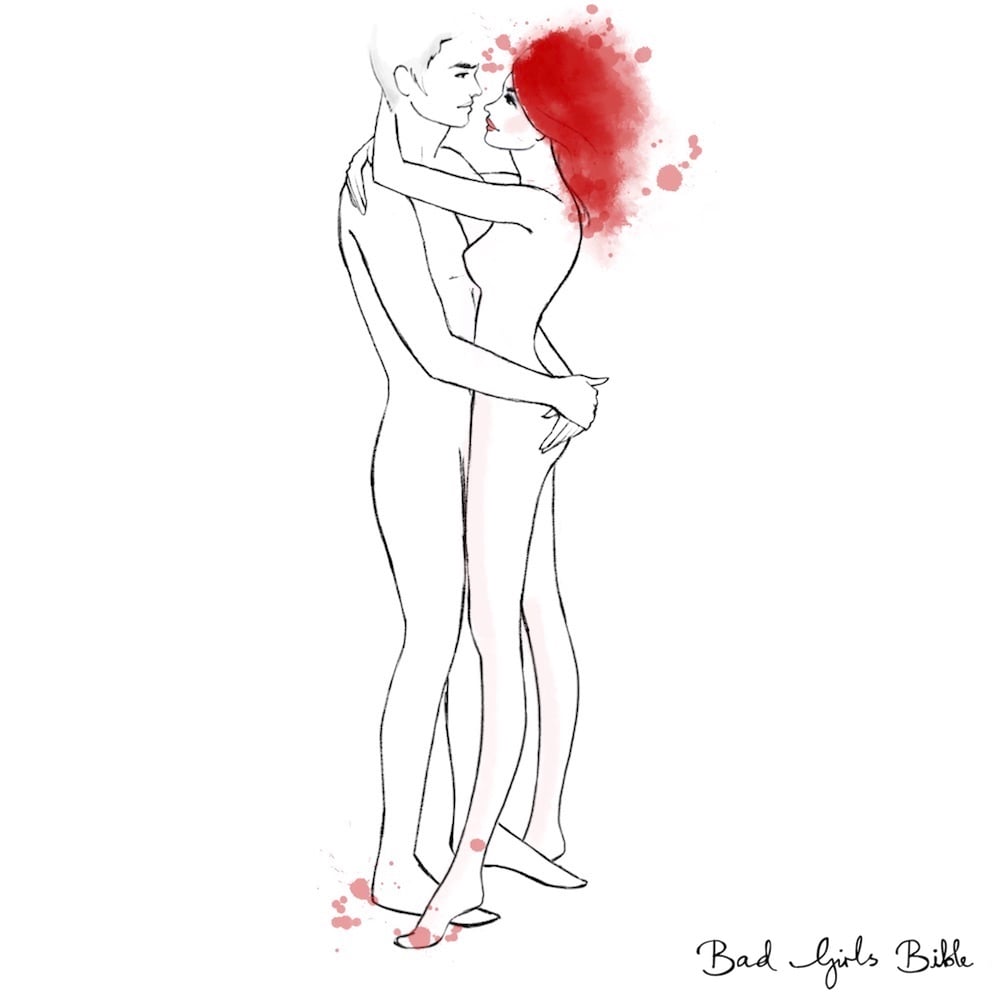 The Slow Dance sex position is a really fun position for you and your man where you are both standing up. Thankfully it's not nearly as difficult to perform the 
Ballerina
 or 
Dancer
 positions. If it's not at your level or doesn't work because of a height difference, you can try other sex positions from our 
sex positions guide
.
To perform the Slow Dance with your man, you both need to be standing while facing each other. If your man is taller than you, then he needs to bend his knees and get a little lower than you so that he can enter you. To help him enter you, you'll need to open your legs a bit. Then you just need to wrap your arms around each other and your man can thrust up into you.
If you are far smaller than your man then the Slow Dance will be impossible to perform unless you are standing on a staircase or something else to boost your height. But if you are taller than him, then you can bend your knees and lower yourself on him.
WHAT THE GIRL DOES IN THE SLOW DANCE POSITION
When in the Slow Dance position, you can move up and down with your man as he thrusts into you to make it a rhythmic movement. But if you want more passionate sex, then you can thrust back against your man with each of his thrusts.
If you want to make the sex more romantic and intimate, then you should just try grinding on him, by keeping him deep inside you, while you move up and down on him using both your hips and legs.
WHAT THE GUY DOES IN THE SLOW DANCE POSITION
The Slow Dance is really straightforward and easy for your man. He just needs to move up and down using his legs. As well as wrapping his arms around your waist, he can put them under your butt to pull you in with each thrust. He can also put his hands under your arms and grab your shoulders to help him penetrate you with a little more force.
If you're into it, he can also do some anal fingering.
THINGS TO CONSIDER WHEN PERFORMING THE SLOW DANCE POSITION
The Slow Dance is easy to do and a lot of students of the Bad Girls Bible have performed it (or a slight variation of it) with their man. Here is some of the feedback that they have given me on it:
If you are having slow sensual sex in the Slow Dance position with your man, it can be really sexy to maintain eye contact with him. But if you have just started dating or it's your first time having sex with each other, then it may feel a bit too intense for him.
Something a lot of guys like is when you gently run your hand over their head, gently massaging his scalp with your fingers. The Slow Dance is perfect for this.
It may be hard for

 

you to orgasm

 

in this position.
SIMILAR POSITIONS
Piston – If your man is strong enough, he can carry some of your weight.
Stand & Carry

 

– This requires even more strength (and trust!) to perform.
Blooming Orchid – Try facing one another while you kneel.
The other standing positions on Bad Girls Bible add excitement to your sex life.
SEAN'S THOUGHTS ON THE SLOW DANCE SEX POSITION
I see the Slow Dance as a very intimate position. While you can definitely go quite fast and have passionate sex during the Slow Dance, you may find that you actually get a whole lot more out of it by slowing things down and taking your time with it. You are in the perfect position to hold each other tightly, to look each other in the eye and kiss each other during it.