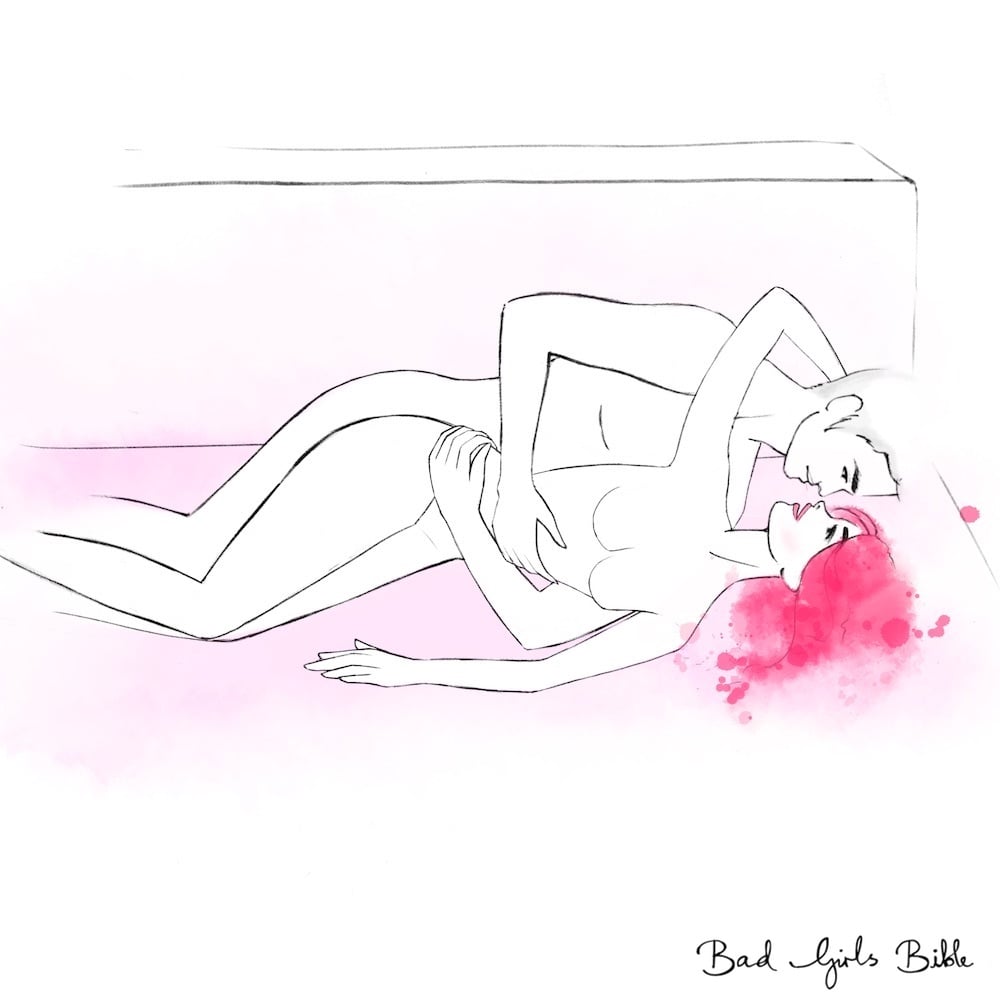 The Sofa Spooning sex position is a slight variation of the regular Spooning position. To perform it with your guy, you will need a full-length, comfortable sofa. Sofa Spooning makes for great sex when you are both alone on a Saturday morning and want to watch some TV. We've got over 100 more relaxing and hardcore positions in our Sex Positions Guide here.
To set yourself up in the Sofa Spooning position, your man first needs to lie down on the sofa with his back firmly against the backrest part of the couch. Then you need to lie down in front of him while facing in the same direction. Your man then enters you from behind and starts to slowly thrust into you while wrapping his arms around you.
WHAT THE GIRL DOES IN THE SOFA SPOONING POSITION
The Sofa Spooning position is excellent if you like to just relax and let your man take control. There isn't much you need to do, other than just lying there. But if you like, then you can slowly press yourself back onto your man with each stroke.
You are also in a perfect position to slowly start masturbating yourself when Sofa Spooning with your man. All you need to do is simply lower your hand and start rubbing your clitoris, vulva or vagina. Your breasts will also be free for some nipple play.
Make sure you brush up on your kissing skills too with our advice here.
WHAT THE GUY DOES IN THE SOFA SPOONING POSITION
Your man's primary job in the Sofa Spooning position is getting into a nice rhythm while thrusting into you. Spooning is not supposed to be a 'hardcore', rough sex position. Instead, it's a slow and sensual position that's really intimate. If your man doesn't understand this, then let him know.
He can also increase the intimacy of Sofa Spooning by wrapping his arms around you and holding you close to him. He is also in the perfect position to lower his hand and start massaging the outside of your vagina.
If he finds that his arm wrapped under you is starting to get numb or sore, then he can try putting it above his head in a sort of 'Superman' pose.
THINGS TO CONSIDER WHEN PERFORMING THE SOFA SPOONING POSITION
The Sofa Spooning position is really easy to do, but it's not nearly as popular as the regular Spooning position is. Those that have tried it out with their guy have given some really helpful insights on it.
Most importantly, make sure that your couch is adequate for both of you. In other words, make sure that it's long enough, deep enough and that the armrests won't be in your way.
Try putting a towel or sheet underneath both of you by your crotch area to protect your couch from any bodily fluid you don't want on it. This is especially important if you're a squirter.
Sofa Spooning is perfect for anal sex too.
SIMILAR POSITIONS
Don't forget to experiment with other spooning and on-your-side positions.
SEAN'S THOUGHTS ON THE SOFA SPOONING SEX POSITION
I am a huge fan of the Sofa Spooning sex position. It's perfect for some really slow and sensual sex with your partner or when you just want to watch some TV while having sex at the same time.