Ah, the honeymoon phase, that special time in a new relationship when you and your guy are madly in love with each other, so much so that you hardly recognize that anyone else exists (which can be annoying to those around you). The name refers to that special time right after marriage, the honeymoon, when a couple is madly in love and living in absolute bliss (and having nonstop sex). It's hard to replicate the honeymoon period, so enjoy it while it lasts. But know this: New relationships change our brain chemistry, for better and worse.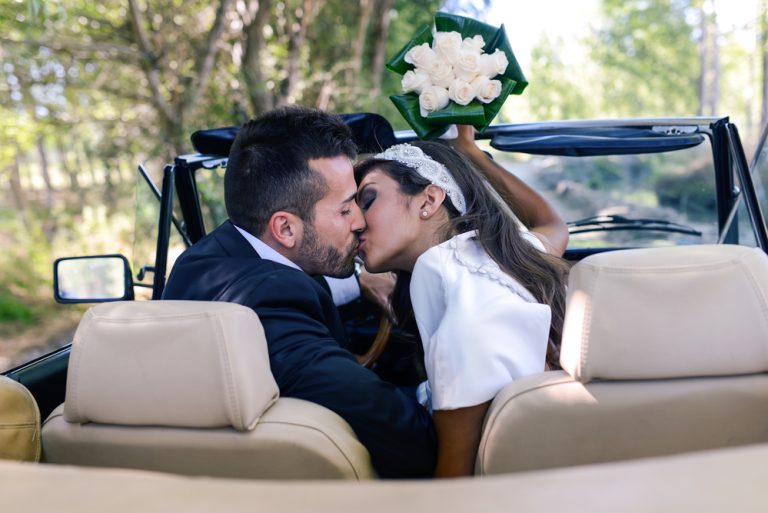 Learn all about this special time, the honeymoon phase, including what it is, the pros and cons, and when it's over.
WHAT IT IS
HAPPENS AT THE BEGINNING OF A RELATIONSHIP OR MARRIAGE
According to Lisa Hochberger, MEd of Wiser Sex Therapy Associates, "On average, the honeymoon phase (sometimes called romantic love) lasts between six months and two years. It is characterized by a desire-filled whirlwind of infatuation. It's the "can't eat, can't sleep, can't do my work" phase of a relationship, when two people become fixated on each other and the obsession grows as they learn all about each other through mind and body exploration."
Wanna know how often other people have sex & if it matters? Click here.
That feeling of being "in love" is the honeymoon phase. Your feelings for each other are intense, and you can't imagine life without each other. This is due to hormones such as dopamine, which makes you feel addicted to him (like a drug) [1] [2] and rewards you when you interact. Adrenaline makes your heart pump, your blood race and dulls your senses in the presence of this person.
And when you can't think of anyone or anything else? Blame serotonin [3].
Interested in the science of love and attraction (and how it can help you fall back in love)? Then you've got to read this.
YOU SEE THINGS WITH ROSE-COLORED GLASSES
According to Dr. Namita Caen, Ph.D., "The honeymoon phase is the hormonally fueled intoxicating beginning of relationship. It's that magical time when Oxytocin (feel-good love bonding hormone) and other potent hormones are flowing liberally through every part of you and the world looks rosier and begin brighter in every way.
With that in mind, it's therefore not an ideal time to make sound or realistic assessments about your partner. Most of us are wearing rose tinted spectacles during the honeymoon phase which makes us see an idealized version of one another. We don't notice potential flaws or even large red flags blowing in the giddy winds of romance!"
Learn more about the 5 stages every relationship goes through.
YOU OVERLOOK HIS FAULTS AND EMPHASIZE HIS STRENGTHS
When you overlook faults in your partner, it gives you a chance to fall in love. By being negative and seeing only faults, you probably will never get in the honeymoon phase in the first place. By overlooking his faults, you are seeing what his strengths are. Once you see his strengths, you can be supportive and help him achieve his goals.
And this works both ways. He will likely overlook your faults and focus on your strengths when he's in the honeymoon period. This is how couples can be better people when they are together, by supporting each other.
THE PROS
1. ENDORPHINS ARE RELEASED IN YOUR BRAIN
Lisa Hochberger MEd, notes, "Brain chemicals tend to play a major role in the honeymoon phase. Dopamine is the neurotransmitter that is connected with romantic love. It is connected with euphoria and feelings of elatedness. Increased levels of dopamine create loss of sleep and appetite, excess energy, as well as a "natural high. " Being with the person you are falling for literally feels so good! Dopamine mediates a person's desire, for another.
She continues, "In the honeymoon phase feelings of "love" is like a thirst that a person cannot quench as they continue to crave their partner with every "clue" that their partner cares for them. The hypothalamus releases dopamine, it also is releasing norepinephrine into the body. This chemical is responsible for constant elation from you partners small acts of kindness."
Oxytocin is also released which helps you bond and fosters intimacy [4]. Learn more.
2. FAMILY AND FRIENDS SUPPORT A NEW RELATIONSHIP
When you first announce to your friends and family that you're in love, everyone wants to be happy for you. They want to meet him. Everyone's on their best behavior (or at least should be), and this reinforces your love for your guy. You're living in a bubble of being in love and having everyone around you being happy and supportive.
3. YOU MIGHT GIVE BIG GIFTS AND CELEBRATE EACH OTHER
The honeymoon phase is characterized by celebrating each other: the anniversary of your first date, the first place you kissed, the first time you told each other you were in love, etc. Sometimes you commemorate these occasions by giving gifts. If you stay together and the years go on, couples typically stop all this celebrating and keep it to one special anniversary celebration per year.
Looking for awesome gift ideas? Check out this list or the gift ideas from this post.
THE CONS
1. YOU MIGHT OVERLOOK RED FLAGS
The honeymoon period can be great. But be careful. You might be so much in love that you fail to see the red flags that everyone else sees. You might think it's great now that your guy wants nothing more than to lie around in bed with you for hours on end on a weekday, but this could really mean that he has no job. Or if he does, he has a low work ethic.
Related: 19 Relationship Red Flags You Must Heed
The problem with overlooking red flags or seeing someone with rose-colored glasses is that when the honeymoon phase ends—and it always ends—you see him for who he is. At this point, you might split up. But you also might be so invested in him by now that you think you can change him. This rarely works out.
Now that you see your guy for who he really is, you need to evaluate the relationship to see whether this is someone you can live with as he is or whether it would be better to leave.
2. JUST BECAUSE YOU DON'T ARGUE DOESN'T MEAN THE RELATIONSHIP IS HEALTHY
Of course, it's not good if you argue all the time with your significant other. But it isn't necessarily good if you never argue either. You might think that you and your guy agree on everything and live in perfect harmony with each other while you're in the honeymoon period. But no one can agree with someone about everything all the time.
Read: Signs of a Healthy Relationship
There are reasons couples never argue. Here are some of them:
They're not connected with each other and aren't invested enough in the relationship to argue.
They aren't going deep in the relationship by sharing thoughts and feelings.
They're holding back their real thoughts and feelings just for the sake of maintaining peace.
They don't feel safe in the relationship.
They don't think the relationship is strong enough to withstand any conflict.
But there are healthy and unhealthy ways of arguing (avoid these unhealthy relationship habits). Couples who occasionally argue in a healthy manner listen to one another, respect each other's point of view, and can move on when it's over—sometimes through compromise or by agreeing to disagree.
3. YOU MIGHT IGNORE FRIENDS AND FAMILY
When you're in the honeymoon stage, you're selfish. You and your guy want to be around only each other. This is great for the two of you, but you're probably neglecting other important people in your lives. Your friends and family will probably cut you some slack, but if you've made commitments with them, it isn't cool to ignore them or blow people off just because you're in love.
Check out our additional advice for new relationships.
4. YOU PROBABLY HAVEN'T GONE THROUGH STRESS TOGETHER
When you're dating, you're having fun. It's usually easy to get along with people when you're doing something fun. The real test is to see how your guy reacts when something stressful happens. Is he there for you the same way he is when times are good?
You might never know while you're in the honeymoon phase. But seeing if he's someone you can lean on when times are tough is important to a lasting relationship. If you can't count on your guy to help you through tough times, the relationship might not last.
5. YOU MIGHT FOCUS ON PHYSICAL OVER EMOTIONAL FOUNDATION
To be intimate with someone means being both physically and emotionally close. But when you're in the honeymoon period, you might tend to focus only on the physical. It's great to be physical, but you also need to foster emotional closeness to have a satisfying and lasting relationship. If your intimacy needs are not met, the relationship will not be fulfilling for either of you. You need to learn to communicate with each other, to open up and share your feelings, and to develop a mutual trust, respect, and love for each other—a relationship deeper than just jumping each other's bones.
This is the difference between love and simply lust. Learn more.
6. IT'S EASY TO CONFUSE INFATUATION WITH REAL FEELINGS
When you're in the honeymoon phase, it's hard to know when you're just infatuated or whether you have real feelings of love. When you're infatuated, you're in that joyful honeymoon period. Everything is pure bliss. You think about him all the time, and you can't wait to be with him. Everything is new and exciting. And there are still lots of unknowns.
But when infatuation turns to real love, you both are now partners in life. You can count on him. You can trust him. You have a deep level of understanding about each other. You celebrate each other and want the best for one another. You accept each other and understand that you can both grow and change and still be there for each other.
WHEN IT'S OVER
THE HONEYMOON PHASE EVENTUALLY ENDS
Dr Caen notes that, "The honeymoon phase is drenched in a fantasy that is not sustainable and it will come to its natural end. It may last anywhere from a few months to a couple of years depending on how often you see each other and the quality of the time you spend together but it will end and that's why it's aptly called the honeymoon phase.
However, she also notes, "However, the end of this extraordinary phase marks the beginning of the next. Rather than worry about it's inevitable ending, I encourage couples to savor every last drop of this exhilarating initial phase and to bask in the rapturous glow of those feel-good hormones."
Ask these questions if you want a closer connection with your man.
You will probably need to make an effort when the honeymoon period ends to have sex and fun. But with this effort grows a commitment to each other. A lack of commitment, however, is one of the top reasons for divorce. More about this.
The honeymoon phase definitely exists for some men and women, but it doesn't affect every couple [5]. But just because this phase of your relationship ends, if you stick with the relationship, a new phase begins. Sex is an important part of a relationship but is more important during certain stages and ages. Sex may wane in a long relationship, and you can put in the effort to have more of it, but there's no right amount of sex to have. You might be having less sex, but you might also find that your love is a deeper one later than it was in the honeymoon period.