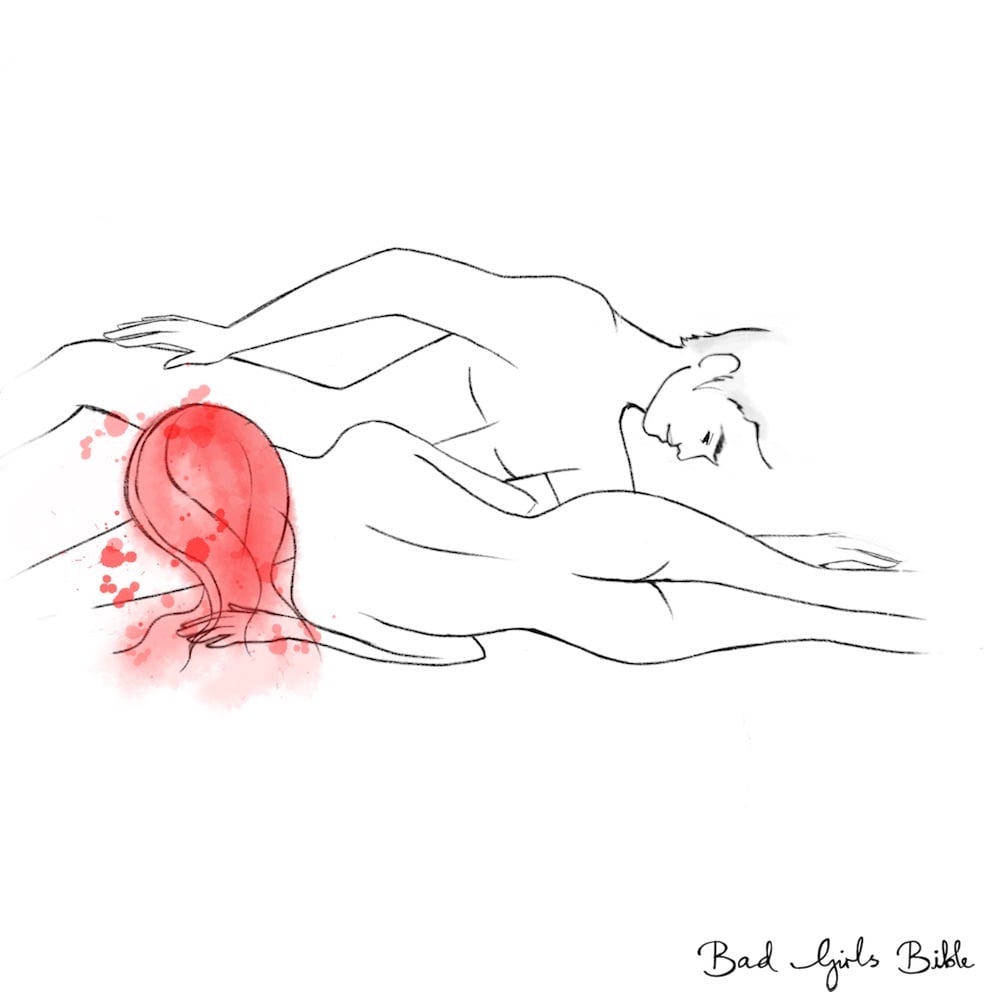 The Thigh Pillow blowjob position is an awesome one as it is a lot more relaxed than the others like the Cinema position and Face Fuck position.
HOW TO PERFORM THE THIGH PILLOW BLOW JOB POSITION
To perform the Thigh Pillow position on your man, you will literally be using his thigh as a pillow. Your man gets into position by lying down on his side with his lower leg in front of his upper leg like in the illustration, which he should try to keep out of the way. You then need to rest your head on his thigh while also lying down on your side. Then you just take his cock into your mouth and start giving him a blowjob as you normally would.
If you'd like to learn how to give your man mind blowing oral sex, then you may want to check out the detailed Blow Job Guide where you'll learn over 65 different blow job tips and techniques to make your man crave you. Click here to check it out.
EXTRA TIPS FOR THE THIGH PILLOW BLOW JOB POSITION
To 69 Or Not – To perform the Thigh Pillow you can lie head-to-toe with your guy, which can allow him to eat you out like in the illustration above. In other words, it will enable you to perform the 69 position with him. But you don't have to. You can rest your head on his thigh while the rest of your body is not close to his.
This isn't the only 69 position you can try with your man. You can learn four more 69 positions here.
Wrap Around – You can help yourself to get more comfortable by wrapping your arm around your man's upper thigh/waist to pull him into you.
Get Outside The Bedroom – Another great thing about the Thigh Pillow is that you don't necessarily have to perform it on your bed. If you like, you can perform it on a carpeted floor or even on a sofa, if it's large enough.Cunnilingus Time – While this is a wonderful position to give your man a blow job, you can also use it when he's performing cunnilingus on you.