You might file this under "too weird to believe," but there's actually such a thing as the World Queefing Championship, where women sign up to queef as often as possible to win a prize. If you're familiar with queefing, this might seem a little weird or gross. And if you're not? You might wonder what queefing is, what causes it and how it affects your sex life…and more importantly…how to prevent it.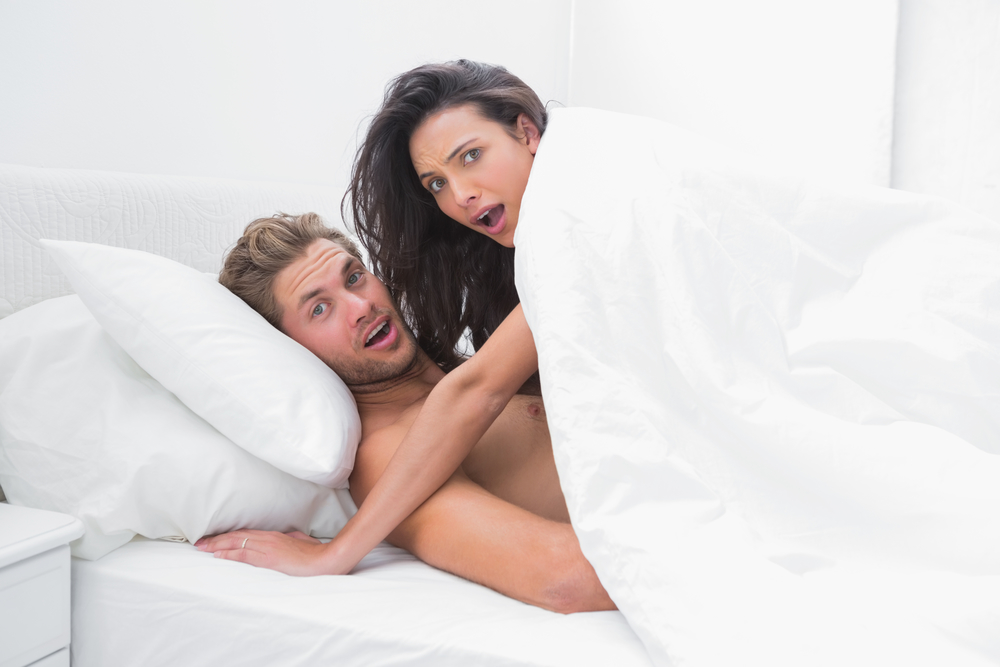 WHAT IS A QUEEF, ANYWAY?
Simply put, a queef happens when air that's been forced into your vagina needs to escape. When you're aroused, your vagina expands to allow for more air to enter than usual. Thrusting during sex causes air to repeatedly be pushed into your vagina, which is why you might experience vaginal flatulence during sex and at no other times.  Of course, the air's escape route might cause some interesting physical feelings as well as a loud fart noise, which is really what a queef is.
Queefing doesn't hurt you in any way; although, it might be startling, embarrassing or even funny. The vagina isn't an endless cavern, and air that enters it must escape somehow. You might notice some queefing when you're submerged in water, such as in the pool or bathtub. It's simply physics at work!
You've probably experienced queefing at other times, though. Dr. Mary Jane Minkin explains more here. She says exercising is also a culprit when it comes to causing vaginal flatulence AKA queefing. Some women report having more queefs than normal when it comes to getting into their normal yoga positions.
You might make a joke about it with your yogi girlfriends, or you may have talked to your best friend or sister about these sounds that happen during sex. If you do, you'll realize you're far from alone. And it seems like everyone wants to put an end to queefing.
HOW TO PREVENT QUEEFING
Most methods you can use to cut down on embarrassing vaginal flatulence revolve around controlling the angle of force of thrusting. Try these steps the next time you have sex with your man:
Slow down the pace of thrusting
Thrust less deeply. Try wrapping your fingers around the base of his cock to decrease depth of penetration.
Switch out positions if one position makes you queef more often. Try one where you're on top or rocking rather than thrusting. There are more than 100 positions in

 

this post.
Switching positions frequently can lead to more queefing, so you may want to cut down on the number of positions per sessions to reduce queefing.
However, you may not be able to stop yourself from queefing every time, and that's okay! Here's the thing…If you're close enough to a man to be intimate with him, you should be prepared for to laugh off the embarrassment. Sex involves our bodies, flaws and all, and all the included bodily fluids and functions. Queefing is just one of those, and something specifically caused or exacerbated by sex.
And if you're not well acquainted with a man you're having sex with, you either won't see him again or you will get to know him better, and a little queefing shouldn't scare him off. However, you can try to minimize how noticeable queefing is during the act. Consider a white noise machine or even just a fan so your bedroom isn't dead quiet. If you're a heavy moaner, utter his name, which he's sure to remember over a queef.
You might try listening to music or putting on some porn in the background to drown out the sound, but that's really not necessarily with this normal bodily function. When a queef happens, many people ignore it. Some people laugh it off, and isn't laughter the best medicine, anyway? If you feel like this is something you want to talk to your partner about, consult this guide to sexual communication. Remember, every woman with a vagina has queefed, which means most of your partners have probably experienced it before.
Sex can be awkward, but that can be part of the experience, especially if you're able to incorporate laughter and humor into your romps in the sack. Getting over awkward things like queefing, farting, having difficulty with positions, slippery hands from lube and bumping your head on the headboard are things most sexually active people have to do. This post will help you get over sexual anxiety from queefing and other concerns.
And many women find it's not that big of a deal once it happens the first time. A queef lasts a few seconds, which is nothing compared to the time spent having sex or the endless memories you can make with your man in the bedroom.
WHEN TO SEE A DOCTOR
Although typical queefing is entirely normal, especially during sex, there may be something more serious going on if your queefs are especially smelly. This occasionally happens when a tear known as a rectovaginal fistula develops between the anus and vagina, results in odorous air and fecal matter entering the vagina. This can lead to urinary tract infections and bacterial vaginosis. More on that here. If your have symptoms of rectovaginal fistula, contact your doctor as soon as possible.
However, rest assured that this isn't the case with most women, who are experiencing everyday queefs. It's good to monitor your body and any changes, but queefing doesn't present the same worries as a sexually transmitted infection, for instance. More on those in this post. If you want to take control of your sex life, make sure you're using condoms, getting screened for STIs after every new partner and knowing your partner's status. Respect changes to your body such as burning after sex rather than worrying about a queef. Check out all our sexual health advice, too.
Queefing is just one of your body's natural responses and abilities. Those abilities range from having G-spot and nipple orgasms – more on those here and here – becoming pregnant and birthing a child, healing after an injury, running a marathon and so much more. So don't love your body in spite of the occasional queef. Instead, love it for everything it can do and find a partner who does, too!