Pegging, the act of penetrating your man with a dildo and strap-on, can be incredibly hot for both of you. It might bring you closer together, and you might find that the power that comes with pegging is intoxicating.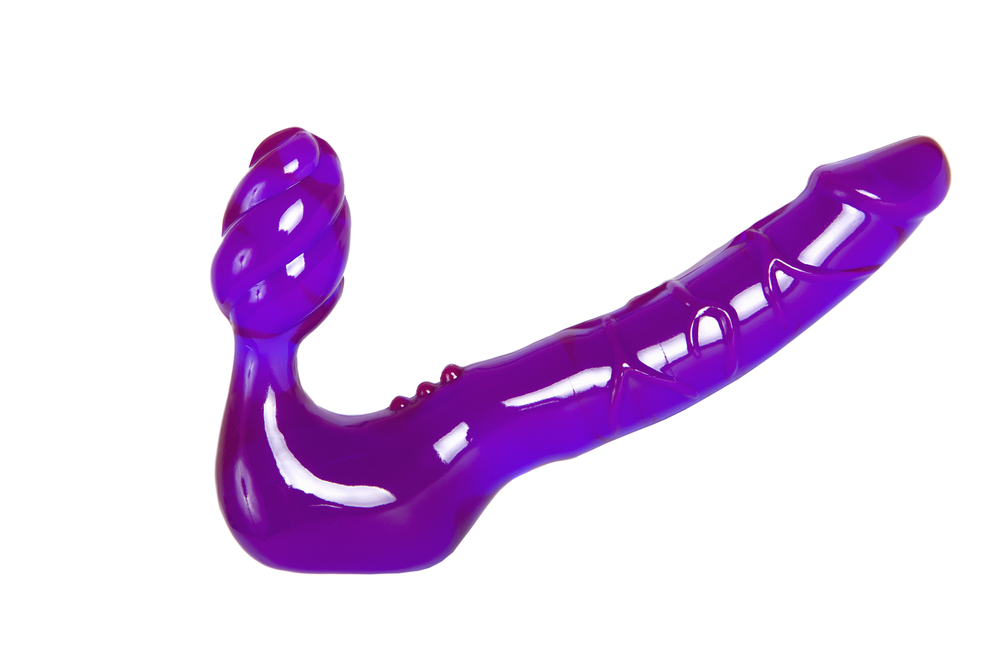 Pegging has been around since the 18th century, long before people called it pegging or asked "What is pegging?".  However, it gets a bad rap from people who are prudish or homophobic.
What Pegging Is — and Isn't!
Essentially, pegging is a way for your man to experience being on the receiving end with the added benefit of prostate stimulation. Not only does this feel intense and lead to different – often better – orgasms, but prostate play can help to ward off cancer and disease in the future! What pegging is, is a great way to do that while bringing the two of you closer together – if you let it!
If your man has asked about pegging, you might have some negative thoughts, but keep the following in mind:
Pegging isn't gay. Because

 

your man's prostate is located up his butt, pegging is one of the best ways to stimulate it! But just because he's into backdoor play doesn't make him gay, especially if he's the one who brought up the subject to you! It may have been incredibly difficult for him to express his desires. This is especially true if the two you don't often talk about sex or if he was raised in a sex-negative environment. You can make it easier to talk about pegging and other desires by checking out this

 

guide to sexual communication.
Pegging isn't wrong, sinful or deviant.

 

It

 

might

 

be a little kinky, but

 

kinky differs from person to person. You might worry about expanding your sexual repertoire because it will make you a "slut." This is because we live in a society that sluts shames people, especially women.

 

Read more about this. You might have some hangups from the very same treatment, and there's no reason to do the same to your man.
It isn't necessarily a fetish.

 

A fetish is defined as a sexual interest in an object

 

or behavior that might be necessary for arousal or orgasm. Your guy might just be interested casually. After you try it out, it might not be for him – or you. Even if it is a fetish, it might even be hot for you to give it a try!
In fact, pegging is pretty similar to anal sex, which you might already enjoy!
Related: How To Have Pain-Free Anal Sex: 12 Tips + Techniques For Beginners
Pegging, like anal sex, can also be safe. Learn more about this.
Pegging Tools of the Trade
Since pegging most often refers to penetration via strap-on, you'll need a few items. These include a comfortable harness that's snug enough for you to control and a compatible dildo or plug (learn about butt plugs). There are a variety of harness styles, which you can read about in this guide. Choose one that you find comfortable. So while a leather harness might seem sexy, chafing isn't a turn on. Try on your harness beforehand. Maybe even wear your dildo around the house to become comfortable with it!
Psst, you can also use butt plugs and anal beads for anal masturbation. Check out tips for masturbating anally.
Any harness with an O-ring can be used with a dildo that has a base the same size as the O-ring, and many harnesses have swappable O-rings, so you can use a variety of dildos. Tantus is famous for their silicone dildos, and Vixen makes dual-density silicone dildos that real more realistic. Note that some harnesses use systems such as Vac-U-Lock suction, which requires a compatible dildo.
If your man is new to this, he might have eyes bigger than his backdoor. Make sure to start smaller than you think you need. Don't buy something that's 10 inches long with a 3-inch diameter for your first time. Instead, stick to a smaller to medium-sized dildo with a diameter between 1 inch and 1.5 inches. You can always increase in size later. Something that's tapered allows you to increase depth and girth. Remember, you don't have to insert the dildo fully.
Lube is also a must when it comes to pegging because the rectum doesn't self-lubricate like the vagina does. Either a thick water-based lube or a super slick silicone lube will be your friend in this endeavor. Read up on lube.
Preparing for Pegging
Preparation can be a brief as a shower or a wet wipe; although, your man could use an anal douche with luke-warm water over the toilet to rinse out. Unless you specifically want to include an enema in your play, that's not necessary. Although you don't need a condom during pegging, slipping one over your dildo can make cleanup easier. Many people use condoms for cleanup during anal sex, even though it's unlikely that you'll get pregnant from it.
A note on desensitizing spray: You'll find many numbing products. However, we advise against using these products because pain is your body's way of letting you know something is wrong. If it hurts, use lube. Use even more lube if you need to. Start slow and make sure your man is incredibly turned on. A prior orgasm can't hurt.
A smaller handheld toy or your fingers can be a good buildup to a larger dildo (use anal training to increase the size he can take), and we've got plenty of information about anal fingering. Even if your man is excited over the prospect of pegging, he might feel a little hesitant. Squeezing and groping his butt and stimulating his anus without penetration can help to relieve this anxiety.
Get more advice like this in our post on preparing for anal sex.
You might want to go a bit further if you plan to lick his anus. More on that here. Or you can check out our posts on rim jobs and how to eat ass.
Positions for Pegging
The typical position for pegging is doggy style or with your man bent over a piece of furniture. When you get to the main course, you might have to consider different positions for pegging than you would for anal sex because of height differences. If you're much shorter, it will be more difficult to line up your strap-on with his anus. However, there are a few things you can do to make it work more easily:
Have your man bend his knees forward toward his chest, pulling his body down when he's on all fours.
He can lie on his back with his knees pulled up toward his chest, and you can penetrate him from above.
Bend him over something short, such as an ottoman.
Consider some of the positions for prostate play in this post, which also has tips for locating and stimulating the prostate that you can translate to pegging! Our list of anal sex positions can also be helpful. Pegging might be harder to do when you're pregnant and have a belly, but you can still have anal sex.
Read More: Anal Sex During Pregnancy: What You Need to Know
When everything is just right, he might be able to experience anal orgasms (more on this) from pegging.
Pegging Can Be Hot for You, Too
Although you might not have a penis to experience the feeling of penetration (just one of the reasons why guys like anal), there are a number of things you can do to make sure you get something out of pegging, too.
Try role playing a position where you have power and command over your man. Check out the ideas in

 

this post. Pegging can either be "punishment" or reward in your role-play scenarios.
Pick costume pieces that make you feel powerful
Choose a harness that allows you to insert a bullet vibrator for clitoral stimulation or one that includes a spot for a dildo that will penetrate you during pegging. There are also dual-ended dildos that you wear and control with your vaginal muscles for a great workout!
Imagine that your harness and toy cock are an extension of yourself. Isn't it fun?!
Of course, you might simply feel great making your man feel great, and that's what good sex is all about!
Now you know the answer to your question "What is pegging?" Pegging, when done right, can be more fun than you might have imagined. It might become something the two of you do frequently or something you do as a special treat. Make sure to follow the precautions and use plenty of lube to keep things comfortable and healthy, however!